Market optimism continues to surge in full force and this is creating scenarios that make decisions much more difficult for investors. It can be tempting to engage in the optimism, avoid the fear missing out, and start buying into the highs but this is usually not advisable as these tends to be the situations that generated the biggest losses when constructing portfolio allocations. In this context, Bank of America Corp. (NYSE: BAC) is no exception. The stock has rallied by roughly 30% since the results of the last presidential election were announced and many investors are looking for added reasons to justify additional moves higher in BAC.
Chart View: Bank of America Corp.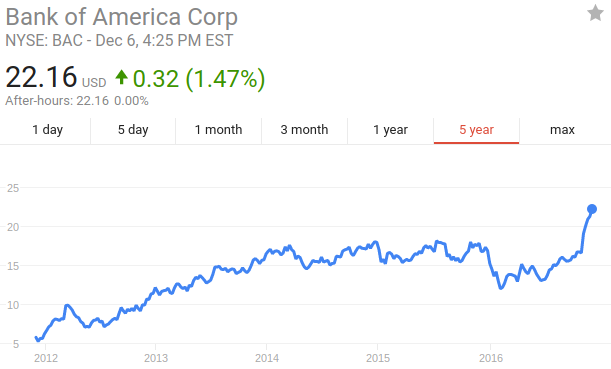 Chart Source: Gold Traders
Generally speaking, stock valuations that move this high/this fast can be a dangerous prospect. But long-term weakness in the US macro data has suggested to many analysts that the Federal Reserve will have limited capacity in raising interest rates. This makes it more difficult for banks to generate upside surprises in earnings releases. But the reality is that there are several areas of strength in the US economy that have fallen under the radar when we look at most of the financial news headlines and these are factors that could send interest rates higher than has been anticipated initially.
Chart View: US Services ISM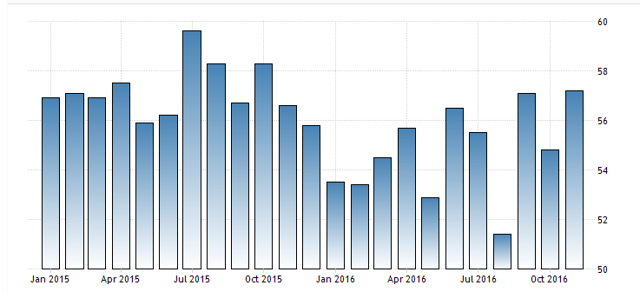 Chart Source: Gold Traders
One of the latest examples of this can be seen in the ISM non-manufacturing activity index, which rose to 57.2 last month. This is the highest reading since October 2015, and the implications here could be drastic given the dominant influence the services sector plays in the broader US economy. This reports only needs to show a reading of 50 in order to signal expansion, so the level of strength here is such that its influence is likely to filter into other, seemingly unrelated aspects of the economy.
At this stage, most of the market is expecting the Federal Reserve to raise interest rates at its monetary policy meeting later this month. To gain some perspective here, this is the first rate increase in a year and only the second increase we have seen in the last decade. But if we continue to see positives in these key market components, we are more than likely to see analysts make higher revisions in their interest rate expectations and Bank of America will be one of the key beneficiaries in terms of its market performance.
Chart View: US Unemployment Rate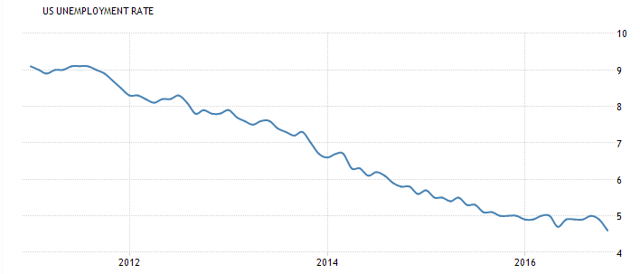 Chart Source: Money Investors
Performances in the unemployment rate will also be an critical area to pay attention, given the level of importance that Fed places this data within its overall policy stance. If we can think back to a few years ago, we can remember that the Fed's line in the sand to start raising interest rates held at 5% -- and we are now well below those levels. These trends fall into what many would call the 'full-employment category,' so all of this does make the Fed's job easier when making considerations to tighten economic policy.
Risks to this outlook could be seen, however, given the fact that several voting members of the Fed has suggested that a Donald Trump presidency lends itself to significant 'economic uncertainty.' Whether or not this turns out to be true is debatable, but this is clearly something that could inform policy decisions going forward. On balance, the proposed rollbacks in banking regulations and higher interest rates paid when financing infrastructure rebuilding programs should be more than enough to overcome these negatives and send Bank of America to new record highs. Some level of prudence must be exercised here, however, as there could still be potential to establish buys below $20 in the months ahead.
Disclosure: I/we have no positions in any stocks mentioned, and no plans to initiate any positions within the next 72 hours.
I wrote this article myself, and it expresses my own opinions. I am not receiving compensation for it (other than from Seeking Alpha). I have no business relationship with any company whose stock is mentioned in this article.