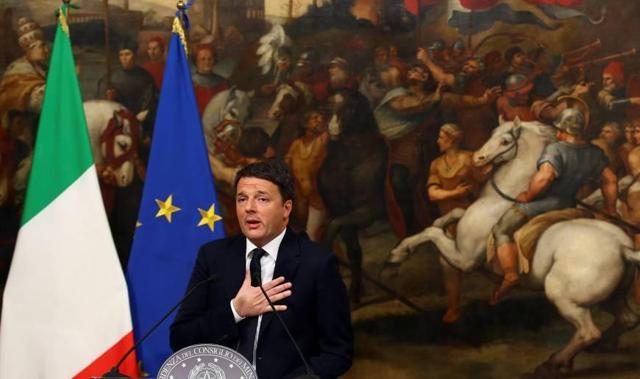 Italy's Matteo Renzi. Source Fortune
Monday Italy voted "No" to prime minister Matteo Renzi's structural reforms, and it was not even close; the "No" vote won by 60% to 40%:
Official figures showed the rejectionist front winning by 60% to 40% in metropolitan Italy (and by 59% to 41% counting ballots cast by Italians abroad). And that was with a high turnout, which Mr Renzi's advisers had believed would favour his cause. The humiliation came at the end of a 66-day campaign into which Mr Renzi threw himself with frenetic energy. He had little choice but to resign in the face of such an unexpectedly decisive outcome.
Mr. Renzi had promised to resign if the "No" vote won; he followed through on his promise. Some thought if the vote was close that Renzi's suggested reforms could still move forward. The wide margin of victory dashed those hopes. The implications on the vote are as follows:
Question Marks Surround Italy's Troubled Banks
The banking crisis in Greece dominated the financial markets last year. Italy's banking crisis could be the next black swan. Nonperforming loans in Italy are 17% compared to around 12% for Portugal and 7% for Spain. Italy's banks have suffered from years of lax lending standards amid a weak economy; Italy's GDP grew only 0.3% in September. According to the Financial Times the country has eight banks in various stages of distress:
Its third largest by assets, Monte dei Paschi di Siena, mid-sized banks Popolare di Vicenza, Veneto Banca (OTC:VENBF) and Carige, and four small banks rescued last year: Banca Etruria, CariChieti, Banca delle Marche, and CariFerrara.

Italy's banks have €360bn of problem loans versus €225bn of equity on their books after successive regulators and governments failed to tackle a bloated financial system where profitability was weakened by a stagnant economy and exacerbated by fraudulent lending at several institutions.
Mr. Renzi had advocated for Italy's troubled banks to be sorted out via market-based solutions. That would have involved restructuring, including potentially wiping out equity and debt holders. Since retail investors own billions in bank bonds that plan did not sit well with the populace. According to prosecco producer, Paolo de Bortoli, investing his savings in Veneto Banca seemed safer than a chest.
The country seems to be stuck between a rock and a hard place. Bailing out the banks could stem a potential crisis of confidence in Italy's banking system and wall off any contagion throughout the EU. However, it could send a bad message if depositors, bondholders and equity holders benefit at the expense of taxpayers. It would be difficult for the EU to also say no to Portugal or Spain if they came to the trough for bailout money.
It Could Jeopardize The EU
There are rumblings that Italy is against immigration, globalization and the elite establishment. These are the same things the U.K. railed against when it decided to the leave the EU. The fact is that citizens' rejection of a market based restructuring of Italian banks could be seen as an affront to the anti-bailout rule adopted by the EU in 2014:
Italian banks' struggles have led to the first serious test of a model the EU adopted two years ago for handling banking woes. The Italian government has sought EU permission to inject €40 billion into its banks to stabilize the system.

To do so would require bending an anti-bailout rule the bloc adopted in 2014 to force troubled banks' stakeholders-shareholders, bondholders and some of their depositors as well-to pay a financial price before the country's taxpayers must.
Secondly, anti-establishment parties could be in line to take over for Renzi. One such party -- the Five Star Movement -- has vowed that if elected, it will put forth a referendum on retaining the euro. In effect, the Renzi referendum could have been a de facto referendum on the euro and Italy's remaining in the EU. The Global Financial Crisis of 2008/2009 hurt institutions and individuals alike. Post-crisis, the elite establishment appears to have failed upwards. The world is now fighting against the establishment and the policies that kept them in power. First there was Brexit, then Trump ... now Italy?
Takeaway
Global markets cratered after Brexit. If Italy exits the EU we could be in for another round of volatility. Investors should avoid Italian banks and European equities in the meantime.
The article could also impact the following securities: (NYSEARCA:VGK), (NYSEARCA:HEDJ), (NYSEARCA:FEZ), (NYSEARCA:EWI), (NYSEARCA:IEV), (NYSEARCA:EPV), (BATS:EZU), (NYSEARCA:FEU), (NYSEARCA:EURL), (NYSEARCA:DBEU), (NYSE:EEA), (NASDAQ:FEP) and (NYSEARCA:HEZU).
Disclosure: I/we have no positions in any stocks mentioned, and no plans to initiate any positions within the next 72 hours.
I wrote this article myself, and it expresses my own opinions. I am not receiving compensation for it. I have no business relationship with any company whose stock is mentioned in this article.