Welcome. In this article we're taking a look at long time tobacco distributor Philip Morris International (NYSE:PM). Since April investors have had to take notice of a stock price off by 15% from all-time highs. Let's take a look at the price chart before moving into the stock valuation segments: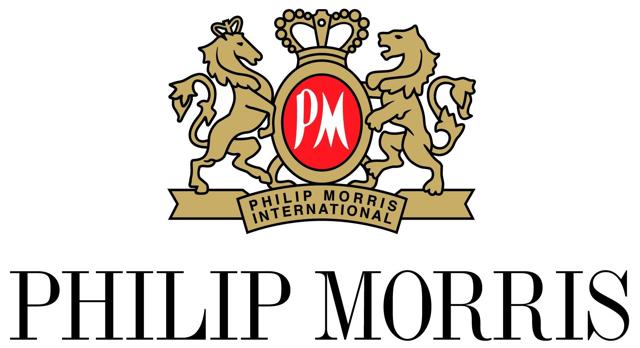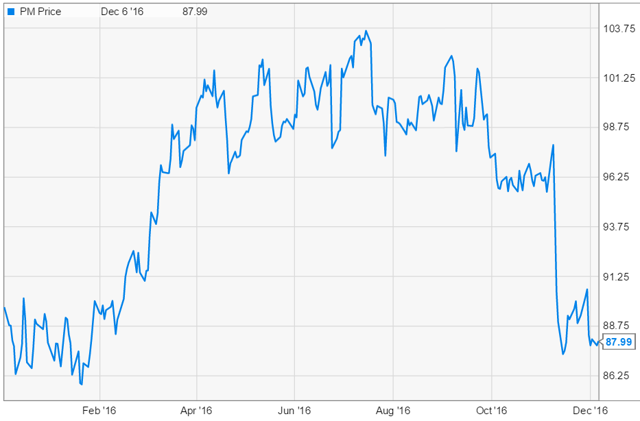 (Source: Faloh Investment)
Philip Morris International Stock Valuation
After including a few "steadying" assumptions (which we'll touch on in the following segments), the DCF Model returned these facts: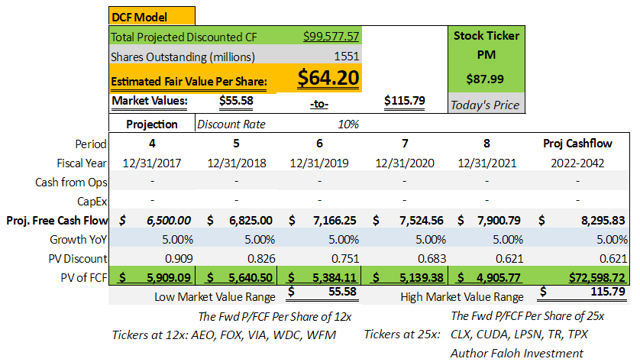 (Source: Faloh Investment)
Overall, the company landed a fair value of $64.20 per share on 1.551B shares outstanding. Companies earning similar amounts of free cash flow are on the market for prices of 12x through 25x, so a fair trading range or Market Value range for the company appears to be $55.58 - $115.79. The company's trading for $87.99 as of this writing.
A company tends to hit the upper or lower part of its estimated Market Value Range during any five year period depending on the general market's trading range, the timings of the company's internal business cycles, and the results of the company's operating performance.
In the next segment we'll take a look at the stock charts.
Quick Free Cash Flow Chart
PM's Price, Free Cash Flow, and Price to Free Cash Flow are included: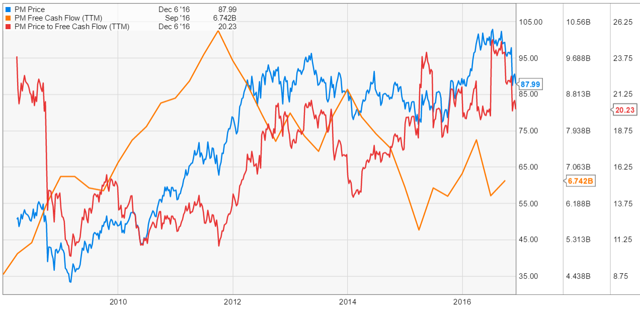 (Source: Faloh Investment)
Reading this chart's orange line, the complete set of data since PM International's public trading reveals free cash flow per annum roaring out of the gate. This recovery in cash generated coincides with a time of general economic recovery as the credit crunch was relieving itself following the 2007-2008 global financial crisis.
Free cash flow generation appears to be trending downward from a peak during 2011. In the DCF Model's graphic (visible at the top and bottom of this article), we can see the 12 months' free cash flow projection to be "6500" (6,500 millions, or 6.5B), down from the company's most recent annualized free cash flow measuring 6.742B.
Balance Sheet
PM carries a substantial long-term debt load of $26.96. They also have $6.4B pension liabilities, with an offsetting $5.4B pension Investment funds asset constituted over 50% by U.S. and International equities. 35% of the Investment funds assets don't trade in active markets and have no quoted price.
Turning to liquidity, for five years the company has maintained a quarterly inventory turnover hovering around .9 which indicates a well controlled supply chain.
The company's long-term debt has expanded from $2.22B in 2007 to a reported $26.96B in the most recent balance sheet statement.
Expert Summary
Philips Morris is offering investors a quarterly dividend scheduled to deliver a 4.2% annual yield at today's market price of $87.99.
Now, considering the long-term debt on PM's books exceeds annual revenues I consider this operation substantially leveraged. Sometimes this posses a risk to the company's ability to maintain dividend payments.
Looking forward to matters cash flow, dividends at PM are expected to require $6.34B cash during the next four quarterly payments. But the recent twelve month's free cash flow available to pay out is just $6.50B. As a kicker for bears on PM's dividend, free cash flow is trending downward.
I rate PM's free cash flow to dividend payout ratio, weighing in at 1.02, as totally anemic. Company management is on the hook for finding the best way to proceed while minimizing harm to the operation's intrinsic value.
Nonetheless, most routes out from this thin margin of safety on the payout are likely to result in substantial volatility for investors holding PM equity.
Most recently, cash from operations netted $7.80B for the company on sales for the quarter coming in $19.94B.
Takeaway
PM distributes smokeable products under hit tobacco brands Phillip Morris and Marlboro, among many others. Their sales are made in foreign markets:

(Source: PM's 2015 Annual Report 10-K)
The company's dollar-denominated equity issue is getting earnings worth comparatively less and less as the dollar's value climbs among the international currencies. A stronger dollar puts downward pressure on PM's earnings and market valuation.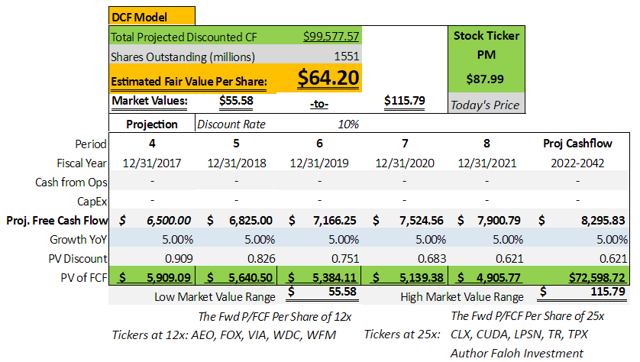 (Source: Faloh Investment)
Summary
The dividend is under some immediate pressure and the 4.7% yield at the $87.99 price level is under threat. The company needs to free up some more cash, or create more cash, for this level of dividend payment to remain much longer.
Overall, PM isn't going anywhere, but substantial volatility is expected due to the leveraged capital structure and strengthening dollar. To the EPS figure, a risk of write downs relating to changes in pension assets if the equity market behaves unfavorably are also possible.
3-Year Price Target: $64.20 to $87.99. The dividend doesn't appear to have room to grow and an even stronger dollar will put pressure on the stock's returns.
Disclaimer: This article represents the opinion of the author as of the date of this article. This article is based upon information reasonably available to the author and obtained from public sources that the author believes are reliable. However, the author does not guarantee the accuracy or completeness of this article. It is merely the author's interpretation of the information contained in the article. The author may close his investment position at any point in time without providing notice. The author encourages all readers to do their own due diligence. This is not a recommendation to buy or sell a security.
If you enjoyed this article, please visit my profile Faloh Investment and read author's pick "WABCO Holdings: Buy Its Great Competitive Position". Follow me as I work to keep you informed on further developments as the market continues to present major value opportunities.
Disclosure: I/we have no positions in any stocks mentioned, and no plans to initiate any positions within the next 72 hours.
I wrote this article myself, and it expresses my own opinions. I am not receiving compensation for it (other than from Seeking Alpha). I have no business relationship with any company whose stock is mentioned in this article.