Long term is the only baseline for me
In my articles I have often mentioned that I only look at the long term thesis for stocks. If a stock that I like and own goes down, I am very excited, because that means that I will be able to buy more at a lower price, which raises my future return.
Of course, there are several types of investors. Some investors are pure DGI investors, which means that they don't even care all that much about the stock price, as long as the dividend keeps growing enough and the pay out ratio is sustainable. Other investors are total return investors, which means they look at capital gains and dividends. A third distinct category are growth investors. They tend to invest in red hot stocks, which have the potential of going up (and down) very fast. There are several other categories as well (GARP, retirement etc.)
If I look at my own investment behavior, I am, as more investors are, a mix of several types. DGI is certainly a cornerstone of my portfolio, but I am also a total return investor (I have Starbucks in my portfolio and in the Pink portfolio, for example) and even growth stocks have my attention (I have Facebook, Celgene (read an article about it here) and Under Armour in my portfolio).
But the bottom line of all my investment styles is the very same: I look at the long term when I buy, I hold for the very long term (like Warren Buffett, forever is also my favorite holding period) and only if I think that the investment thesis changes, I will sell (as I did with AbbVie, for example).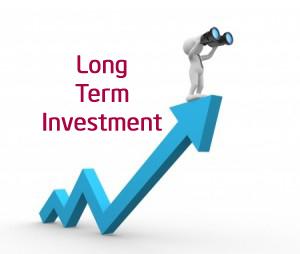 Analyst estimates: use them properly
One of the tools I use, is analysts' estimates. I know that they are often tarred and feathered on this wonderful forum, but I think they can be extremely useful if you handle their analyses well. The first and most important thing you have to do is ignore the headlines and the target prices they have to provide from their bosses. The value is not in the headline and especially not in the target price, which is just guesswork. It is much easier to predict the price of a stock over a longer period of time, because normally price follows earnings.
I have been using analysts' estimates projections for the next three or five years a lot as a part of my decision process, often with success. But I wondered if this criterion would be enough on its own to outperform. Therefore I will set up a testing portfolio here. Or in fact: two testing portfolios. One will hold the ten stocks of the Dow Jones Industrial Average with the best 5-year EPS growth expectations and one with the ten stocks of the DJIA with the lowest 5-year EPS growth expectations. Therefore we have to look up the data first. All estimates are taken from finviz.com. This is the complete oversight: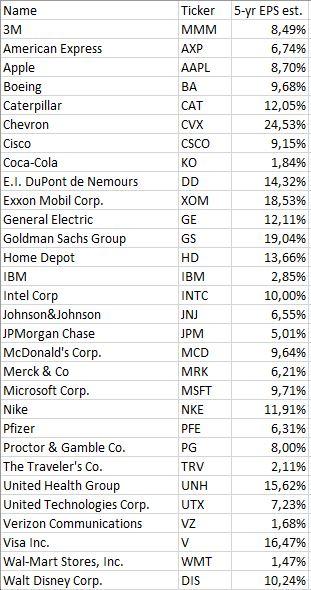 (Source: the author, based on finviz.com).
Some remarks must be made:
I have taken the Dow Jones Industrial Average (NYSEARCA:DIA) because it is a (more or less) closed system of big market cap stocks
These are just estimates, which means that these numbers are by definition very inaccurate.
All estimates are positive, though quite some companies had negative EPS growth over the last five years. For the oil-related stocks this could be expected somehow: Chevron (NYSE:CVX)(-23.70%), Exxon (NYSE:XOM) (-9.20%), Caterpillar (NYSE:CAT)(-3.40%), and I'm not too surprised to see a bank here too: Goldman Sachs (NYSE:GS) (-1.60%). But there are also stocks which are generally seen as very solid long-term performers that have had negative EPS growth over the last 5 years: General Electric (NYSE:GE)(-34.70%), United Technologies (NYSE:UTX) (-11.40%), Coca-Cola (NYSE:KO) (-8%), Microsoft (NASDAQ:MSFT) (-4.90%), Proctor & Gamble (NYSE:PG) (-2%) and Du Pont (NYSE:DD) (-1.10%), McDonald's (NYSE:MCD) barely made it with only 0.90% of EPS growth over the last 5 years.
The cyclical companies Chevron and Exxon score very high on the expected EPS growth for the next five years.
What we are going to test now: is it possible to beat the index (the Dow Jones Industrial Average) by selecting the companies that have the best long-term estimates, even if you disregard valuation, quality of the management, industry problems etc. I have already said that I use the estimates as a part of my complete evaluation process, but can the estimate on its own predict alpha?
Before I show you the portfolios, these are test portfolios, which means that I am not going to invest along these lines in real life, mind you. But for the test, I will be investing $10000 in total, $1000 for every stock in each portfolio. I will rebalance every year around New Year (yeah, I know I am very early, but I couldn't wait).
I will weigh the success of this portfolio against the DIA and the S&P 500 (NYSEARCA:SPY) averages. I expect to beat the DIA, but I have my doubts about SPY, because in DIA there are only mega caps, while in SPY you have a lot younger and more energetic companies. But we will see.
The A-portfolio will look like this: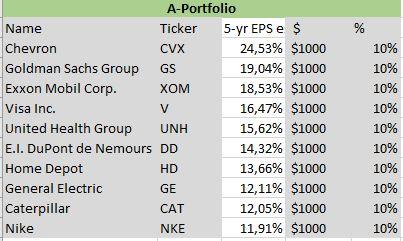 Besides the oil-related companies (CVX, XOM, CAT), there is also Home Depot (NYSE:HD) as a cyclical company, DuPont and General Electric as the typical industrial stocks, Goldman Sachs and Visa (NYSE:V) for the financial sector, United Health (NYSE:UNH) as a healthcare stock and Nike (NYSE:NKE) as the only apparel company here.
And this will be our B-portfolio, which we expect to underperform both the A-portfolio, the DIA and the SPY: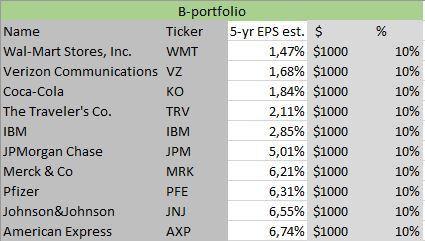 As you see, the favorite dividend stocks Wal-Mart (NYSE:WMT), IBM (NYSE:IBM), Verizon (NYSE:VZ) and Coca-Cola are all in this 'bad 10' portfolio. Pfizer (NYSE:PFE), Johnson&Johnson (NYSE:JNJ) and Merck (NYSE:MRK) show that it is maybe no coincidence that healthcare stocks have been trending down in the last year or so. Insurance, with Traveler's (NYSE:TRV) as an example, is not seen as booming business exactly. Probably the best bank of the last decade, JPMorgan Chase (NYSE:JPM) (8.70% EPS growth in the last five years) is in this list as well. Warren Buffett holding American Express (NYSE:AXP) is the best of the bad.
Just to be complete: the stocks that didn't make one of the portfolios are 3M (NYSE:MMM), Apple (NASDAQ:AAPL), Walt Disney (NYSE:DIS), Intel (NASDAQ:INTC), Microsoft, Boeing (NYSE:BA), McDonald's, Cisco (NASDAQ:CSCO), Proctor and Gamble and United Technologies.
The test is on, let's hope we can draw some conclusions for our never-ending learning process in the wonderful world of investing.
If you don't want to miss the follow-up articles or you would like more articles with a long-term investment horizon feel free to hit the "Follow" button .
In the mean time, keep growing!
Disclosure: I am/we are long NKE, DIS, AAPL, V.
I wrote this article myself, and it expresses my own opinions. I am not receiving compensation for it (other than from Seeking Alpha). I have no business relationship with any company whose stock is mentioned in this article.