Amicus Therapeutics (NASDAQ:FOLD) announced its planned regulatory pathway for Galafold in the U.S. last week and it includes a new trial. This is a significant setback for Galafold as the company was hoping for an accelerated approval under Subpart H. While I am disappointed with how things transpired, I believe that the current valuation significantly undervalues Amicus and that the company has decent upside potential based on Galafold's ex-U.S. potential alone. In this article, I reexamine the market opportunity for Galafold. My valuation on Amicus did not envision significant upside based on the U.S. opportunity for Galafold and I remain bullish on Amicus' long-term growth prospects and am actually slightly increasing my price target due to higher and quicker ex-U.S. growth expectations. Significant catalysts are around the corner as well.
U.S. regulatory pathway worse than expected - implications
Amicus didn't manage to secure accelerated approval for Galafold in the U.S. The company announced its planned regulatory pathway in the U.S. yesterday and it consists of:
A new trial that will commence in 2017 with topline data expected in 2019.
The trial will enroll approximately 35 patients who have an amenable mutation and GI symptoms.
The primary endpoint is diarrhea based upon established FDA irritable bowel syndrome (IBS) guidance.
The review of the NDA filing will be based on these new data and the totality of the data from all prior studies.
The FDA indicated that kidney globotriaosylceramide (GL-3) is currently not considered a basis for accelerated approval under Subpart H. There were some indications earlier that Amicus will not pursue the U.S. opportunity if there was a need for a new trial and this is a positive turn of events in the wake of bad news, as the U.S. market is still on the table. The bad news, of course, is that the U.S. launch will be delayed by three to four years. The company believes that it will have no problems enrolling those 35 patients as more than 50% of Fabry disease patients report or show GI signs and symptoms.
The primary endpoint also reduces the overall risk of the additional trial since patients in the phase 3 trial showed a "significant decrease in diarrhea (unadjusted p=0.03) in patients with amenable mutations treated with Galafold versus placebo during the 6-month double-blind phase (Stage 1), which persisted after 18-24 months of treatment with Galafold."
CEO John F. Crowley said on the conference call with analysts that they decided to do the study because of four reasons:
The GI symptom study has a high likelihood of success.
It's a feasible study in terms of patient recruitment.
It requires a reasonable amount of time.
It should secure full approval of Galafold in the U.S.
When asked about the additional R&D costs of this trial, the company didn't provide actual guidance but said the costs are manageable and do not shorten the cash runway.
I have previously lumped the U.S. market opportunity for Galafold with the rest of the world opportunity and will now separate them due to the significant delay. I have previously assumed that it will take eight years for Galafold to reach worldwide peak sales and that it will generate between $500 million and $1 billion in 2024. The new assumptions are:
$400 million to $600 million in annual sales ex-U.S. in 2022.
$200 million to $400 million in peak sales in the U.S. in 2026.
The resulting NPV for Galafold is in the $5.9-10.7 range (models available to Growth Stock Forum subscribers). The low end of the range is pretty close to the current share price of $6.10, meaning that there is modest downside going forward based on Galafold and that's without assigning any value to the rest of the pipeline. The combined value of Galafold is higher than I previously assumed due to better-than-previously assumed ex-U.S. market penetration, higher projected margins and faster time to reach a peak for the ex-U.S. markets.
Taking a different, more aggressive approach to valuation
I believe that my valuation assumptions are conservative and that the actual upside potential is more significant than my models suggest. If we look at the EV/sales ratios of other orphan companies and apply the average (or discounted) ratio to Galafold's future sales (discounted back by 15%), we get much higher price targets.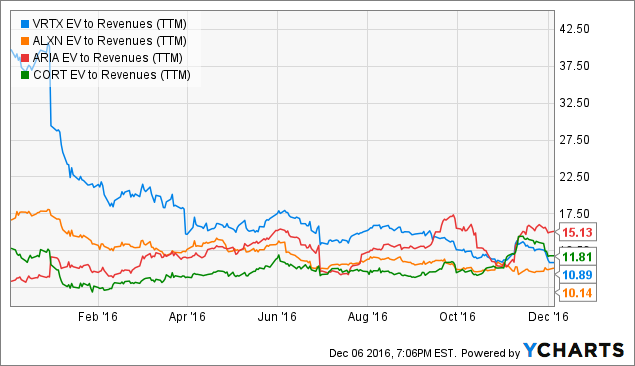 Source: Ycharts.com
Even if we consider a 30% discount to the average orphan EV/sales ratio (the average is 12), we get $9.5 per share, and that's just based on the ex-U.S. market (modest free cash flow generation is assumed over the next six years). This is almost double the value of my low end ex-U.S. NPV for Galafold. Of course, this valuation doesn't include the potential value of the pipeline. Adding Galafold's U.S. sales and Zorblisa's worldwide sales would significantly increase the upside potential for this model.
| | | | |
| --- | --- | --- | --- |
| | Low estimate | Mid-range | High estimate |
| 2022 sales | $400 | $500 | $600 |
| EV/Sales multiple | 8 | 9 | 10 |
| EV | $3,200 | $4,500 | $6,000 |
| Net cash | $300 | $400 | $500 |
| Equity | $3,500 | $4,900 | $6,500 |
| Diluted shares outstanding | 160 | 160 | 160 |
| Future Value Per Share | $21.9 | $30.6 | $40.6 |
| Discount factor | 0.43 | 0.43 | 0.43 |
| Present value | $1,513 | $2,118 | $2,810 |
| Present value per share | $9.5 | $13.2 | $17.6 |
Source: author's estimates and calculations
ATB200 and Zorblisa to unlock (or destroy) shareholder value in the following months
I wrote about this in my previous article, but it is worth repeating that Amicus has two additional catalysts in the following months: the phase 3 data of Zorblisa (SD-101) in Epidermolysis Bullosa, or EB in 1H 2017, and ATB200-02 proof-of-concept data cascade which should start in Q4 2016 and last through 2017.
Of course, Zorblisa is much more important at this point and positive data should unlock significant shareholder value, while failure is somewhat priced in at this point considering the value of Galafold, but a negative reaction is all but certain regardless of the share price. My model currently values Zorblisa at $4 per share (low end of the valuation range) and $8 per share (high end). If we assume Galafold is worth around $6 per share, Zorblisa essentially represents a free call option, and the same goes for the rest of the pipeline, including ATB200. The NPV of all assets is summarized in the table below.
NPV Of All Assets
Low estimate
Mid-range
High estimate
Galafold ex-U.S.
$4.9
$6.6
$8.5
Galafold U.S.
$1.0
$1.6
$2.2
Zorblisa
$4.0
$5.7
$7.7
The rest of the pipeline
/
/
/
Total
$9.8
$13.9
$18.5
Source: author's estimates and calculations
My new conservative and base case price targets on Amicus are $10 and $14 respectively and both are up from $9 and $13.50 (see previous article) due to higher and quicker ex-U.S. growth expectations and better margins. My thesis on Amicus remains intact despite Galafold's setback in the U.S. and I am a buyer on this pullback.
Analysts remain bullish on Amicus
Several analysts weighed in on Amicus following Galafold's delay in the United States:
Financial review
Amicus had $214 million in cash and equivalents at the end of Q3 and the company reiterated its $135-155 million cash spend guidance for 2016. Based on next year's revenue and cost expectations, Amicus should have enough cash to cover expenses through 2017 and possibly through much of 2018 if Galafold sales exceed expectations. But I think the company will need to raise more cash at some point in 2017, and especially if Zorblisa is approved.
Amicus acquired Zorblisa through the Scioderm acquisition last year and the company is obligated to pay up to $361 million upon achievement of certain clinical and regulatory milestones and up to $257 million in sales-based milestones. The terms are not specific, but I assume Amicus will have to pay a good part of those regulatory milestones over the next two-three years, which will require either a debt raise or more dilution. But this would probably be a good problem to have (at least in theory) since Scrollbars approval stands to unlock significant shareholder value considering the size of the addressable market, the orphan pricing and the lack of competing products.
Conclusion
I remain a long-term bull on Amicus and am a buyer on this pullback. I always like these kinds of stories in biotech - an approved product that has enough potential to at least justify the current share price and perhaps drive some upside and a promising pipeline which could significantly increase the long-term value of the company. Amicus fits this model perfectly. Galafold is approved in the EU (and approvable in roughly 70% of the worldwide Fabry market based on the EU approval) and has sufficient market potential to justify the current valuation and drive additional upside if the product exceeds expectations. And the rest of the pipeline looks really promising: Galafold in the U.S. (potential approval in 2019/2020), Zorblisa (phase 3 topline data due in 1H 2017), ATB200 in Pompe disease ($800 million global market, upcoming data could put this candidate on investors' maps), Galafold with Replagal or Fabrazyme (combo-therapy), CDKL5 deficiency (ultra-orphan disease with no approved treatments). Additional dilution or financing troubles, slower than expected commercial uptake, regulatory delays and reimbursement issues for Galafold and pipeline failures are the main risks to my thesis.
Author's note: Growth Stock Forum subscribers had an early look at an expanded version of this article, which discusses the ex-U.S. landscape and the potential for higher ex-U.S. sales. Readers are invited to take a two-week free trial in the Seeking Alpha Marketplace.
Disclosure: I am/we are long FOLD.
I wrote this article myself, and it expresses my own opinions. I am not receiving compensation for it (other than from Seeking Alpha). I have no business relationship with any company whose stock is mentioned in this article.
Additional disclosure: This article reflects the author's personal opinion and should not be regarded as a buy or sell recommendation or investment advice in any way.