Top Gold Stocks for 2017
Every December I list my top overall gold stock picks for the upcoming year, with the goal of outperforming the benchmark gold miners index (NYSEARCA:GDX), or the NYSE Gold Bugs Index (HUI). I believe, with careful selection, that I can outperform these indexes.
I target gold companies with low operating costs, a solid balance sheet (low or no debt, or a declining debt position), strong, low-cost growth potential, and an undervaluation compared to peers. I also like to target takeover candidates, as takeovers are typically done at a premium, leading to outperformance.
Believe it or not, gold has had a pretty decent year. The metal started the year at $1,078 per ounce, traded as high as $1,367 per ounce, and now trades at $1,177 per ounce. So, despite the recent drop, gold is actually trading in the green for 2017 as the price is up 8% over the past year.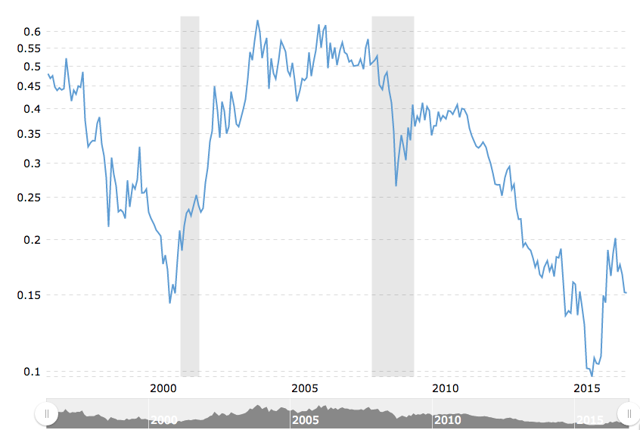 (Credit: Macrotrends)
As you'll see above, gold miners continue to trade at a low valuation compared to the price of the physical metal, although the discrepancy is not as big as it was in 2015. Currently, the HUI to gold ratio is .15, which means an ounce of gold currently buys you .15 of a share of the NYSE Arca gold bugs index (HUI).
This ratio hit a peak of .64 back in 2003, and reached a low of .10 in early 2015. Right now, it looks like gold miners are still undervalued compared to gold. For example, If the ratio were to revert back to .30, then a share of the HUI would be trading at $353, almost double the current price of $185.10. If gold were to rise to $1,500 per ounce in 2017, and the ratio were to hit .30, then the HUI would trade at $450 per share.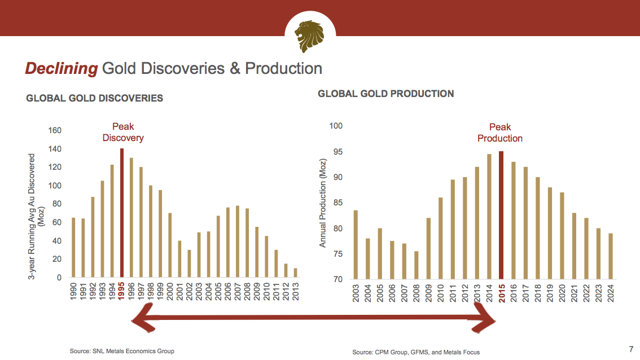 (Credit: Teranga Gold corporate presentation, with figures from SNL and CPM group, GFMS and Metals Focus).
I'm bullish on gold in 2017, purely from a supply and demand point of view. As I pointed out recently, gold hit peak production in 2015, and production is expected to continue falling in 2017 as most gold miners cut back heavily on advancing gold deposits during the gold downturn of the past few years. For one, Credit Suisse is projecting a 211 tonne supply deficit in 2017 as thinks gold will hit $1,500 an ounce in early 2017.
Note: This list only includes gold stocks. Check out my top 5 silver stock picks for 2017.
Despite a slight recovery in prices, I expect gold miners to remain cautious on advancing new gold mines, and only the most economical gold mines will get built going forward. I don't usually make predictions, but I expect gold prices to trade between $1,100 to $1,400 per ounce for most of 2017, and possibly higher if inflation starts to pick up in the U.S. With gold trading under $1,200 an ounce as of writing, I think it's a good time to buy.
Top Gold Stocks for 2016: How Did They Perform?
Here's how my top picks for 2016 performed compared to the gold miners index, which has returned 55.6% as of writing. I am happy with my selections as a whole: 7 out of 10 selections outperformed the GDX, and these picks have returned 95.57% on average.
If you invested $10,000 evenly on these picks at the time of article publication, it would be worth $19,957 as of writing, compared to the $15,560 you would have if you invested in the GDX instead, so that's a net gain of nearly $4,000 (not counting the cost of trades, of course).
#10 Richmont Mines (NYSEMKT:RIC): The stock is up 101.71% year-to-date, compared to the 55.6% gain in the GDX. The stock traded around $3 per share at the start of the year and now trades at $6.50.
#9 Royal Gold (NASDAQ:RGLD): This gold streaming and royalty company has advanced 94.80% year-to-date, almost doubling the performance of the GDX.
#8 Agnico Eagle (NYSE:AEM): Agnico has had a solid year, but is up 54.79% year-to-date, so it has underperformed the GDX.
#7 Endeavour Mining (OTCQX:EDVMF): Quite frankly, one of the best picks I've ever made, Endeavour is up 173.95% year-to-date, more than triple the performance of its peers. Endeavour is my largest real-life gold holding and I remain very bullish on its long-term prospects (you'll read more on this down below).
#6 Semafo (OTCPK:SEMFF): Semafo is one gold miner that has not lived up to my expectations. The stock is only up 24.19% year-to-date, or half of the performance of the GDX.
#5 Randgold Resources (NASDAQ:GOLD): Randgold has been even more disappointing than Semafo, up 17.42% year-to-date, mainly due to challenges at its Kibali operation and tax issues in Mali. I think there are better opportunities in the gold market here, so I am no longer recommending shares.
#4 Klondex Mines (NYSEMKT:KLDX): Klondex has returned 149% year-to-date, so it has been a solid pick. Drilling results continue to impress at its Fire Creek mine, and the company also recorded first gold sales at its True North mine. Further upside could be ahead in 2017.
#3 Kirkland Lake Gold (KGILF): Kirkland Lake Gold is up 95.34% to date and I think the Canadian gold miner has much more upside in 2017 following its acquisition of Newmarket Gold back in September. Read more below.
#2 Aurico Metals (OTCPK:ARCTF): Aurico Metals has slightly outperformed the GDX, as shares are up 66.67% year-to-date. The market continues to place little value on Aurico's royalty assets and its Kemess East project. That value could unlock in 2017 as Aurico further advances Kemess. I did not include Aurico on my list for 2017, but I remain bullish.
#1 Newmarket Gold (OTCQX:NMKTF): Newmarket Gold is up 177.89% year-to-date, and at one point was up close to 300%. As I pointed out last year, I thought the stock was ridiculously undervalued, as it traded at an EV/EBITDA of 1.6 and a forward P/E of 4.77. Shareholders' patience has been rewarded, as it has been an outstanding year for this small-cap Australian gold miner. This is another pick I am really proud of.
Here are my top picks for the upcoming year.
Top Gold Stocks for 2017
#10 Teranga Gold (OTC:TGCDF)
Teranga owns the producing Sabodala gold mine in Senegal, West Africa, a mine which contains 2.6 million ounces in reserves and 4.4 million measured and indicated resources. Teranga has earned a spot on this list due to the miner's strong operating performance and the likelihood for continued success in 2017.
For example, year-to-date, the miner has increased gold production by 32% to 172,748 ounces, with $217 per ounce in free cash flow per gold ounce sold; its cash balance has swelled by $30 million in that time. Over the anticipated mine life of 13 years, Teranga is estimating that it will produce $549 million in cumulative cash flow due to low cash costs and low sustaining capex.
Meanwhile, Teranga is focused on creating value at its newly acquired Banfora gold project, which carries a proven and probable reserve base of 1.05 million ounces and, according to a feasibility study, will produce 73,800 ounces of gold over an initial 8.6 year mine life, with all-in sustaining costs averaging $839 per ounce. I was definitely a fan of this acquisition as Banfora looks like it will be a real profitable gold mine for Teranga.
Teranga remains a core holding of mine, and I think 2017 will be another strong year for the gold miner; I also think Teranga is a strong takeover target and should draw considerable interest from larger miners in 2017.
#9 Mariana Resources (OTC:MRLDF)
Mariana Resources came under my radar following Sandstorm Gold's acquisition of 55 royalties from Teck Resources (TCK). One of these royalties was a 2% net smelter royalty on Mariana's Hot Maden project in Turkey. Mariana is the 30% owner of this project, and I think it's a very attractive gold-copper-zinc project that will likely become an economical gold mine before the end of this decade.
Currently, Hot Maden boasts a high-grade resource of 3.86 million gold equivalent ounces, and Mariana's 30% ownership puts its interest at 1.158 million ounces. Drill results have been outstanding to date, and include intersections of 82 meters of 20.4 g/t gold and 69 meters of 62.7 g/t gold. Other drills have returned significant copper intersections, including 82 meters of 32.7 g/t gold and 1.9% copper.
As I mentioned in my real-life gold portfolio update, I bought my initial position of Mariana at $.69 per share on July 28, and later added more shares around $.80. A preliminary economic assessment on Hot Maden should be coming before the end of this year, with a pre-feasibility study planned for mid-2017. I expect positive results from both studies, along with further drilling success at Hot Maden.
Investors should definitely keep an eye out for drilling results at Mariana's other Turkey property, Ergama, a copper-gold project (assay results expected Q1 2017). The bottom line: Mariana should outperform in 2017 and I think the company is a strong takeover target.
#8 Barrick Gold (NYSE:ABX)
Barrick Gold is the largest gold producer to make this list. I chose Barrick because I feel the company is executing on its strategy to improve free cash flow and reduce its net debt. It has been producing enormous amounts of free cash flow.
For example, in Q3, Barrick's all-in sustaining costs fell to $704 per ounce, with free cash flow rising to $674 million, and net earnings of $175 million, or $.15 per share. As for its balance sheet, Barrick ended the quarter with $2.64 billion in cash and equivalents, compared to $8.38 billion in debt (a decline from $9.76 billion last year).
I also think Barrick will end of selling its 50% owned Kalgoorlie gold and copper mine in Australia, and the company is rumored to have received a $1.3 billion offer for its interests. It's also rumored that Barrick may be willing to sell its Veladero mine, which would also likely net the company more than $1 billion in a sale. Both moves would reduce Barrick's net debt and improve the balance sheet, plus allow Barrick to focus 100% of its core assets (Goldstrike, Cortez, Pueblo Viejo and Lagunas Norte, among others), which I feel are among the best gold mines on the planet.
Barrick is a highly profitable gold producer, and I don't expect that to change much in 2017. With continued reduction in net debt, Barrick's financial position should only get better from here. I think the miner is a must own for gold bulls.
#7 Centerra Gold (OTCPK:CAGDF)
I think Centerra Gold became a much more attractive investment following the company's acquisition of Thompson Creek Metals and its Mt. Milligan copper-gold mine. The move allows Centerra to diversify out of the Kyrgyz Republic, where it owns the Kumtor gold mine, and it adds an asset that contains more than 5 million gold ounces and 2.18 billion pounds of copper in reserves, with a 21-year mine life.
Q3 was a strong quarter from Centerra, as it produced 166,030 ounces of gold at all-in sustaining costs of just $591 per ounce; 2016 guidance was adjusted upwards to 540,000 ounces, with all-in sustaining cost guidance revised downwards from $800 to $744 per ounce.
Centerra has two strong producing assets, and also benefits from a strong balance sheet with net cash of $501 million. I think the acquisition of Thompson Creek will eventually result in a re-rating of shares. Currently, Centerra trades at a Price/NAV of .8X, according to analyst estimates. This is well below peers New Gold (NYSEMKT:NGD), which trades at 1.4X, Alamos Gold (NYSE:AGI), which trades at 1.5X, and Silver Standard (NASDAQ:SSRI), which trades at 1.8X.
Meanwhile, Centerra's Oksut gold deposit will provide future growth; once in production, this gold mine is expected to produce up to 200,000 ounces of gold annually at $490 AISC over an 8-year mine life. Construction will begin in 2017.
Centerra is in a great position for 2017 and I think this will be the year the market finally places a higher valuation on shares as it realizes the true quality of Centerra's assets and its strong balance sheet.
#6 Pure Gold (OTCPK:LRTNF)
Pure Gold was listed as one of five gold explorers I felt investors should put on their radar back in July of 2016. I think the company made significant strides at its 100% owned Madsen gold project in Canada this year, with drill results returning numerous high-grade gold intersections.
Latest drill results returned 76 g/t gold over 2.1 meters, but I think results like this are just the beginning. It looks like there's great potential for Pure Gold to expand upon its currently defined resource base of 928,000 ounces of gold indicated (8.93 g/t), and 297,000 ounces inferred (11.74 g/t). A positive pre-feasibility study has already been released on the project, based on development using existing infrastructure and a just portion of the mineral resource; it gives the project a pre-tax net present value (5% discount) of $104 million.
As I've stated in the past, I think Pure Gold's management team is top notch. For one, Pure Gold's CEO is the former chief geologist of Placer Dome's Campbell Mine, which was acquired by Goldcorp (NYSE:GG) back in 2005. Next, one of its directors is the former executive chairman of True Gold Mining (OTCQX:RVREF), which was acquired by Endeavor Mining (OTCQX:EDVMF). The team has a ton of experience and a track record of success in this industry.
In addition, insiders of Pure Gold have been buying the stock hand over fist in 2016 and own 4.5% of the company. I think that's a clear sign that management and directors are bullish on the company's prospects and believe the stock in cheap. Finally, AngloGold Ashanti, a major gold mining company, owns 10.7% of the stock and I think they could be interested in a takeover at some point.
Pure Gold is well deserving of the #6 spot on this list, and I think further gains are in store for investors in 2017. With $15 million cash in the bank as of writing, Pure Gold has enough cash to complete its exploration work in 2017. I think the company is going to draw considerable takeover interest next year, and I expect the stock to outperform.
#5 Orca Gold (OTCPK:CANWF)
Orca Gold owns 70% of the Block 14 project in Sudan, Africa, which is the third largest gold producing country in Africa. A preliminary economic assessment on the multi-million ounce gold deposit gives it an after-tax net present value (7% discount) of $128 million (using $1,200 gold price), and shows the potential for a low-cost gold mine, with $805 all-in cash costs projected.
However, the PEA only includes a portion of Orca's resource base at Block 14 and I think more gold will be discovered in 2017 based on past drilling success. Just 71,072 meters have been drilled to date, and every drilling program conducted to date has intersected high-grade, near-surface gold.
I thought recent drilling results at Block 14 were very encouraging, as the company says it intersected 6.58 g/t gold over 30 meters, 4.69 g/t gold over 10 meters, and 2.20 g/t gold over 150 meters, among other results; management believes there is strong potential for extension of the mineralisation. The company has also discovered high-grade gold at the nearby Liseiwi deposit, intersecting grades of up to 28.73 g/t over 3 meters. In other words, it's likely Orca Gold's current 1.625 million ounce indicated resource is going to expand with further drilling. I'm betting that this is the case.
A prefeasibility study is due for completion in Q1 2017, and I am expecting positive results, which should provide a catalyst for share price appreciation. Orca has $12 million cash in the bank as of writing, so it has no immediate needs to raise capital.
Finally, Orca Gold management owns a significant stake in the company (4.9% ownership). Like Pure Gold, I think this management team is really strong, as it is led by Rick Clark, who led Red Back Mining to become a gold producer that was eventually taken over by Kinross Gold (NYSE:KGC) for $9.2 billion back in 2010. The company's President, COO and CFO were also involved with Red Back Mining, so I think this team's track record is outstanding. Orca Gold is one of my favorite gold explorers, plain and simple.
#4 Alexandria Minerals (OTCQB:ALXDF)
Alexandria is a gold explorer that is focusing on its Cadillac Break property, located in Val d'Or, Quebec. It owns a highly prospective land package in this world class mining jurisdiction, where some 70+ million ounces of gold have been produced to date. The company has managed to increase its resource base 4-fold over the past five years, to more than 2 million gold equivalent ounces, but is not getting the respect and valuation it deserves.
One reason I included this Canadian gold explorer is because I really like Alexandria's latest joint-venture option deal with Probe Metals. It allows Alexandria to use "other people's money" to explore one of its high-grade gold properties, saves it money and the need to dilute shareholders, and I believe it will create value for the company over time.
Probe must spend $5 million on exploration expenses over a four-year period and issue 300,000 common shares of its stock (worth $432,000 as of writing) to earn a 60% interest in the eastern portion of Alexandria's Cadillac Break properties, which includes its 279,760 ounce Sleepy deposit. Probe can also earn an additional 10% by completing a pre-feasibility study on a mineral resource that totals a minimum of 1 million ounces on this deposit, plus Probe must spend another $2 million on exploration to earn that 10%.
In short, I think this deal could unlock the value of this property at no cost to Alexandria, other than giving up percent ownership. Meanwhile, Alexandria can focus its attention and its resources on drilling the Western portion of Cadillac Break where the company has already discovered 1.8 million ounces of gold - an area I believe has much more upside than Sleepy.
Alexandria has underperformed this year, but I think this gold explorers' luck will change in 2017 as I'm expecting solid drilling results from its Akasaba and Orenada properties; I also believe there is some potential for a takeover from one of Alexandria's largest shareholders, Agnico Eagle , which owns 9% of the company and previously purchased the west zone of Akasaba for $5 million and a 2% royalty to Alexandria. In addition, management and insiders own 8% of Alexandria. This remains a core holding of mine, and I have no plans of selling here.
#3 Endeavour Mining
Endeavour Mining is a mid-tier gold miner that is focused in West Africa. As I stated in an article published back in June, I think Endeavour is looking more and more like it's the next Randgold Resources . What do I mean by that exactly?
Endeavour owns five producing gold mines, all of which carry low all-in sustaining costs (less than $900 per ounce). The company acquired True Gold Mining back in March, and is on track to produce close to 1 million ounces of gold by the year 2018, thanks to new production from the Karma gold mine and the Hounde project (first gold pour expected end of 2017).
This is unbelievable growth when you consider the fact that Endeavour was a single mine company producing just 83,000 ounces of gold in 2010. I believe Endeavour will be a 900,000+ ounce a year producer by 2018. For comparison, Randgold is estimated to produce 1.2 million ounces of gold this year and is valued at $6.65 billion as of writing, compared to Endeavour's $1.46 billion market cap. Meanwhile, Endeavour it targeting all-in sustaining costs to fall to $800 per ounce by 2018.
Endeavour has performed quite well in 2016 thus far, with higher production and lower cash costs then expected. The company has also used free cash flow and an equity financing to reduce its net debt, and now has only $14 million worth of net debt. The company is well positioned to outperform its peers in 2017 and is arguably the best gold growth stock in the world. Endeavour is actually my largest real-life gold holding, and I don't think that will change anytime soon. Expect a strong performance in 2017.
#2 Avnel Gold (OTCPK:AVNZF)
Avnel made this list because I think 2017 is the year this company gets bought out by a larger gold miner.
Avnel is developing its 80% owned Kalana Main project in Mali, West Africa; it has declared a 2 million ounce open pit reserve base at 2.8 g/t gold at Kalana. A definitive feasibility study gives the project strong economics: at $1,200 gold, it carries an after-tax net present value (5% discount) of $196 million, with a rate of return of 38% and all-in sustaining costs averaging just $595 per ounce in the first five years of production ($784 per ounce over the mine life). Production will average 148,000 ounces annually at 3.6 g/t gold. Initial capex of $196 million is pretty reasonable when you consider the projected payback of under 2 years.
Avnel is so high on this list because I feel the company is just too undervalued here. It carries an enterprise value of $60.6 million as of writing, which is well below the $196 million after-tax NPV of Kalana. The stock also trades at a price to net asset value of .40X as of writing, which is lower than all of its peers except Orezone Gold, according to Avnel's corporate presentation.
While Avnel is currently planning on bringing Kalana to production itself (according to the company, it has initiated project financing discussions with lenders), I think the company will get bought out in 2017 given its undervaluation and the strong economics of Kalana. I see Endeavor Mining and Randgold as two potential suitors, although other Africa-focused miners may be interested.
#1 Kirkland Lake Gold
Kirkland Lake Gold takes the #1 spot on this list for a few reasons. Put it this way: if Kirkland Lake and Newmarket Gold were still both standalone companies, both would have cracked the top 10 here (Newmarket was actually my overall top stock pick for 2016, which turned out to be a great pick). I was a huge fan of Kirkland Lake' $1 billion acquisition of Newmarket Gold back in September. While some readers scratched their heads at the deal, I think management's combined expertise in underground mining made the deal a good fit.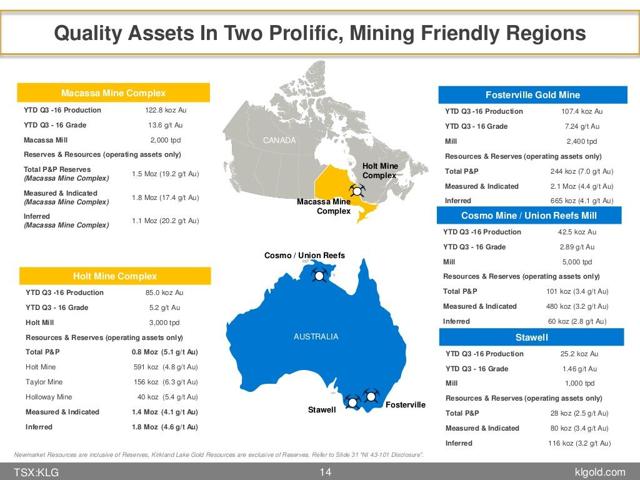 (Credit: Kirkland Lake corporate presentation)
The acquisition transforms Kirkland Lake to a more diversified company, with production from the Macassa, Fosterville and Taylor mines in Canada and Australia, which are both top-tier mining jurisdictions, plus a number of development and exploration properties. The new Kirkland Lake is expected to produce more than 500,000 ounces of gold this year at sub $1,015 AISC, but I expect this figure to fall significantly with the acquisition of Newmarket (AISC should fall under $800 in 2017).
Kirkland Lake gains ownership of some pretty attractive, high-grade gold assets, but mainly the Fosterville gold mine in Australia, which I covered in detail here. In Q3, the first quarter for the new company, Kirkland Lake produced $24.8 million in net income, or $.21 per share, and produced $30.2 million in free cash flow. Year-to-date, Kirkland Lake has produced $87.5 million in free cash flow, and it should only improve in 2017. The company is in a strong financial position, with $320 million in cash and just $119 million in debt as of writing.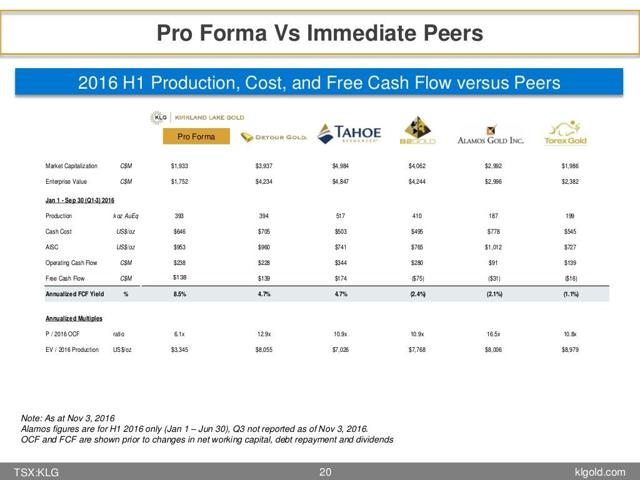 (Credit: Kirkland Lake corporate presentation)
Perhaps most importantly, Kirkland Lake is undervalued compared to peers. Shares trade at an EV/2016E production of $2,160, and a Price/2017E operating cash flow of 6.1X.
Compared to peers, Kirkland Lake trades at a significant discount (as you can see above), and there's no reason for this in my opinion. This is a profitable, growing gold producer that operates in safe mining jurisdictions - if anything, the stock should be trading at a premium to peers. I am long Kirkland Lake Gold and plan on adding more shares very soon. I don't expect the stock to trade at this valuation for very long.
Honorable mentions: Columbus Gold, NuLegacy Gold (OTCQX:NULGF), Sarama Resources (SRMFF), Eastmain Resources (EANRD), Sandstorm Gold (NYSEMKT:SAND), Integra Gold (OTCQX:ICGQF), TomaGold (TOGFF), Skeena Resources (OTC:SKREF), Dalradian Resources (OTCPK:DRLDF).
Disclosure: I am/we are long CAGDF, KGILF, EDVMF, ICGQF, NULGF, SAND, TGCDF, AGI, MRLDF, ALXDF, CANWF, SKREF.
I wrote this article myself, and it expresses my own opinions. I am not receiving compensation for it (other than from Seeking Alpha). I have no business relationship with any company whose stock is mentioned in this article.
Editor's Note: This article covers one or more stocks trading at less than $1 per share and/or with less than a $100 million market cap. Please be aware of the risks associated with these stocks.