A company I have had my eye on for quite some time is Medtronic Plc (NYSE:MDT), which manufactures medical devices for the pacemaker, diabetes management, orthopedic, and defibrillator medical markets. This article will outline the fundamental and technical reasons the stock appeals to me along with the risks of entering a position now.
Medtronic is well known by many Seeking Alpha readers for its long history of raising its dividend every year. That is one of the reasons I have had my eye on the company. In FY 2016 it had revenues of $28.8B, earnings per share of $2.48, paid out a $1.52 per share in dividends. Medtronic's fiscal year ends 30 April.
Medtronic does have some negative trends affecting the company and apparently the share price. While revenues have risen consistently, earnings per share have declined since 2012 from $3.22 to last year's $2.48. Earnings per share have been negatively affected by the merger with Covidien Plc. The number of shares outstanding increased in 2016 to 1.425B from 1.109B in 2015. The increase in shares outstanding is a result of the Covidian Plc merger which was completed in January, 2015. In order to offset the rise in shares outstanding, the Board of Directors authorized an 80 million share repurchase program in June, 2015. There are about 39 million shares left on this authorization. Hopefully they are buying back some shares at these lower prices.
There are some other metrics that are unattractive. Return on assets has declined over the past several years and is currently at 3.6%. This compares to its 5 year average of 7.4%. Its return on equity of 7% is also considerably lower than its 5 year average of 14.3%. Its long term debt is over $30B. Medtronic can pay its bills however. Its current ratio is 3.4.
From a technical standpoint Medtronic has declined from its high of almost $88 to its recent low of $71. This was a 20% correction in the stock price. While on a technical basis the stock looks in trouble with the stock below both its 10 week and 40 week moving averages, and both of them are declining, there are some technical signs of hope. Chart 1 shows that the weekly RSI (14) has declined below the traditional oversold area of 30. Additionally, MDT may have support at current prices.
Chart 1 - Medtronic Weekly Chart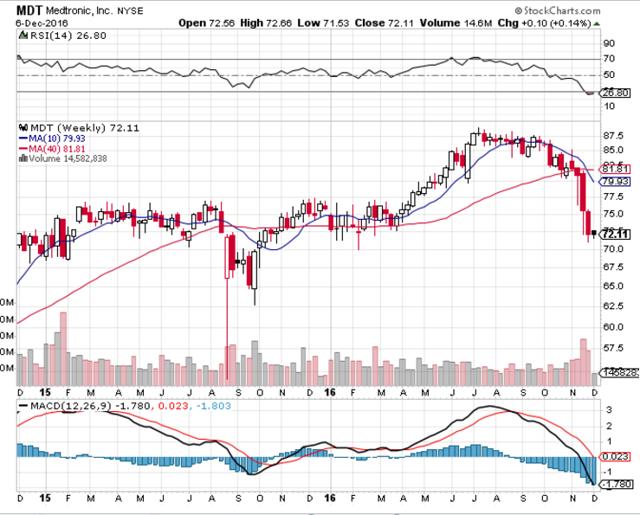 Some of the long term factors that favor an investment in Medtronic include a demand for quality health care not just in America but around the globe; increased R&D leading to new products and innovations; and an aging population in developed countries. I see the demand for quality health care and the aging population as reasons why its revenues will be rising consistently in the future. I see its R&D leading to new products which will help its margins increase leading to a return to its historical average for return on assets. Higher gross and operating margins can be expected once the synergies of the Covidien merger take hold. This should improve its return on equity.
Some of the risks of investing in Medtronic includes product recalls, future cuts in Medicare reimbursement, and the risk that its 2015 merger with Covidien will not be as fruitful as originally planned.
To summarize, Medtronic is a dividend aristocrat and a leader in the medical device industry. It is considered a wide moat company by Morningstar. While revenues have been rising, earnings per share have declined and management gave cautionary statements in their most recent quarterly earnings call. However, there are some aspects of Medtronic that make it interesting to me. Long term trends concerning demographics and its merger with Covidien are compelling to me. Additionally, the stock price has recently declined about 20% adding a margin of safety. These fundamental and technical reasons outweigh some of my current concerns of low returns on assets and equity along with synergy issues and possible product recalls. I will be initiating a position in Medtronic Plc at the market price on December 7, 2016. If the stock rallies from here, great. If it declines further perhaps I will add to my position. Either way I will take my dividends in cash. All in all, I see this decline in price to be an excellent opportunity to pick up some shares of a quality company at a reduced price.
Disclosure: I/we have no positions in any stocks mentioned, but may initiate a long position in MDT over the next 72 hours.
I wrote this article myself, and it expresses my own opinions. I am not receiving compensation for it (other than from Seeking Alpha). I have no business relationship with any company whose stock is mentioned in this article.