After rising by more than 18% since November 30th, oil prices fell during the early morning session on Wednesday. The WTI (WTI) and Brent (which were earlier down by more than 0.5%) recovered later and were trading at $50.57 and $53.61 respectively at the time of writing this article. In my previous article, I had mentioned that the markets were anxious regarding OPEC and Russia's commitment towards their oil production deal. So, why are the markets worried about this deal after all?
Both OPEC and Russia are producing oil at record levels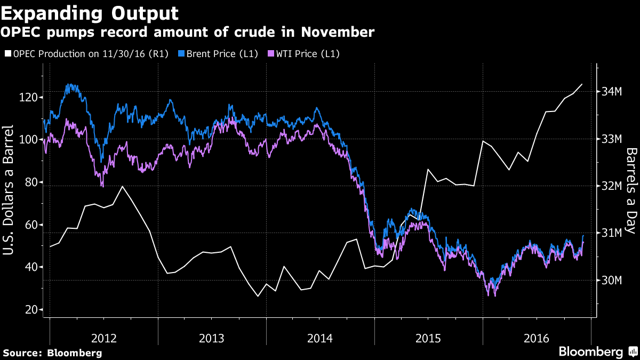 It needs to be noted that OPEC reportedly produced a record- 34.19 million barrels per day of crude oil in the month of November. If this is true, then OPEC needs to reduce around 1.7 million barrels per day (not 1.2 million barrels per day) in order to achieve its target of producing 32.5 million barrels per day. On the other hand, Russia produced around 11.21 million barrels per day during the same month, its highest production in almost 30 years. This is the reason why oil prices fell during the earlier session. "With both Russia and OPEC producing at record amounts, the market is scratching its head about how both blocs will manage to comply with the Vienna production cut targets. The point is valid, as the more OPEC and Russia produce, the higher the starting point will be to have to cut from," said a senior market analyst from OANDA.
Oil prices also recovered after the American Petroleum Institute (NYSEMKT:API) reported a larger than expected crude oil inventory drawdown. According to the API, the crude oil inventories went down by 2.21 million barrels against the market expectation of 1.37 million barrels. However, Cushing inventories witnessed a build-up of more than 4 million barrels - its biggest build up since 2008 and much higher than the expected build- up of 2.87 million barrels. On the other hand, gasoline and distillate inventories witnessed a build-up of 828,000 barrels and 4.08 million barrels respectively. It will be interesting to see what the U.S based Energy Information Administration (NYSEMKT:EIA) will report when it releases its weekly oil data on Wednesday.
Takeaway for investors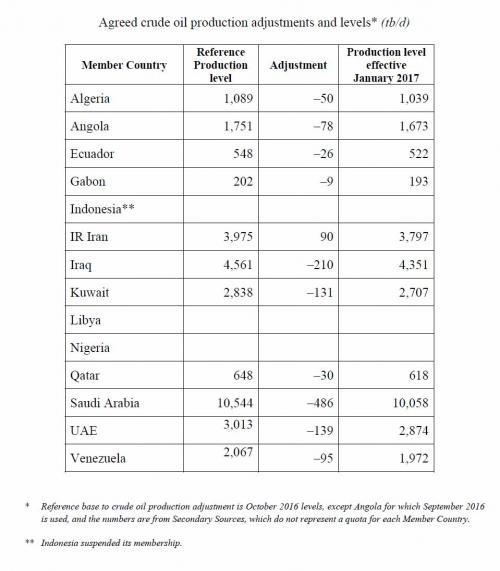 Image source : zerohedge.com
Looking at OPEC, it must be noted that the cartel's biggest supply gains (for the month of November) came from Angola, Nigeria and Libya, with Nigeria and Libya increasing their November output by 140,000 barrels per day. Now, the problem is that Nigeria and Libya are exempted from any immediate production cuts. This means that OPEC members like Saudi Arabia, Iraq and U.A.E will have to make larger cuts, if they have to reach their production target of 32.5 million barrels per day. In my opinion, the probability of this will be very less as OPEC members have already discussed their individual crude oil production cuts. However, more details shall emerge on December 10th when OPEC and non-OPEC members meet again in Vienna to finalize the technicalities of their deal. Non -OPEC members have agreed to reduce their production by 600,000 barrels per day from January, while Russia alone will (gradually) reduce around 300,000 barrels. Oil prices (NYSEARCA:USO) will definitely swing on December 10th based on the outcome of the OPEC- non OPEC meeting. Oil Prices will definitely fall, if OPEC and non-OPEC members deviate from their commitment made on November 30th. Investors must take note of this.
Disclosure: I/we have no positions in any stocks mentioned, and no plans to initiate any positions within the next 72 hours.
I wrote this article myself, and it expresses my own opinions. I am not receiving compensation for it (other than from Seeking Alpha). I have no business relationship with any company whose stock is mentioned in this article.