When investing in any stock, I believe protecting the downside is key. Cisco (NASDAQ:CSCO) is a stock that has been in the news lately as investors seem to be more cautious about the long-term prospects of the company, especially after the company's first fiscal quarter of 2017. Routing and security were really the only standout divisions in the quarter, as the rest of the categories reported weaker revenue performance than what was expected. As a result, sentiment is on the floor at present which means a short-term bounce should be on the cards soon.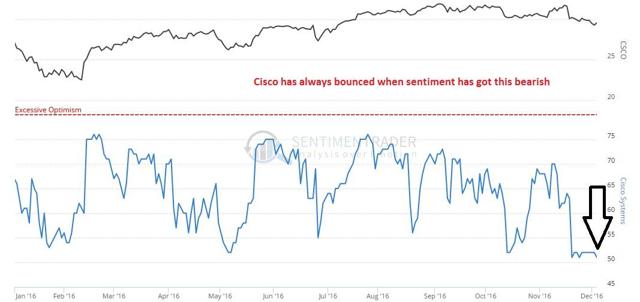 Source : Sentimentrader.com
Furthermore, to add insult to injury, guidance came in below expectations for the second quarter which consequently has tanked the stock by over $2 since its pre-earnings share price. The real question that is on investors' minds is whether this unexpected weakness will end up being temporary or permanent. There is no doubt that Cisco must continue to adapt and pivot in what is becoming a fast changing environment, but investors should consider that downside risk may be more volatile in Cisco compared to other tech stocks - at least to a certain degree, in my opinion.
In saying this, Cisco has become an exceptional dividend paying stock with aggressive dividend growth rates, but upside movement in the stock may be muted due to the big run the share price has already undergone since February. Therefore, the following needs to be your first question. Are you considering investing in Cisco for income or capital gain? Personally, I would be heavily leaning towards the former for a number of reasons.
Firstly, Cisco's earnings multiple is 14.1 which is almost at its 5-year average of 14.5 (industry average is 19.9). Furthermore, its sales multiple of 3.1 is well above the company's 5-year average as well as well ahead of the industry's average of 1.6. It is quite uncommon to see such divergences between a company's earnings and sales multiple compared to the industry averages it is operating in. However, that is what we have with Cisco and is due to the stellar margins the company has been able to produce down through the years. In fact, in its latest fiscal year, the company generated gross margins of 62.9% which were the highest since 2010. Furthermore, its operating margins of 25.7% were the highest the company has produced in over a decade. No sign of a slow-down here but is there more to meet the eye?
Well, from a valuation perspective (as mentioned), this stock may not be the best candidate at present. Furthermore, with stocks trading at all-time highs, stock pickers need to become ultra cautious about what companies they invest in. This is why Cisco at present may be at risk for short to mid-term investors. Just look at how the stock tanked in the great recession when it went from $33 to $14 in 2009. This is what happens to companies which don't have real compelling competitive advantages.
Yes, the company's vast array of installed products worldwide plus its trusted brand definitely make switching costs add up, but since the industry is shifting many believe this competitive advantage in the future will be not as potent. This may be true but bulls maintain that a steep global downturn may not hurt Cisco as many think as the cost of ripping out Cisco's equipment and installing cheaper alternatives may result in expensive downtime and added cost for companies. Only time will tell on this one but there is no doubt that software and subscription services are the future and its data center sales decline in fiscal Q1 illustrated that Cisco will not have it all its own way as it continues its transformation over time.
It seems to be a common theme that Cisco's switching and routing divisions will continue to come under pressure but to what degree is anyone's guess. However, Cisco is not going to lie down and let SDN and NFV technologies erode routing top-line growth in years to come, and this is where investors may be underestimating the company. Cisco definitely has the balance sheet to go out and continually invest in companies with these technologies to ensure it can switch as much of its existing customers when needs be. Margins may become an issue; yes, but I don't see meaningful negative top-line growth despite what the bears say. The balance sheet is a big competitive advantage here but also the company's R&D budget which is well north of the industry's average. However, the trend here again will dictate irrespective of how big Cisco's market cap compares to its competitors.
Therefore, I would be looking at Cisco as a long-term dividend growth story. Its huge cash balance overseas could come back to the US if a repatriation tax is agreed beforehand. This makes the dividend very solid to me especially when you see the dividend increase by 53% over the past 3 years alone. Its low pay-out ratio of 47%, along with its debt-to-equity ratio of 0.48, furthermore expresses that robust dividend increases will continue irrespective of sustained softness in earnings. However, the company's transformation is going to take time and Cisco, I feel, may be open to more downside risk in the event we get some sustained weakness in equity markets. Yes, I feel a bounce is on the cards temporarily, but investors here should be prepared to hold this one long term in case the US does indeed enter a recession in the near term.
Disclosure: I/we have no positions in any stocks mentioned, and no plans to initiate any positions within the next 72 hours.
I wrote this article myself, and it expresses my own opinions. I am not receiving compensation for it (other than from Seeking Alpha). I have no business relationship with any company whose stock is mentioned in this article.