Ever since OPEC decided last week that it will be cutting its output in order to support oil prices by reducing inventory, the price of the commodity has strengthened. In fact, the Brent is now trading at almost $55 a barrel, with analysts expecting more upside in pricing. This is great news for integrated oil majors such as Exxon Mobil (NYSE:XOM) since they have remained focused on enhancing their upstream oil production from areas with lower costs.
In my opinion, Exxon Mobil's upstream segment is on track to log strong gains going forward as the oil pricing environment improves. Let's see why.
What higher prices mean for Exxon's upstream segment
In the third quarter, Exxon Mobil's upstream earnings increased 110% on a quarter-over-quarter basis from $294 million to $620 million. The majority of this improvement in Exxon's earnings was due to gains of $240 million on the back of higher oil price realizations. This is shown below: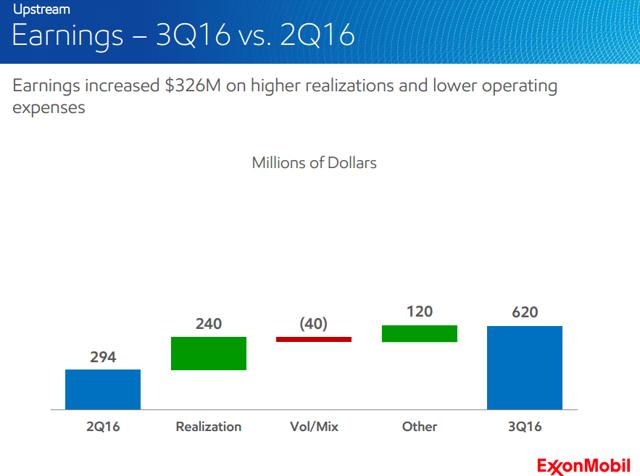 Source: Exxon Mobil
In the third quarter, Exxon's average realized price per barrel of oil equivalent stood at $45.85/barrel, which was a slight improvement from the second quarter and way better than the first quarter of the year, when average realized prices were just $34.89 per barrel. Driven by a slight improvement in Exxon's realized pricing, it was able to bring about a massive improvement in earnings in the upstream business.
This rapid upstream growth can be attributed to Exxon's improving production profile as it can generate higher returns in a low oil pricing environment from the new production that it is bringing online. For instance, in 2016 and 2017, Exxon will be adding new production of 450,000 barrels of oil equivalent per day through 10 new upstream projects.
The advantage of these assets is that they are geared to deliver profits at a low Brent oil price of just$40/barrel. Hence, by bringing online the new projects, Exxon is lowering its break-even point substantially. What's more, Exxon's new production additions in 2016 and 2017 are expected to deliver internal rates of returns of 100% at an oil price of $80/barrel.
Now, in the three quarters of 2016, Exxon has witnessed an average Brent price of $41.77 per barrel. As a result, if Brent oil prices go up to $60 a barrel next year as forecasts indicate, Exxon's new production will add strongly to its upstream performance. In fact, in a $60/barrel oil price scenario, each barrel of Exxon's new production will lead to a profit of $20. Since the company is bringing online 450,000 boepd of production online, its upstream profit will go up by $810 million in a quarter.
In comparison, Exxon's production last quarter stood at 2.2 million barrels per day on an oil-equivalent basis in the upstream segment. This means that Exxon's new production will account for as much as 20% of its overall production, but it will generate a stronger profit. Now, it is quite likely that the price of Brent oil will increase next year to more than $60 a barrel.
What will drive oil prices higher?
On November 30, OPEC members reached an agreement to curtail production to 32.5 million barrels per day starting from January 2017. This indicates a cut of 1.2 million barrels per day from OPEC's current output. What's more, apart from OPEC, non-OPEC countries such as Russia are also expected to contribute to lower production, which could lower output by another 600,000 barrels per day.
As a result, global oil production will go down to the tune of 2% next year due to the cuts. What's more, the production cuts by the OPEC will be aided by a drop in output in the U.S. as well. According to the U.S. Energy Department, oil production in the country will go down by 100,000 barrels per day next year. Therefore, as oil production cuts take place across the board, the price of the commodity will continue to rise due to lower oversupply. According to Bloomberg:
"OPEC's deal will help cut the current global supply surplus of about 300 million barrels, Venezuelan Oil Minister Eulogio del Pino said in a Bloomberg TV interview. This could lift prices to $60 to $70, he said."
Conclusion
The recent production cut by the OPEC is a big tailwind for the entire oil industry, particularly for Exxon Mobil. Exxon's production from the new project start-ups will enable it to improve its upstream earnings substantially next year and an improvement in oil prices will play a key role in enhancing the same. So, investors should continue holding Exxon Mobil shares going into 2017 in light of the points discussed above.
Disclosure: I/we have no positions in any stocks mentioned, and no plans to initiate any positions within the next 72 hours.
I wrote this article myself, and it expresses my own opinions. I am not receiving compensation for it (other than from Seeking Alpha). I have no business relationship with any company whose stock is mentioned in this article.