Eni S.p.a (NYSE:E) has turned out to be the true definition of a falling knife, still nowhere close to its market value of ten years ago and a full 25% below its March 2009 low. Although this company is one of the global "supermajors," worth $54 billion and one of Italy's bluest blue chips, investors must be frustrated by seven straight quarters of losses and the incredible destruction of value they have witnessed.
Nobody likes to see an investment go sour, but it happens to everyone and a clear-eyed evaluation to assess prospects is needed when it does. Is there anything worth holding out for here besides a prayer and being too proud to admit you were wrong?
The company started dropping rapidly late in the summer of 2014 and has dropped further still over the last two years. None of the recovery in oil prices from February 2016 lows moved it anywhere and the stock languished in the $24-$27 range, until the OPEC cuts created gains north of 10% in 5 days. The company remains 10% below its 52-week high, while several of the other majors profiled in this analysis are bumping up against theirs.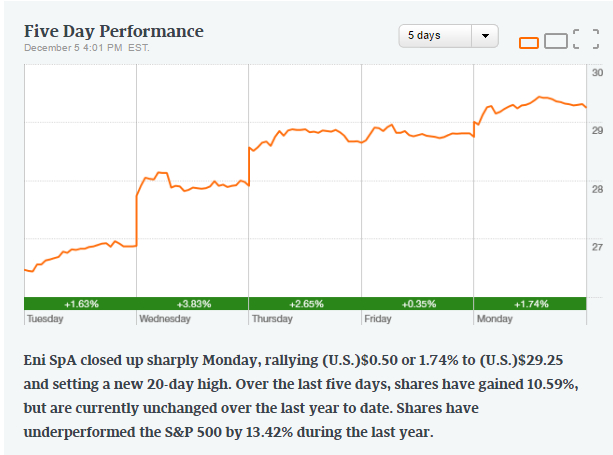 (Source: globeandmail.com)
Still, with operating cash flow lumpy through 2016 and a hefty 5.8% dividend being maintained, are any investors still paying attention to this stock? What is going on here? I ask this because a company of this size will typically have a lot of analyst coverage. But only three analysts are currently covering it, and the company has only been the subject of one Seeking Alpha article in 2016, back in March. Has Eni's persistent underperformance got it "ghosted" from the North American investment community?
Well, don't look now, but the stock has roared higher since the November 29 OPEC announcement, gaining over 14% since its 30-day low on November 14th. As a long-suffering Eni shareholder who has recently begun to question holding on, I evaluate the investment case for anyone thinking of getting in.
The Line In The Sand
At a conference of energy executives in Abu Dhabi last month, CEO Claudio Descalzi committed to three things in 2017 - a return to profitability, status quo on capital investment and maintaining the dividend - IF oil prices stay above $50/bbl. This clarity is nice, until you realize that the company had been way too complacent in the years before through the downturn, and it caused the situation for shareholders to deteriorate to unacceptable levels over the past two years. At first glance, anyway. In any case, the CEO has drawn a hard line in the sand for performance going forward and it is "show me" time (the stock is still down more than 25% from the November 2014 price).
Why Eni taken it on the chin so hard? Simply put, it has posted the worst losses of all of the majors through the downturn. The company posted a whopping 8.7 billion Euro loss in 2015 and is on track to deliver another net loss this year, 2.5 billion Euro through three quarters so far. None of the six other supermajors I have compared it to for this analysis posted anything close to that bad.
Exxon (NYSE:XOM) and Total (NYSE: TOT) have remained profitable throughout the downturn, while Chevron (NYSE: CVX), BP (NYSE: BP), Shell (NYSE: RDS.A), and Repsol (OTCQX:REPYY) have all posted quarterly losses at some point or points between Q3 2015 and Q2 2016 before all swinging back to profitability in Q3 2016. BP and Repsol's annual losses in 2015 (6.5 billion and 1.2 billion, respectively) are bad but they both represent less than 6% of the companies' current equity, while Eni's represents 17% of equity, and they're not done yet. Nobody else in this group has posted an annual loss.
Despite the carnage, some numbers tell a different story
Looking over balance sheets reveals that the lack of losses for the other guys partly comes at a cost. These companies all have two things in common: They produce and refine an undifferentiated product, and own gas station and chemical businesses, which are profitable and diversify their activities. So why did Eni lose so much money. Does this divergence in results explain the recent lack of interest in Eni? Did it pile on debt to get through this downturn?
In fact, it didn't. Only Total has used the credit card less during the downturn. To calculate this, I simply took the Total Debt number on the balance sheet from December 31st, 2014 and calculated the percentage increase in this number through the last quarter. And the result is that three companies on this list, in the name of posting positive earnings and maintaining their sacrosanct dividends, have hugely increased their debt load in the last two years. Only Total has been willing to buck the trend and cut its payout; a responsible move that helps it now challenge for the best of breed title out of the seven.

(Source: my spreadsheet with data obtained from Google Finance. All data is in millions of $USD except Eni and Repsol which report in Euros)
I recently published a piece on Halliburton (NYSE:HAL) and remarked how relentless cost cutting has pushed the firm back to profitability ahead of schedule. Here I thought Eni would probably be at fault for not reining in costs fast enough. Wrong again. It has reduced expenses the most out of its peer group. And while it should have, as it also posted the biggest revenue decline, this 39% number is not that out of whack as just about everybody has seen a 34%+ drop in revenue over the same YoY period.

(Source: my spreadsheet using data obtained from Ycharts)
Just as I stated that there is not a lot differentiating these companies' businesses, there is also not a ton of difference to be found in their valuation ratios. Eni is a relatively indebted member out of the bunch, on both a debt-to-equity and assets-to-liabilities basis, but not egregiously. It's roughly in line with Total, Shell, and Repsol. However, it has the worst return on equity, which explains its comparatively depressed book value:

(Source: Ycharts)
Turning our attention to shareholder returns, we will remember that "when a company generates negative earnings, or a net loss, and still pays a dividend, it has a negative payout ratio. A negative payout ratio of any size is typically a bad sign. It means the company had to use existing cash or raise additional money to pay the dividend" (Source: Investopedia).
All the majors are currently bearing this bad sign. Eni is holding up relatively well on a payout ratio basis. However, to give clarity on these payout ratios which appear wildly unsustainable at first, I have broken them down as a percentage of operating cash flow which shows that for each company, they are more than covered and Eni is relatively attractively (2nd best) valued on this basis:

About that dividend...
The heavy hand of the Italian state affects Eni shareholders worldwide in two ways. First, the Italian government owns 30% of the company. While having a large shareholder that you know is committed to the long-term vision on board is reassuring, it also means that no other entity can acquire more than 3% of the shares and 0.5% is required to propose anything. So, don't look for some activist to take a big position here.
Second, the 5.98% dividend really isn't that at all for North American investors because the Italian government withholds tax at source. Same for Total and Repsol, though Spain takes 15% rather than 30% like France and Italy. Nonetheless, it is now not surprising to me that the country's majors who do not tax foreign investor dividends (Netherlands and the UK) attract more attention from North American investors.
So what you should do is examine if the company is poised to execute on its strategy IF you believe the oil bear market is over. On this front, the company recognizes it has been a rough ride and was able to point to some encouraging signs that are on the horizon during a presentation about its 5-year plan in London in March:
The company is projecting a CAGR of 3% through 2019 and is fully braced for a low-price scenario: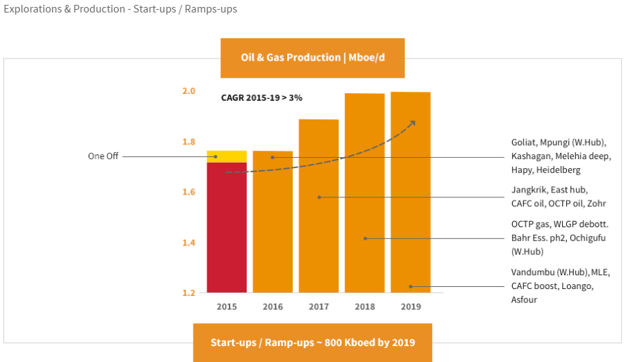 (Source: March 2016 investor presentation)
It also was an inefficient operator for years but has significantly lowered its netbacks going into 2015: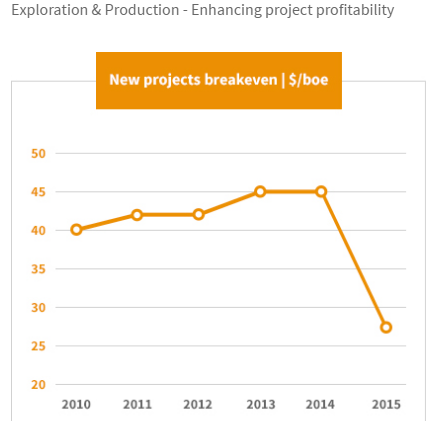 (Source: March 2016 investor presentation)
Its gas and power segment, the long bright spot on the last several quarterly results, is expected to contribute significantly more to the bottom line in the years to come: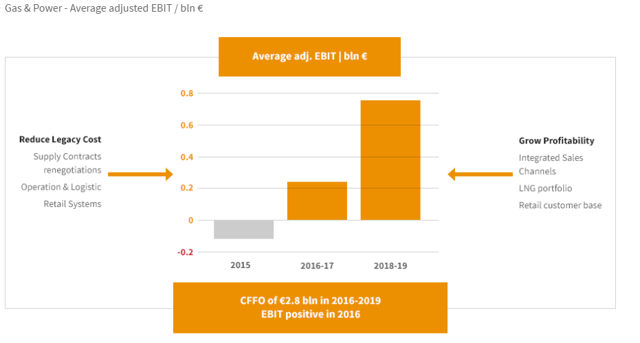 The Takeaway
I don't think there's any doubt based on my research that Total is the best managed out of this group of companies. I have specifically excluded other international supermajors like Lukoil and Statoil because I mainly wanted to focus on Eni relative to its peer group. I think if Eni can finally deliver a good quarter or two and critically, swing back to profitability, then the stock could be in store for more gains, if oil can establish a consolidation at around $55.
The stock is ugly and even uglier for North Americans with the huge haircut on the yield, but at this point in the cycle, you are looking for gains more than income. Management has also committed to keeping yield and capex within cash flow and I find this refusal to make a hard commitment to the dividend actually reassuring, since we have seen that it is debatable whether these majors should have been paying dividends at all this past year.
I will not sell my (underwater) position after this research, and would advocate a small one accumulated on dips for those bullish on the sector in 2017. On that basis, it's hard not to take a closer look at Repsol, Total, or even the 4 others at the same time. But this company can still deliver value because it gives you access to an Exxon Mobil-style business with a yield north of 3% even after taxes, and that may provide a better energy weighting in a portfolio long term than, say, US frackers or Canadian oil sands companies. I am ready to see what 2017 has in store for Eni.
Disclosure: I am/we are long E.
I wrote this article myself, and it expresses my own opinions. I am not receiving compensation for it (other than from Seeking Alpha). I have no business relationship with any company whose stock is mentioned in this article.
Editor's Note: This article discusses one or more securities that do not trade on a major U.S. exchange. Please be aware of the risks associated with these stocks.