In the conclusion of my previous article dated November 4, 2016 on NQ Mobile (NYSE:NQ), I mentioned how the termination of the deal to sell their FL Mobile subsidiary to Shenzhen Prince could lead to the termination and refund of other stakes in FL Mobile that were already suppose to be sold. This includes 22% of FL Mobile sold to NQ's Chairman and COO Vincent Shi and 12% sold to Xinjiang Yinghe, an affiliate of FL Mobile management.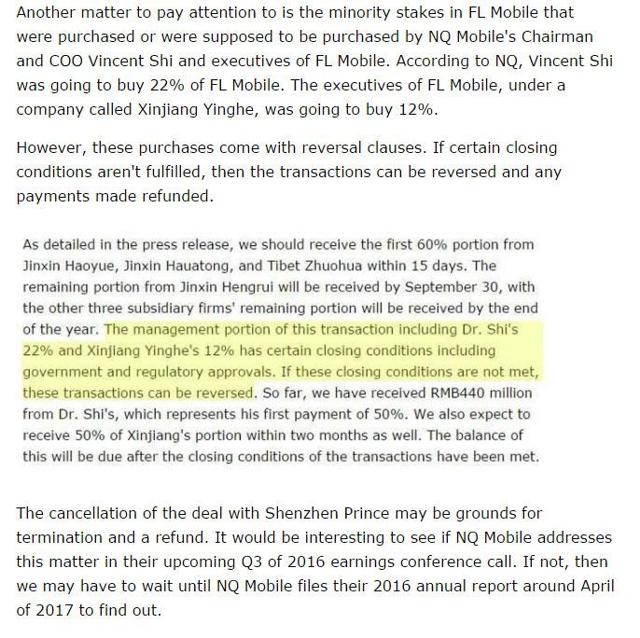 This is pretty much what happened on November 23, 2016 when NQ Mobile announced an update to the FL Mobile divestment. The reversals were further explained on NQ Mobile's Q3 of 2016 earnings conference call.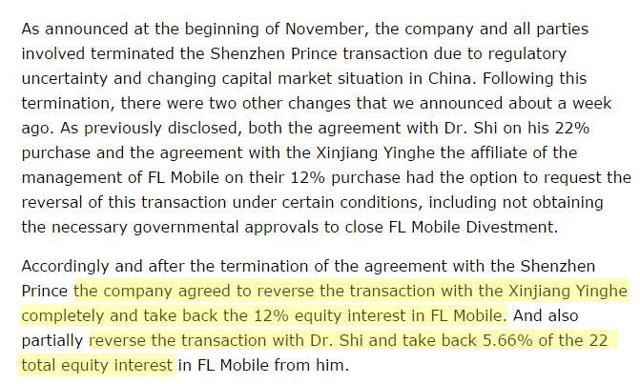 The entire deal to sell 12% of FL Mobile to Xinjiang Yinghe was terminated. A partial 5.66% of the 22% stake of FL Mobile purchased by Vincent Shi was reversed. Furthermore Vincent Shi still has the option to reverse the remaining 16.34% of FL Mobile he currently holds.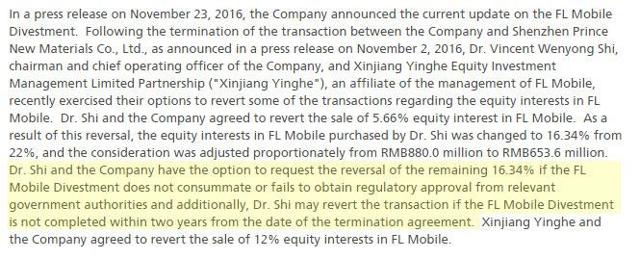 Based on the history of NQ Mobile's deals, this option to reverse the remaining 16.34% stake seems likely it will be exercised by Vincent Shi in the future as well.
If you pay attention to the history of NQ Mobile's failed deals, whenever there are contingency clauses or other conditions for a deal to not close, those conditions almost always occurs. Furthermore, even when payments are supposedly received from a deal, if there are conditions for a reversal of the payments, it usually happens as well. Here are some more examples.
Deal to Sell FL Mobile Stake To Bison Mobile
Back in May 2014, NQ Mobile sold a small 5% stake of FL Mobile to Bison Mobile and others parties, giving it a "post-money valuation of $425 million." The stake sale however comes with a redemption right. If "FL Mobile Inc. does not complete a qualified listing within 12 months after the share purchase is completed" then the buyers can make NQ Mobile repurchase the stake and get their cash back.

The majority of this redemption right was indeed utilized and the deal reversed. Bison Mobile Limited and Treasure Getter Limited used the redemption right and was paid $17.8 million back in exchange for the FL Mobile stake they bought in 2014.
Deal To Sell FL Mobile To Tack Fiori
Back in December 2014 NQ Mobile announced they were selling FL Mobile to an apparel company listed in Hong Kong called Tack Fiori for equity valued between "US$570 million and US$630 million". However if you read the language of the press release closely, it is only a "proposal" and a "non-binding memorandum of understanding".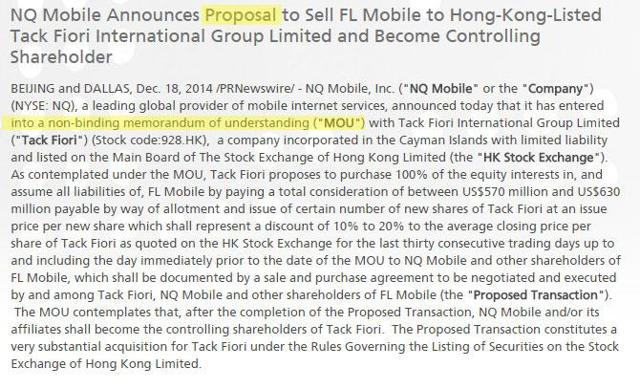 In other words there is no real actual deal yet when the press release was issued. It is just a proposal with a general outline. Ultimately after eight months without releasing any updates, this "proposed transaction" was cancelled and replaced by another new FL Mobile deal from NQ.
August 2015 "Binding Agreement" To Sell FL Mobile
Back in August 26, 2015, NQ announced they entered into a "legally binding framework agreement" to sell FL Mobile to Beijing Jinxing Rongda Investment Management for no less than RMB 4 billion. Some of the contingencies to this deal were disclosed at the end of the press release.

At the time of the press release, the deal is just being "contemplated". It is still "subject to negotiations among the parties regarding the detailed deal structure, the signing of a definitive purchase agreement and the fulfilling of certain customary closing conditions contained therein."
However instead of selling all of FL Mobile to Jinxing Rongda, many months later it led to deals to sell separate stakes of FL Mobile to different parties such as NQ Mobile's Chairman Vincent Shi, the Chinese plastic material company Shenzhen Prince, and an company owned by FL Mobile management. The majority of the deals with these various parties have now been cancelled and reversed.
Deal To Sell Beijing Tianya To Tack Fiori
On November 18, 2015, NQ Mobile announced they were selling their Beijing Tianya mobile health subsidiary to Tack Fiori. The conditions for the closing of this deal were disclosed as the end of the press release.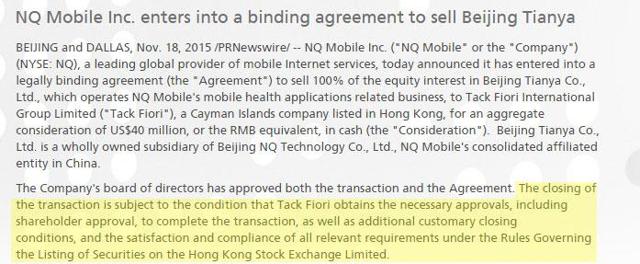 Around just a month later this deal to sell Beijing Tianya was terminated. The press release stated that the terminated deal was just a "proposed divestment", language which was never used in the original press release.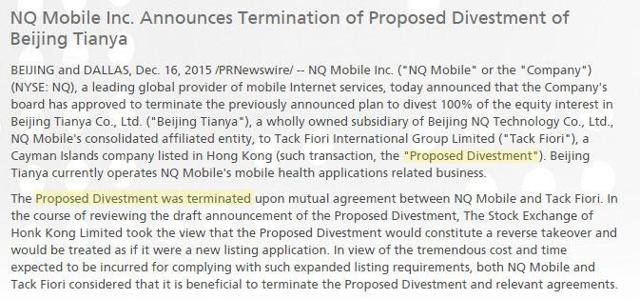 Proposed Investment from NQ Mobile Management
On March 29, 2016, NQ Mobile announced a proposed investment from management. Under this proposed deal, management of NQ can buy up to $101 million in NQ shares at $5.25 per ADS. However if you look closer at the press release, the deal has a number of conditions.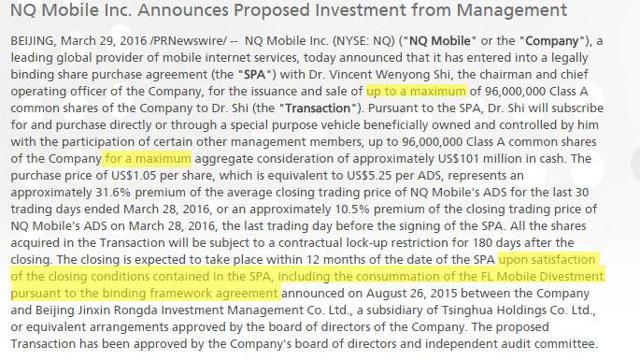 First of all there is no stated minimum commitment. NQ management can purchase "up to" $101 million in NQ shares but they can also just purchase an insignificantly tiny amount of shares under the deal. Second, the closing of the deal is subject to the consummation of the FL Mobile divestment.
Therefore the deal won't happen at all if FL Mobile isn't divested. And even if FL Mobile ends up successfully divested, there's no minimum amount of shares NQ Mobile management is required to purchase under this deal. With the failure to divest FL Mobile now over eight months after the original announcement, there has been no action being taken on this deal.
Conclusion
There are a number of additional examples from NQ Mobile's history of failed deals. However it isn't necessary to go through each and every single one to get the point across.
Normally when a company discloses certain contingencies for a deal to close, the contingencies are disclosed as a legal precaution. More often than not the deal succeeds rather than fails. However with NQ Mobile, whenever there are conditions for a deal to not close or to be reversed somehow, those conditions almost always seem to occur. It would appear NQ Mobile is either extremely unlucky or it was by design somehow.
From their Q3 of 2016 earnings conference call, NQ Mobile is yet again working on a new FL Mobile deal. This isn't a surprise based on NQ's history of replacing failed FL Mobile deals with new deals. However when NQ announces yet another new FL Mobile deal, it would be wise to pay attention to any contingencies and reversal conditions once again.
Disclosure: I/we have no positions in any stocks mentioned, and no plans to initiate any positions within the next 72 hours.
I wrote this article myself, and it expresses my own opinions. I am not receiving compensation for it. I have no business relationship with any company whose stock is mentioned in this article.