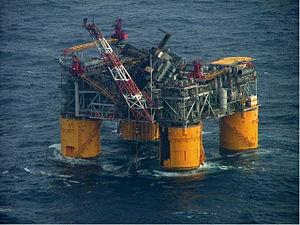 Source: Forbes
In Q3 Oil States International's (NYSE:OIS) revenue of $179 million was up 2% sequentially, and its EBITDA rose 6%. Through cost cuts the company has been able to maintain EBITDA margins in the single digits. As importantly, its Wellsite Services segment is showing signs of life. Revenue from the segment rose 14% sequentially. Animal spirits have returned to the oil patch and that will likely help Wellsite Services whose clients are mainly in the Permian Basin in West Texas and in the Rocky Mountains. Shale plays in the region can drill profitably again with oil prices above $50 and rising.
Only 25% of its revenue is derived from Wellsite Services, but that is likely to change soon. Revenue from Offshore Products (75% of revenue) was off 2% and could fall further if offshore drilling continues to lag. The company's cash and working capital were $51 million and $400 million, respectively. Its strong balance sheet will allow it to survive the oil patch and that is likely what attracts investors to OIS.
OIS Is Overvalued By 55%
I have never been worried about Oil States' ability to survive. OIS will move with oil prices in the near term. However, a few Fed rate hikes could bring its earnings fundamentals back into focus. Based on a bottoms up analysis OIS is worth around $15 or 55% overvalued: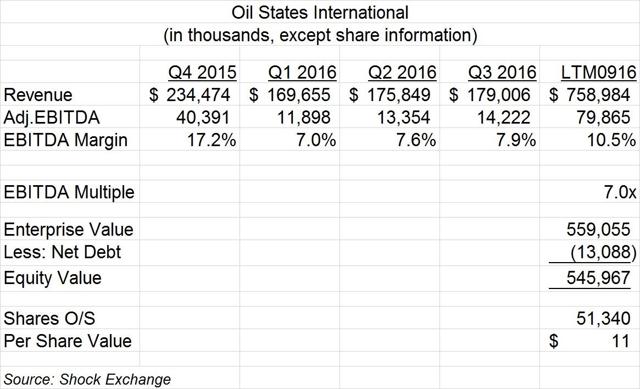 Last 12 Months Revenue
I used last 12 months' revenue through September 30, 2016 of $759 million as a proxy for the company's top line. This is slightly optimistic since revenue for the first half of 2016 has fallen sharply.
EBITDA
This represents cumulative EBITDA over the past 12 months and equates to a 10.5% margin. The margin is higher than that of the first half of 2016 and is slightly optimistic.
EBITDA Multiple
The EBITDA multiple of 7.0x is appropriate for companies in cyclical industries.
Enterprise Value
The company's enterprise value (equity and debt) is $559 million.
Equity Value
After subtracting net debt (debt less cash and equivalents) of $13 million, Oil States' equity equates to about $546 million.
Per Share Price
I assumed 51 million shares outstanding which was sourced from Yahoo.
Conclusion
With only $13 million in net debt Oil States has a fortress balance sheet, which has allowed it to survive the downturn in the oil patch. While certain larger players were expanding capex and seeking acquisitions during the industry downturn, Oil States was battening down the hatches and preserving capital. It is well-run, yet grossly-overvalued. Avoid the stock.
Disclosure: I am/we are short OIS.
I wrote this article myself, and it expresses my own opinions. I am not receiving compensation for it. I have no business relationship with any company whose stock is mentioned in this article.