It's been a brutally frustrating round trip for shares of Macerich (NYSE:MAC):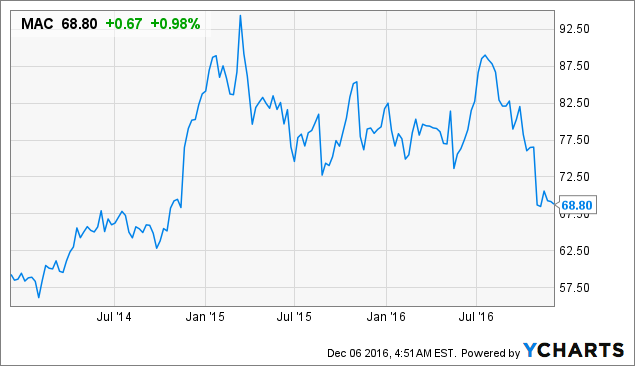 It's been a busy couple of years to be sure. In November 2014, the company issued $1.2 billion in shares at $71 to buy out a joint venture. Less than six months later, Macerich turned down a $95.50 per share offer from Simon Property Group (NYSE:SPG). It then established a series of joint ventures with the expressed purpose of showing what private market cap rates were available on its portfolio, looking to show that a 4-4.25% rate - which implied a NAV over $100 per share - was reasonable to apply to the company as a whole. Some of the cash from those JVs funded $4 in special dividends earlier this year. Macerich also bought back $1.2 billion in shares through three accelerated share repurchase programs at an average price above $78, per the 10-Q.
But the net impact of all those moves for MAC shareholders has been relatively minimal. MAC has paid over $9 per share in dividends over the past two years, so the stock's total return is modestly positive. Yet MAC's internal valuation clearly far exceeds the share price, and while some of the individual capital allocation decisions make sense, the overall strategy seems both illogical (diluting at $71 and turning down $95+ less than six months later), and at least from a share price appreciation standpoint, ineffective.
Meanwhile, Macerich looks like it's out of levers to pull, a concern that drove my skepticism toward the stock earlier this year. Expense cuts boosted margins over the past few quarters; there's little fat left to cut. CEO Art Coppola said on the Q3 conference call that the company wasn't interested in buying back more shares. The strategy of using JV deals to highlight potential NAV was an interesting one - but clearly, the public markets see much more risk than private investors do, and Macerich can't go back to that well again. And with Simon gone as a potential suitor, a sale seems unlikely.
That leaves Macerich dependent solely on its business to drive a rebound in the stock - and right now, public investors aren't terribly interested in MAC or its peers: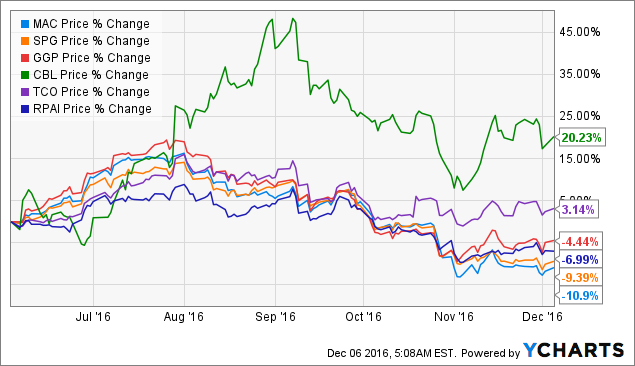 But I'll admit that, even as a long-time retail bear and a MAC skeptic, the stock looks interesting. Macerich insists that its move to upscale properties - what Coppola calls "fortress malls" - limits its exposure to secular declines in mall traffic, and I think at the least, the CEO makes some good points on that front. A forward FFO multiple under 17x is MAC's lowest in several years, and its dividend yield is at a multi-year high: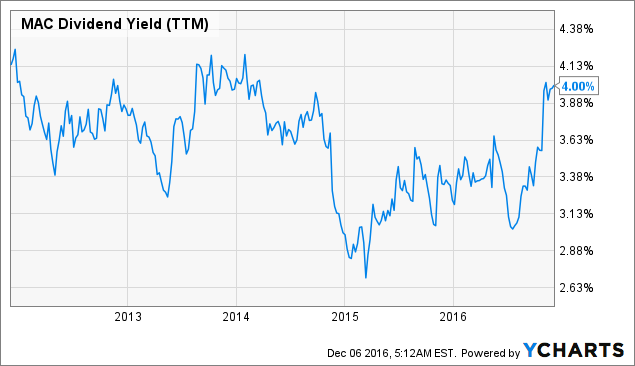 MAC Dividend Yield (TTM) data by YCharts
Personally, I'm too bearish on retail (I have a number of short positions, focused on mall retailers) to get too excited even at current levels. Growth seems likely to slow in 2017 (and beyond), and I still don't quite understand Macerich's capital allocation policy.
But I do think MAC offers a reasonably safe 4%+ yield - certainly, I'd rather get that type of yield from Macerich than from a customer like Gap Inc. (NYSE:GPS) - and if Coppola is right about "fortress malls," then the valuation simply is too low. On an earnings basis, I still think fair value is in the low 70s, as I've argued for most of this year; an asset-based valuation can get above $80. That divergence comes from a similar divergence between public and private valuations; if Macerich finally can convince the public markets to close that gap, there should be upside.
NAV, FFO and "Fortress Malls"
With MAC having pulled back so substantially, I think the bull/bear argument relies on three basic questions:
1. How protected are Macerich's generally 'Class A' properties from what appears to be a secular decline in mall visitation?
I discussed this issue at length in September, so I won't repeat that detailed analysis here. But it's clear both in the private markets and in the public markets that investors place a significant premium on so-called Class A properties. CBL & Associates (NYSE:CBL) and WP Glimcher (NYSE:WPG) yield 9% and 10%, respectively, with FFO multiples in the single digits against the 16.9x at MAC and the 16.6x at SPG (all multiples based on CY16 guidance).
There is some logic to that valuation gap: visitation to a two-story suburban mall built in 1965 that has a Macy's (NYSE:M) on one end and a Sears (SHLD) on the other - at least for now - seems likely to decline much more quickly, and to be much more exposed to e-commerce, than the high-end mixed-use developments that are the core of Macerich's business. At the same time, I'm skeptical that Class A properties do much more than delay erosion. As e-commerce penetration continues (and I don't believe it's set to plateau any time soon), its impact will work its way further into the brick-and-mortar world. Still, MAC seems reasonably well-protected in the near term, and what's interesting about the Class A/Class B-D valuation gap isn't necessarily that it exists, but how wide it appears to be.
2. Who's right: private investors or public investors?
I was a bit skeptical of Macerich's JV strategy in part because I didn't believe private-market valuations necessarily had to match those in the public markets. Macerich put several of its properties into joint ventures in what was almost an auction process, in a high-end mall space where both the supply and the number of buyers are limited - but usually by their nature focused solely on retail. What a mall in California is worth to those buyers isn't necessarily the same as it is for public market investors who have myriad opportunities for value creation and yield, within the REIT space and without. (I also don't quite believe that the JV selection was 100% indicative of Macerich's overall portfolio, though the company argued otherwise. It was relatively close, however, in terms of NOI and tenant sales.)
So, when Macerich argued that an average 4-4.25% cap rate for the JV transactions, read across to the entire portfolio, supported a per share value for MAC as a whole in excess of $100, I didn't entirely buy that argument, particularly as shares cleared $80. Below $70, however, that case is a bit more compelling. Based on 2016 guidance, it looks like Macerich's full-year NOI should be about $958 million, which implies a company-wide cap rate of about 6.5%.
That creates a notable spread from the 4%+ Macerich was able to get in the private markets. Coppola himself said on the Q3 call that "the discrepancy and the disparity and the percentage differential between the public market and private market valuations of our company have arguably never been greater than they are today."
The question, then, is: who's right? And the best argument for MAC right now is that its price implies mostly that the private markets don't have to be totally incorrect. Even a 6% cap rate - much closer to current public valuation than current private valuation - gets MAC shares to $77. (One probably should include some accounting for corporate costs in these NAV calculations; even 10x $30 million-plus in annual REIT administrative costs only takes ~$2 off fair value, however.)
One can argue that the private market valuations probably are inflated by simple supply issues: There still are a good number of firms with a commercial real estate and/or a retail property focus, and there is a tight, and possibly shrinking, supply of trophy assets. But at $68+, that argument can be true and MAC still can be undervalued. That's probably closest to my line of thinking at the moment.
3. What is Macerich going to do about it?
The problem is what's left to unlock that value or close that gap. Investors simply can take a 4%+ yield and wait, and I don't think that's a terrible option at the moment. (It is a strategy I have considered as a partial hedge toward some of my bearish bets in retail more broadly.) But from Macerich's standpoint, the options look rather limited. The JV structure was supposed to highlight the private/public market gap, but it's only widened.
(Higher interest rate expectations have supposedly led to weakened demand for REITs more broadly, but it's worth pointing out that cap rates and interest rates historically haven't had the correlation that many investors might assume.) Coppola seemed relatively insistent on the Q3 call that Macerich wasn't interested in buying back more shares after substantial activity over the last few quarters.
M&A doesn't seem on the table, either as a buyer or a seller. Simon moved on rather quickly, selling its stake and repurchasing its own shares. General Growth Properties (GGP) theoretically could make some sense given its size, but it's hard to believe MAC can take less than Simon's offer, which implies a ~40% premium from current levels.
The problem with Macerich capitalizing on supposedly low public valuations as a buyer is that its entire strategy has been to cement itself in the high end; it can't reasonably go after CBL or WPG. The only theoretical option for MAC as an acquirer appears to be Taubman Centers (NYSE:TCO), and there's little reason to expect Macerich to turn acquisitive, at least in the public markets.
Theoretically, I do see opportunities in terms of capital allocation, where Macerich's strategy continues to be somewhat puzzling. The company mortgaged a previously unencumbered property in Q3 at a 10-year fixed rate of 3.59%; it used those funds to pay down a line of credit that per the 10-Q has a rate of LIBOR plus 1.33%. One would think Macerich could have converted to fixed through a swap, and used those proceeds to repurchase more shares, but Coppola has been insistent in the past that the company won't use debt to repurchase shares, and was similarly insistent that "we are not traders in our stock" on the Q3 call.
But if the valuation gap is historically big, as Coppola claims, it's still unclear why the company isn't being substantially more aggressive. Opportunities to buy assets at two-thirds of their fair value (as apparently calculated by Macerich's board) aren't available on a regular basis, in retail or anywhere else.
There simply aren't a lot of drivers left for MAC shares, it appears. The company already has cut costs, and admitted on the Q3 conference call there was little room left for additional savings. Two new developments came online this year; there's nothing major behind them until 2018. There will be opportunity to make incremental improvements by converting department store space (though MAC has little exposure to Macy's store closure plans - just one store in a Macerich property is on the initial list) or further driving monetization in common spaces. But, overall, Macerich has relatively little left in terms of inorganic opportunities.
And that might be enough at current prices, particularly for investors more focused on income than I am at the moment. One way to think of the two-year performance of Macerich shares is essentially as a measurement of how public investors view Coppola's claims. Clearly, the market never came around fully to his argument that, on a NAV basis, Macerich was worth $100+, but a low 3s yield and an $80+ handle implied that the market at least gave some credence to the CEO's arguments.
Now, the market essentially is disregarding those arguments, and that seems too pessimistic. I may criticize Coppola's capital decisions of late, but over two-plus decades, MAC has been a premier performer on a total return basis; over the past few months, it's been one of the worst issues in a weak sector. The market historically hasn't given MAC a 4% yield for very long, and anything but a bloodbath this holiday season in brick-and-mortar retail seems likely to take away some of the concerns around the stock and its space.
I'm not quite a buyer, yet, but I can see a bull case, and I'd expect support to hold relatively close to current levels. While I've never entirely believed Macerich's arguments about its fair value, I've thought they at the least deserve some consideration - but the market is getting to a point where it's simply ignoring those arguments. I'd expect that to reverse at some point, and for MAC to benefit. I'm not sure those benefits will be quick enough, or compelling enough, to jump in, but at the same time, $68 looks awful cheap.
Disclosure: I/we have no positions in any stocks mentioned, and no plans to initiate any positions within the next 72 hours. I wrote this article myself, and it expresses my own opinions. I am not receiving compensation for it (other than from Seeking Alpha). I have no business relationship with any company whose stock is mentioned in this article.