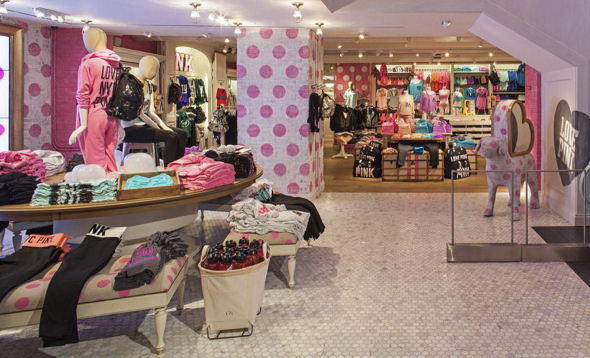 L Brands (NYSE:LB) has had a rough go of it in 2016 along with just about everyone else that make their living from mall traffic. LB was once one of the best retailers around and certainly the gold standard in its niche. And while I don't think LB has lost its touch, I do think that it is falling victim to forces outside of its control. Third-quarter results and weak guidance haven't helped, but the stock is looking peppy here, rallying from $62 to $72 in short order. But up against resistance once again, is it time to sell and wait for a better entry point?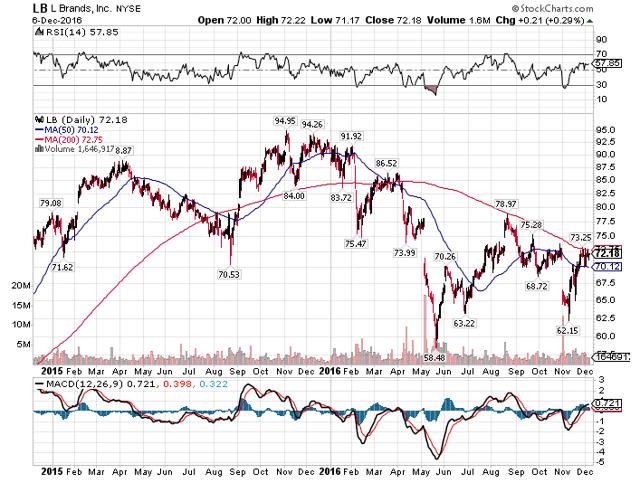 LB actually posted a very nice quarter of revenue growth in Q3 as it saw total sales rise 4%. What's even more enticing for bulls is that LB put in another decent quarter of comp sales gains as well, with the consolidated number rising 2%. In today's retail environment, and in particular, for a chain that is so heavily reliant upon malls, +2% is a fantastic showing.
The 2% increase came on top of a 7% gain last year, and for Bath & Body Works, the 7% gain this year came on top of a further 7% gain in last year's Q3. BBW continues to outshine the Victoria's Secret brand, which fell off 1% in Q3 against a 6% gain last year. Victoria's Secret hasn't been the growth machine that BBW has been, but that was a fairly poor result, and I was a little surprised.
We can also see the impact of falling mall traffic as LB's store-only comp was flat against the 2% consolidated gain. BBW ceded 2% and VS ceded 1% in comps, respectively, when online sales are excluded, and this result highlights the problem LB has right now; mall traffic is taking a measurable toll on sales, and there is no end in sight. I don't want to sound too bearish, because overall, top-line results were good. But there is still some cause for concern, and it is certainly something bulls want to monitor going forward.
Unfortunately, the success with respect to comp sales didn't translate well to the bottom line. Gross margins suffered 180bps, and SG&A costs rose 90bps as a percentage of revenue. That's a somewhat surprising result considering the nice leverage we saw on comp sales growth at BBW, and on a consolidated basis despite the loss at VS. When comps rise, it is usually a sign of strong pricing, and thus, higher margins, but it seems that management may have discounted and promoted in order to salvage comp sales, and while it worked on the one hand, margins suffered as a result. Also keep in mind that SG&A costs deleveraged despite a 4% increase in total sales, meaning that LB is having a bit of trouble with spending discipline.
These factors caused operating margins to fall a staggering 310bps in Q3 as it fell from 10.5% to 7.4%. That's a gargantuan difference in operating profitability, and this is why pricing integrity is so very important. I mentioned that LB's comp sales number in Q3 was strong, and it was, but if this is the cost, it is hardly worth it. Consider that losing 310bps of operating margins on a base of 10.5% is a 30% decrease in profit on each dollar of revenue, that is why EPS fell so drastically despite the nice top-line number in Q3. And this isn't a Q3 story either; LB has seen flagging profitability all year, and if anything, it is getting worse.
Total sales in November were up 7% as comps rose 4%, and while I'm inclined to get excited about that, keep in mind that we don't yet know how margins looked during the month. Again, I'd ordinarily expect margins grew at least somewhat given significant leverage like that, but I'll reserve judgment until we get the quarterly report because LB has produced drastically lower operating profits so far this year.
LB's current forward multiple of 18.5 isn't bad, but considering it is supposed to see just 5% or 6% EPS growth next year, it is hardly cheap. LB is a former superstar and owns very valuable brands, and while that's worth something, I can't help but think the stock looks extended here. With margin compression becoming a way of life instead of a temporary headwind, I'm concerned that LB will never return to its former levels of growth as it is held back by operating margins.
In addition, the stock is butting up against a rapidly declining 200DMA, something that bulls will have to contend with if the rally is to continue. That's no small task, and while it certainly isn't impossible, I have to think that the current rally needs to consolidate or see a pullback for it to eventually resume. The 200DMA is going to take a long time to turn around, and we haven't even begun to see that yet.
I was impressed with LB's revenue in Q3, but unfortunately, that's it. Margins continue to suffer mightily, and while comps looked very strong in November, I have to wonder what margins looked like to achieve it. At 18.5 times forward earnings, I don't see a lot of reason to run out and buy this stock. It has a high yield so that's a draw for sure, but I think you can probably wait for a better price if you missed the rally. After all, it moved from $62 to $72 in a straight line, so some consolidation is needed. Given the headwinds to mall traffic, the 200DMA and margins, I'm on the sidelines here with LB.
Disclosure: I/we have no positions in any stocks mentioned, and no plans to initiate any positions within the next 72 hours.
I wrote this article myself, and it expresses my own opinions. I am not receiving compensation for it (other than from Seeking Alpha). I have no business relationship with any company whose stock is mentioned in this article.