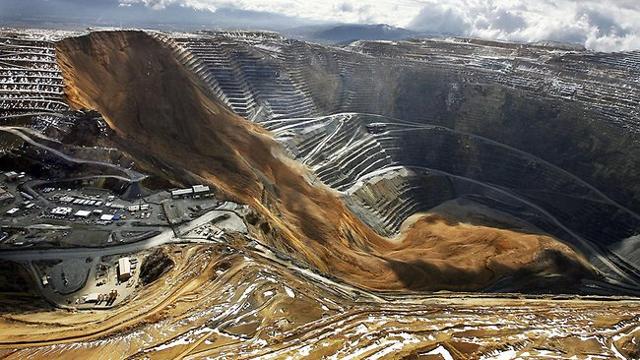 It hasn't been a happy three months for silver (NYSEARCA:SLV) traders. Like gold (NYSEARCA:GLD), the precious metal has been one of the worst performers in the last three months' thanks largely to the surprising result of the U.S. election. The fact that Donald Trump will enter the Oval Office next year has many, ourselves included, believing that U.S. rates will rise at a rapid clip in 2017. This makes safe haven assets like silver unappealing for traders and in light of this we believe there are greater declines to come over the next 12 months.
A quick look at the chart below reveals silver to be the worst performing safe haven asset in the last three months with a 16.8 percent drop, followed closely by gold and its 13.4 percent drop.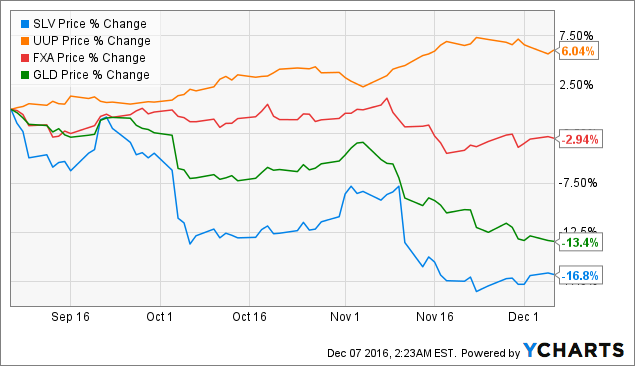 Why are safe haven assets down?
Although we are yet to see a rate rise by the Federal Reserve this year, it appears inevitable that Janet Yellen will give the word next week. This has largely been priced in by the markets so won't be earth shattering, but what happens thereafter is likely to be so. As we have mentioned previously, the market has yet to price in fully any further moves by the Fed in 2017.
At best there is a 42.1 percent probability of a rate rise to between 75 and 100 basis points being priced in by the market currently according to CME Group. Perhaps we are overly hawkish, but we believe the U.S. economy is strong enough to see rates rise to between 100 and 125 basis points by the middle of next year. Especially if Donald Trump does follow through on his reflationary rhetoric. What Mr Trump says and what Mr Trump does have proven to be two very different things previously, but on this occasion we think he will follow through on his promise.
Inflation is on the up.
We expect inflation to rise under president-elect Donald Trump due to a number of the policies he has put forward. Mr Trump's massive infrastructure-spending plan is key and could result in a faster-than-expected increase in inflation in 2017. The substantial monetary stimulus planned by the Trump administration is estimated to be worth a staggering $1 trillion. This level of stimulus, with the current low level of employment, has never been attempted before. The likelihood is that it will be the catalyst to significant wage inflation. According to AllianceBernstein's Joseph Carson, "If Trump's proposals are enacted in full, annual US wage growth could reach 4-5 per cent with core inflation in the 3-4 per cent range."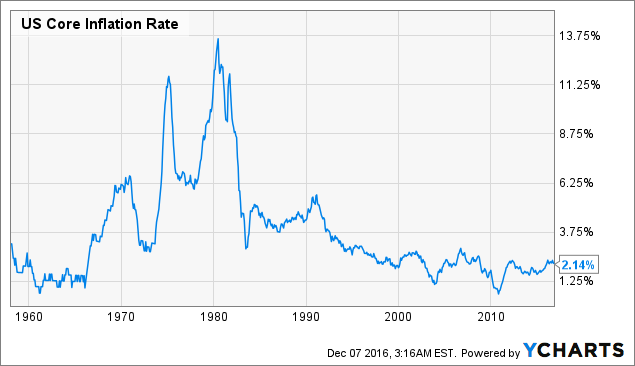 U.S. core inflation hasn't been at that level since the early 1990s. Not that we expect the Federal Reserve will allow it to get to that level. We believe that the Fed will raise rates periodically in order to tackle inflation. Our estimate is for a minimum of three rate increase in 2017, on top of the one expect hike at next week's FOMC meeting.
What will this do to silver?
As rates rise the U.S. dollar (NYSEARCA:UUP) should strengthen. This negatively impacts dollar-based assets such as gold and silver as the higher the dollar, the more expensive the assets become for buyers from other countries. The U.S dollar has strengthened recently, but over the next 12 months we envisage the U.S. dollar climbing significantly higher still.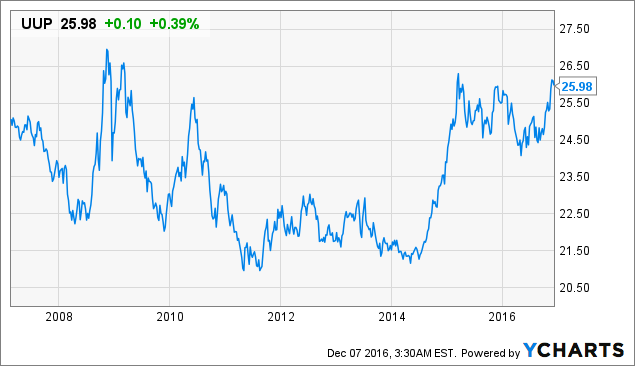 Considering that a number of currencies the U.S. dollar index is judged against have negative, zero, or extremely low interest rates, we can see the currency rising to new highs. Bad news for gold and silver which are likely to see prolonged bear markets, but great news for U.S. dollar bulls.
So although silver has fallen significantly in the last three months, we wouldn't expect the drop to end here. With a lack of any real catalysts to drive the price higher, we continue to short silver. Our target with the iShares Silver Trust ETF is a drop to $13.50, roughly back to where it started this year. This equates to a return of 12.9 percent from the last close price and represents a great trade in our opinion.
As always, thanks for reading! We'll keep you updated with any changes to our positions as and when they happen. Until then best of luck with your trades!
Disclosure: I am/we are short SLV.
I wrote this article myself, and it expresses my own opinions. I am not receiving compensation for it (other than from Seeking Alpha). I have no business relationship with any company whose stock is mentioned in this article.
Additional disclosure: Long UUP