OneMain Financial (NYSE:OMF) has been on one heck of a rollercoaster ride in 2016. The stock continues to see a pattern of soaring and plummeting as sentiment on its very touchy sector ebbs and flows. I've been bullish on OMF at points this year and bearish at others given the outsized moves it makes and heading into the election, the stock was rapidly cut in half. Since that time the euphoria we've seen with respect to financials has provided some lift for OMF and others and a $6 rally has ensued but off of a poorly received third quarter, is the bull case damaged?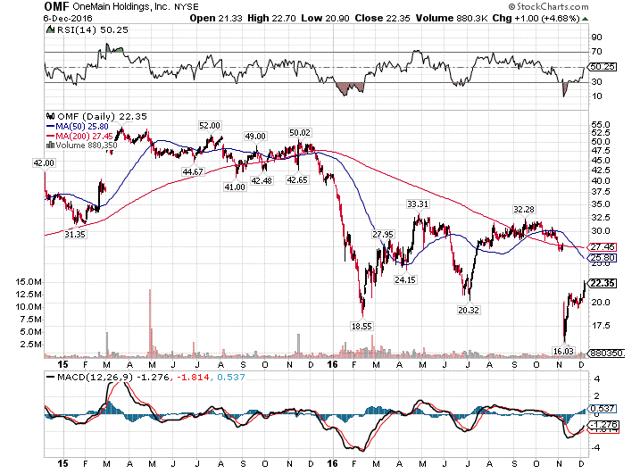 OMF was originally off 35% from the Q3 report as the results themselves and the guidance cut for the rest of this year and also 2017 scared investors. To be fair, there is cause for concern from a growth perspective but are things really this bad? After all, OMF is still nearer to its lows than its recent highs despite the huge rally we've seen off of the bottom.
Since OneMain hasn't yet anniversaried the merger from its growth numbers are still huge. Net interest income rose from $256M in last year's Q3 to $555M this year, a gain of well over 100% Y/Y. That comes despite a sizable increase in interest expense but it is clear that the merger has provided OMF with certain scale benefits despite the fact that it hasn't yet had a chance to work through some of the redundancies that any merger brings about.
In addition, the merger has diversified OMF's revenue stream as the insurance and investment segments also posted huge growth. The investment business in particular is small but growth is growth and with revenue from insurance exploding from $40M to $111M, we see yet another way that OMF can pull the growth lever. All told, revenue was extremely impressive in Q3 but guidance provided by management suggests that may not be the case going forward; more on that in a bit.
The only reason revenue didn't grow even more than it did is because the provision for losses was absolutely huge in Q3. Provisions grew from $79M to $263M Y/Y, staggering growth that took a material bite out of the top line. That level of provisions isn't sustainable if OMF is to keep growing and while I think OMF is cleaning house with respect to its loan book, I'll be keenly watching provisions in Q4. Taking that sort of bite out of revenue is a huge negative and given weaker guidance for receivables growth, OMF just cannot afford it.
Operating expenses doubled in Q3, a predictable result considering that OMF hasn't had a chance to cut redundant staff and realize other synergies that arise from a huge merger. Those things will come and indeed, commentary from management suggests those gains are coming next year. That could be a sizable tailwind for earnings because OMF's expenses are very high right now at roughly 93% of total net revenue against 91% last year. That may not sound like a big difference but 2% of revenue is $9M per quarter in additional operating earnings. For perspective, operating earnings were $33M in Q3 so another $9M would be better than a quarter higher than that. I think the simple fact that OMF has some low-hanging fruit to pick in terms of lowering operating expenses is a huge tailwind for earnings while the market is focused on lower revenue growth.
Operating margins in general are very low in this space so leverage is high when costs are cut. That, of course, works both ways and right now OMF is on the wrong side of it. But even moderate savings from the merger into next year can produce double digit earnings growth irrespective of what the rest of the business does.
Guidance for this year and next year were slashed during the Q3 report and while the cut for this year was sizable, I'll focus my attention on 2017. Net receivables growth for 2017 was cut from a range of 10% to 15% to a new range of 5% to 10%. That means OMF is setting up for much lower revenue growth than we previously thought and that certainly has some bearing on the bull case. After all, a significant portion of my bullishness in the past had to do with OMF's ability to continue to bring in those very lucrative receivables and if that growth rate is being cut in a big way, we need to reassess the valuation.
Management said they would be proceeding more cautiously going forward, something I didn't expect to hear but something that aligns with the higher provisions we saw in Q3. After all, the goal of any financial is profitable loan growth, not simply growth for the sake of growth. If that's what management feels is prudent then it is probably the right thing to do; we just have to adjust expectations accordingly.
EPS guidance for next year was devastated by the cut in receivables growth with the range falling from $5.60 to $6.10 to just $3.75 to $4.00 for 2017. That is an enormous cut in guidance and one that certainly is cause for concern. After all, that represents very little growth on 2016's estimates and certainly could derail the bull case.
The thing is that even after the rally from $16 to $22, OMF is going for around six times next year's earnings. That is almost unbelievable considering the amount of earnings this company has produced in the past and will continue to produce going forward; the stock is priced like an enormous impairment is just around the corner but there is no reason to think that will happen. And with a Trump administration that should be far more friendly to financials in general than the Obama administration, if anything, we should see OMF flourish.
Growth in the subprime category is always going have the caveat of very high losses but for OMF, there aren't any material impairments to earnings that I see. Provisions were high in Q3 but we need more than one quarter of that to potentially become concerned. At under 6 times earnings next year after a big rally and huge cut to guidance, OMF is still very cheap. Q3 was ugly but this stock is far too cheap to ignore here and I think it is going higher.
Disclosure: I am/we are long OMF.
I wrote this article myself, and it expresses my own opinions. I am not receiving compensation for it (other than from Seeking Alpha). I have no business relationship with any company whose stock is mentioned in this article.