Delta Air Lines (NYSE:DAL) is one of the largest U.S. air transportation companies, that has been considered an attractive investment opportunity throughout its history. Today I will share my view on why you should add Delta to your portfolio if you have not owned its stock during the last 5 months, when shares appreciated by 45% from $33.36 to $48.31. I believe that the company's share price still has an upside potential.
In order to justify my opinion, I will analyze the financial position of Delta, and then I will estimate the target price of its shares.
Picture 1.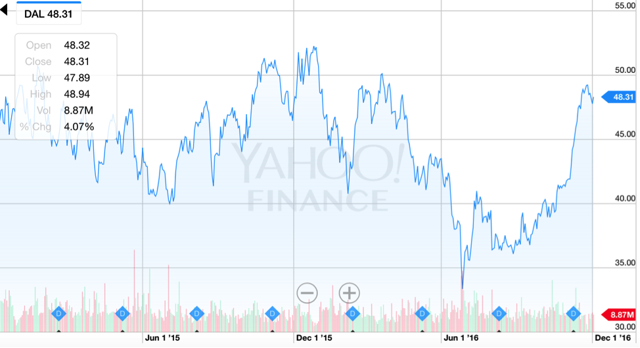 Source: Yahoo Finance
Financial Position Analysis
Based on information from Picture 2, we can observe the following:
In 2015, the company achieved a record level of operating margin of 19.2% (up from 5.5% in 2014), almost reaching the level of Southwest Airlines (20.8%) and outperforming American Airlines (15.1%). The reason for such an improvement lies in a significant reduction of COGS (26% lower than in 2014). According to the latest investor presentation, management expects the costs to remain at the same level. For that reason, it targets a 17-19% operating margin in the next two years.
Due to reduced COGS, Delta reported higher values of operating margin and net income, which justify a seven times increase in return on equity and return on invested capital over 2014. In the next two years, the company intends to maintain these levels of ROE and ROIC (46% and 24% in 2015 respectively).
Since 2010, Delta has demonstrated a steady increase of its free cash flow, with only one drop occurring in 2012. Overall, free cash flow has been rising with the CAGR of 27%.
Delta has been consistently increasing its payouts to shareholders. Its latest annualised dividend reached the level of $0.8, implying a 1.7% yield. It is far above industry average of 1%.
Over the last years, Delta has been consistently reducing its net debt. If in 2009, the company had $17bn of net debt on its balance sheet, then in September 2016, it already amounted to $6bn. Moreover, management targets its further reduction to $4bn by 2020.
One of Delta's features that concerns me is the company's deteriorating liquidity position. From the perspective of current assets, in 2015, there has been a decrease in both inventories and receivables. This is not too worrying, since these items have been following a bumpy trend over the last years. I see more trouble with the company's current liabilities.
If we look at the last 5 years, accounts payable have been growing steadily, increasing by 71% since 2011. In addition, there has been a considerable increase in accrued liabilities. Overall, these trends explain why the company's current ratio has recently reached its lowest level of 0.52 in the last 10 years (down from 0.74 in 2014).
Picture 2.


Source: Morningstar
Trading Comparables Analysis
In picture 3, you can see multiples comparison of Delta with the industry average. Valuation based on all the three chosen multiples (EV/EBITDA, EV/EBIT and P/E) implies the undervaluation of Delta's stock.
Let's estimate the share price of Delta, assuming that it trades at the same EV/EBITDA multiple as its peers. Applying the 5.8x multiple (industry average according to Damodaran) as the low border of the range, and 6.9x multiple (which is the current EV/EBITDA multiple of the most comparable company American Airlines) as the upper border, we derive that the share price of Delta should lie in a range of $61-76.
Picture 3.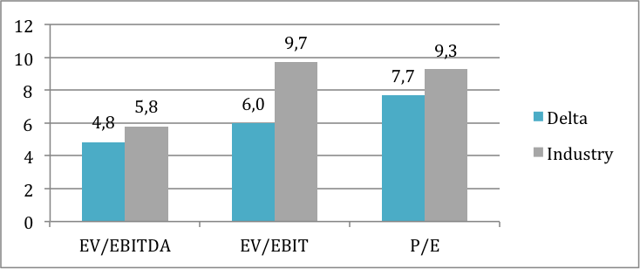 Sources: Delta Air Lines Q3 2016 Report, Morningstar, Damodaran.
DCF Analysis
The results of my DCF model are presented in Picture 4. The valuation date is the 1st of December 2016, For that reason, I include a 1/12 stub of 2016 financials for the first projection year. All the assumptions that I made in my analysis are footnoted in the excel file.
My model results in Delta's Enterprise Value of $70.9bn. After accounting for net debt, investments and after-tax pension provisions, I derive the equity value of $58.9bn, that implies intrinsic share price of $80. With Delta's shares currently trading at $48.31, the stock is undervalued by 39.6%.
Picture 4.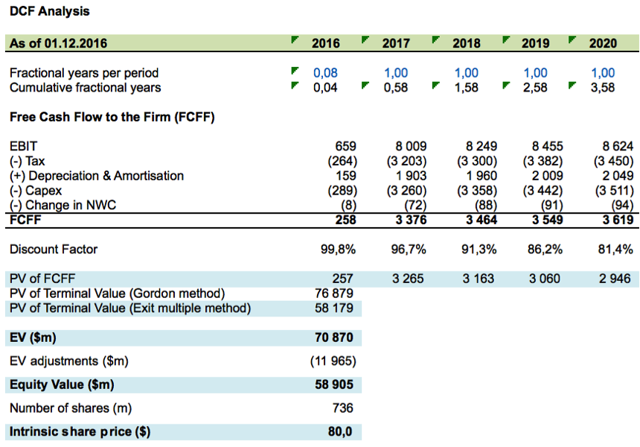 Sources: Delta Air Lines Annual Report 2015 and Q3 2016 Report, Morningstar, Model created by author.
You can see the share price sensitivity table on Picture 5. Applying different values of the company's WACC and terminal EV/EBITDA multiple, I derive that the intrinsic share price of Delta lies in a range of $73-88. It constitutes a 51-82% return.
Picture 5.

Source: Model created by author.
Recommendation
Despite Delta's deteriorating liquidity position, there are several features that make the company appealing to investors. These include high operating margin, attractive ROE and ROIC, strong cash flow generation, growing dividends and consistent reduction of net debt.
I recommend to BUY shares of Delta Air Lines and expect their price to be in the range of $73-88 per share in the next twelve months. If the price reaches this target, investors can expect to generate a 51-82% return, excluding dividends.
Disclosure: I/we have no positions in any stocks mentioned, and no plans to initiate any positions within the next 72 hours. I wrote this article myself, and it expresses my own opinions. I am not receiving compensation for it (other than from Seeking Alpha). I have no business relationship with any company whose stock is mentioned in this article.