Goldman Sachs BDC (NYSE:GSBD) is a lesser known high-yielding income stock with strong business performance, an appealing dividend coverage ratio, and significant floating-rate loan exposure that could translate into dividend growth once the Federal Reserve's works up the courage to raise interest rates.
Income investors often tend to buy the biggest names in a sector. In the case of Business Development Companies, investors most often buy the companies with the highest visibility in the sector like Main Street Capital (NYSE:MAIN) or Prospect Capital (NASDAQ:PSEC), both of which are household names in the income investor world.
However, casting a little bit of a wider net and looking at lesser known Business Development Companies can also wash up some interesting income opportunities. And one such opportunity, I believe, is Goldman Sachs BDC.
Like most Business Development Companies, GSBD largely invests in relatively secure 1st and 2nd liens. 91 percent of the BDC's end of September investments were either 1st or 2nd liens.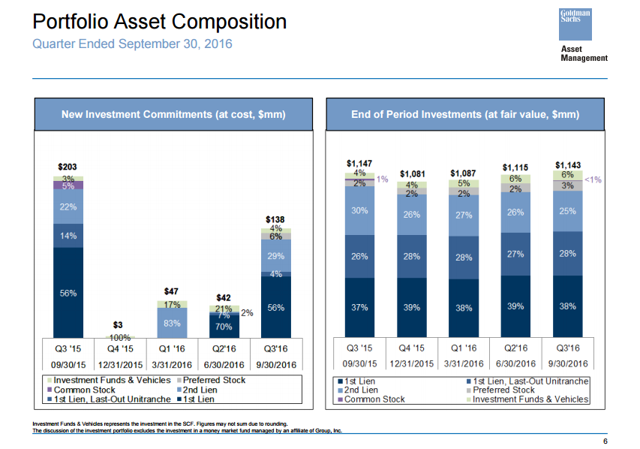 Source: Goldman Sachs BDC
Sky-High Floating-Rate Loan Exposure
Business Development Companies have had more than enough time to position themselves for higher interest rates by increasing their exposure to floating-rate investment loans. Thankfully, Goldman Sachs BDC is well positioned to profit from an increase in the federal funds rate: Based on September 30, 2016 portfolio stats, Goldman Sachs BDC has ~90 percent floating-rate loan exposure. A high degree of floating-rate loans in the investment portfolio is important because the Federal Reserve is on the cusp of raising interest rates this month. The CME Group Fedwatch Tool shows a ~93 percent chance of an interest rate hike in December.
High floating-rate loan exposure, therefore, translates into appealing dividend and capital upside for GSBD.

Source: Goldman Sachs BDC
It is not, however, that Goldman Sachs BDC would need a rate hike in order to afford a higher dividend.
Admirable Dividend Coverage Leaves Room For A Dividend Raise
Goldman Sachs BDC produces one of the strongest dividend coverage ratios that I have seen in the sector.
The company has consistently covered its dividend payout with Net Investment Income over the last five quarters. Goldman Sachs BDC's dividend coverage ratio (based on Net Investment Income) stands at ~1.24x, giving the BDC significant room to adjust its dividend payout upwards.
Another way to look at things is the company's dividend payout ratio, which sits at only ~0.81x. Put differently, Goldman Sachs BDC can already afford to pay a higher dividend, and an interest rate hike may just be the catalyst that the BDC has been waiting for.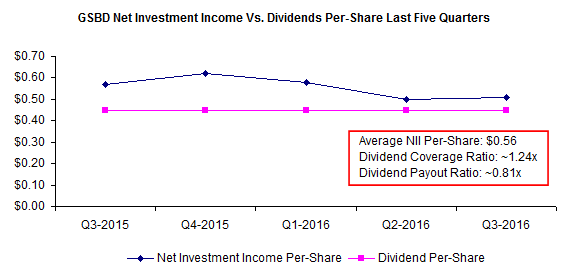 Source: Achilles Research
Premium To Net Asset Value
Just because Goldman Sachs BDC is not as well covered as other Business Development Companies doesn't mean that the company is a bargain, though.
In fact, I would say GSBD is about fairly valued given the high amount of dividend safety, selling for a 24 premium to the last reported Net Asset Value of $18.58/share.
Income investors paying the NAV premium nonetheless get access to a solid eight percent yielder with attractive dividend growth prospects.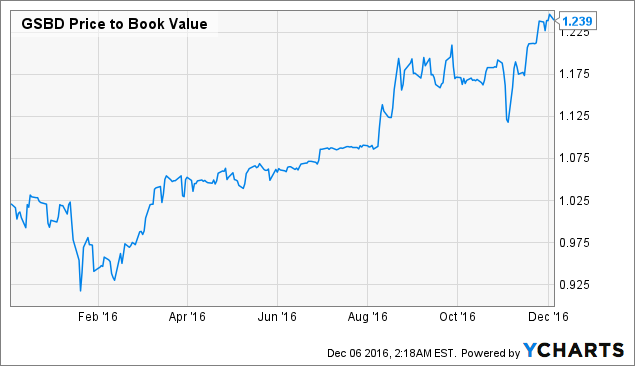 GSBD Price to Book Value data by YCharts
Your Takeaway
Goldman Sachs BDC looks like an appealing income play with capital and dividend upside if the Federal Reserve continues to move along the interest rate curve in 2017. Higher interest rates will translate into higher interest-related earnings from Goldman Sachs BDC's loan portfolio, which in turn could result in a higher base dividend. Since Goldman Sachs BDC already has excellent dividend coverage - which is sort of a primary concern for BDC investors - I think the investment company is well-positioned to deliver sustainable dividend income in the near future. Buy for income.
If you like to read more of my articles, and like to be kept up to date with the companies I cover, I kindly ask you that you scroll to the top of this page and click 'follow'. I am largely investing in dividend paying stocks, but also venture out occasionally and cover special situations that offer appealing reward-to-risk ratios and have potential for significant capital appreciation. Above all, my immediate investment goal is to achieve financial independence.
Disclosure: I am/we are long MAIN, PSEC.
I wrote this article myself, and it expresses my own opinions. I am not receiving compensation for it (other than from Seeking Alpha). I have no business relationship with any company whose stock is mentioned in this article.