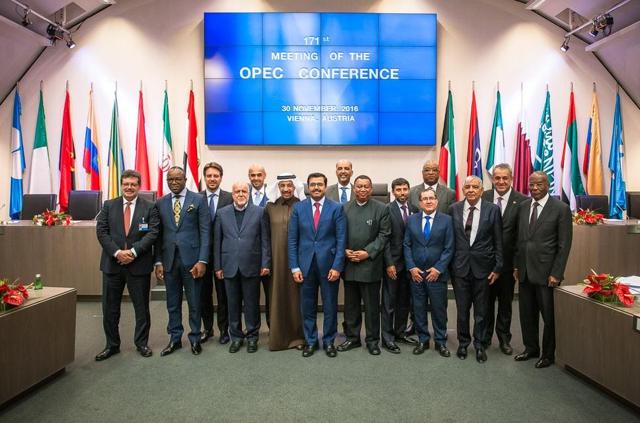 (Image source: OPEC)
Just several days following OPEC's landmark production cut agreement, Saudi Aramco (ARMCO) worried oil markets by announcing a sizeable discount for its crude in Asia coming in effect in January.
Saudi Aramco's Arab Light price for Asian customers was cut by a significant $1.20 a barrel as compared to its December price. The January price is now set at a discount of $0.75 a barrel to the Oman/Dubai average.
Saudi Aramco's Arab Light price for January for the United States was reduced by $0.30 a barrel as compared to December, to a premium of $0.05 a barrel to the Argus Sour Crude Index.
Saudi Aramco's price for Arab Light for Northwest Europe, on the other hand, was increased by $0.30 a barrel for January as compared to December, to a discount of $4.20 a barrel to the Brent Weighted Average.
The announcement coincides with Reuters' survey estimate released last night that OPEC production hit a new record in November, reaching 34.2 million barrels a day, with the increase mostly driven by higher supply from Angola, Libya, Nigeria, Iraq and Iran. This compares to OPEC production of 33.6 million barrels a day in October, using OPEC data. Reuters' survey comes in advance of OPEC's official monthly report and is based on "shipping data provided by external sources, Thomson Reuters flows data, and information provided by sources at oil companies, OPEC and consulting firms."
The increase in production by Angola in November was anticipated, as the Dalia project returned on production following a planned turnaround in October. As a reminder, Angola's October production dipped by 165,000 barrels per day from the previous month. (Under OPEC's production cut agreement, September volume was used for Angola to calculate the country's quota).
Increases in production volumes by Nigeria and Libya are also not surprising as the return of significant export volumes by these two nations in the last three months was actively discussed in the oil-focused media based on shipping data.
Still, the combined month-on-month increase of almost 0.6 million barrels is significant and highlights OPEC's challenge in turning the market balance towards undersupply, as envisioned by the agreement, in order to address the overstock.
In another news worth noting, Saudi Arabia and Kuwait are reported to being close to agreeing on a restart of oil production from the jointly operated oilfields in the Neutral Zone. According to Reuters' sources, if the restart is agreed upon this month as anticipated, production may restart as early as late Q1 or early Q2 of 2017 and would ramp up gradually. Given that the two jointly operated oilfields in the Neutral Zone, Khafji and Wafra, may ultimately add as much as 0.5 million barrels per day to the global supply, Saudi Arabia and Kuwait would have to exercise significant restraint to comply with their quotas. Khafji Field had been producing 280,000 to 300,000 barrels per day prior to its closure in 2014 and Wafra field has an output capacity of about 220,000 barrels per day.
These newslines correlated with a nearly 2% decline in key oil benchmarks from yesterday.
With regard to Saudi Aramco's oil price discounts, I should note that adjusting the discounts is "business as usual" for the company and is the mechanism used by the world's largest exporter to achieve its target market share in each region. With export volume of 7-8 million barrels per day, which fluctuates seasonally and needs to respond to customer demand, managing sales volumes and targeting a market share is no simple task.
The move may also aim to close certain regional arbitrage spreads that may have widened following OPEC's announcement and may erode Saudi Arabia's market share. (One example of transpacific arbitrage is described here.)
That said, the big discount implemented immediately prior to the expected production cut reminds of the tough market completion among global exporters and obviously reflects Saudi Arabia's concern over its market share. The discount likely reflects aggressive marketing policies in Asia by other exporters. Of note, Asia remains the most important market for Iran's exports.
The news of an aggressive discount by Saudi Arabia in Asia has a silver lining. The measure sends a clear message to other OPEC members that a failure to cooperate in good faith may result in a collapse of the fragile production control agreement, with a risk of price-destroying wars for market shares during periods when the market is oversupplied.
For in-depth analysis of the oil and natural gas industry and commodity fundamentals, please consider subscribing to Zeits OIL ANALYTICS.
ETFs: USO, OIL, UWTI, UCO, DWTI, SCO, BNO, DBO, DTO, UGA, USL, DNO, OLO, UHN, SZO, OLEM, OILK, OILX
Disclaimer: Opinions expressed herein by the author are not an investment recommendation and are not meant to be relied upon in investment decisions. The author is not acting in an investment, tax, legal or any other advisory capacity. This is not an investment research report. The author's opinions expressed herein cannot be a substitute for comprehensive investment analysis. Any analysis presented herein is illustrative in nature, limited in scope, based on an incomplete set of information and has limitations to its accuracy. The author recommends that potential and existing investors conduct thorough investment research of their own and consult a qualified investment adviser. The information upon which this material is based was obtained from sources believed to be reliable, but has not been independently verified. Therefore, the author cannot guarantee its accuracy. Any opinions or estimates constitute the author's best judgment as of the date of publication, and are subject to change without notice. The author explicitly disclaims any liability that may arise from the use of this material.
Disclosure: I/we have no positions in any stocks mentioned, and no plans to initiate any positions within the next 72 hours.
I wrote this article myself, and it expresses my own opinions. I am not receiving compensation for it (other than from Seeking Alpha). I have no business relationship with any company whose stock is mentioned in this article.