The OPEC agreement to reduce oil production by 1.2 million barrels of oil per day or 1.8 MMBbl/d together with non-OPEC countries could be an opportunity for U.S. shale producers to sell more oil at higher prices. But how much more oil can the U.S. readily produce, and where?
Insights From the Rig Count
The oil rig count is up 51% from its early-May low. As this article is focused on oil production, the rig counts mentioned below are all going to refer to oil-focused rigs. The Permian basin, with the number of rigs rising 78% since May, is where the greatest fraction of new rigs have been deployed. At 64% of new rigs, the Permian is far ahead of the Williston basin and Eagle Ford, the two in a near tie for the second place and each responsible for about 5% of new rigs.
Chart 1: The rig count growth in the Permian is the major noteworthy phenomenon in the domestic oil market seen since May.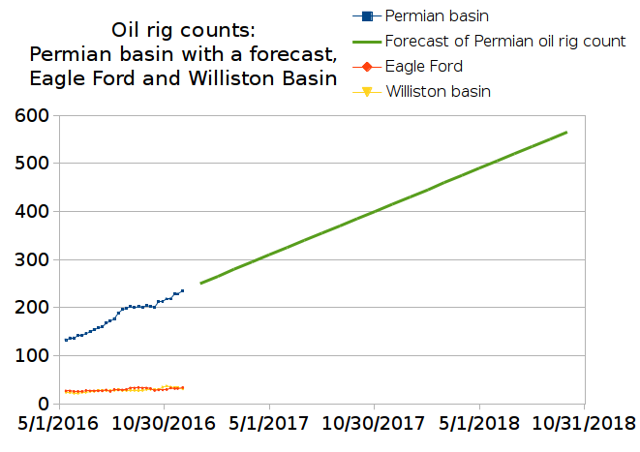 Source: Baker Hughes North America Rotary Rig Count and author's analysis.
Permian Basin: The Only Source of Growth Today
Given the lackluster pace of drilling in Eagle Ford and the Bakken, it is reasonable to expect the Permian to account for almost all production growth at least as long as oil prices stay in the $50-$60 range.
I am inclined to believe in the feasibility of growth plans announced by the largest Permian producer, Pioneer Natural Resources (NYSE:PXD) to grow oil production by 32%-37% in 2017. For another data point, EOG Resources (NYSE:EOG) plans to raise its oil output across all basins by 15%-25% CAGR. As of this summer, only about 11% of EOG production is in the Permian, implying as much as 100% YoY growth of Permian production at even the lower end of guidance. Concho Resources (NYSE:CXO), the top Permian producer until being surpassed by Pioneer earlier this year, has also guided to over 20% oil production growth.
Even companies usually thought of as diversified geographically are now planning to refocus their attention on the Permian. Anadarko Petroleum (NYSE:APC) has recently been seen running a "Permian rig fleet of half the size of Pioneer's." Chevron (NYSE:CVX) spoke modestly of "results continu[ing] ahead of expectations," while presenting production figures that indicated a double-digit percentage growth and a major turnaround of the output trend since a year ago.
What Is Permian's One-Year Potential?
It is possible to estimate the potential Permian upside that can be realized within one year. The analysis will rely in part on EIA's "Drilling Productivity Report" monthly data on the legacy decline experienced by production from all existing wells. The report also quantifies the contribution to production by new wells as a multiple of rigs seen in each basin two months prior. The lag, immaterial to this analysis, reflects the duration of time, expected to suffice for drilling of a new well and connection of gathering infrastructure to the well.
To facilitate the analysis, I will make the following assumptions:
Running 165 rigs compensates for the decline in the output of existing wells. I estimate that the recent level of oil production, around 2 million barrels of oil per day in the Permian as a whole can be sustained by 165 active rigs. This is a conservative assumption. Given ongoing productivity improvements, it is possible that fewer than 165 rigs will be needed. This is because as of a year ago, it appeared that 223 rigs were needed to keep production steady, with this number on a steady downtrend ever since.
The rig count will continue rising at the rate of 15 new rigs per month as shown in the green forecast line on Chart 1. As illustrated by Chart 1, the rig count has been rising in a nearly straight-line fashion since May. The current Permian rig count at 235 is still far below 562 seen October 24, 2014, giving more credence to the straight-line assumption.
Each rig will contribute 600 barrels of oil per day in the first month's output of wells it drills per month. Originating in data of EIA's "Drilling Productivity Report," this likely is a conservative estimate because oil output per rig has been rising steadily for years, and stood at only 440 b/d a year ago.
Finally, production of newly drilled wells is expected to decline over time as shown in Chart 2.
Chart 2: A decline curve is needed to project new wells' output after the first month of production.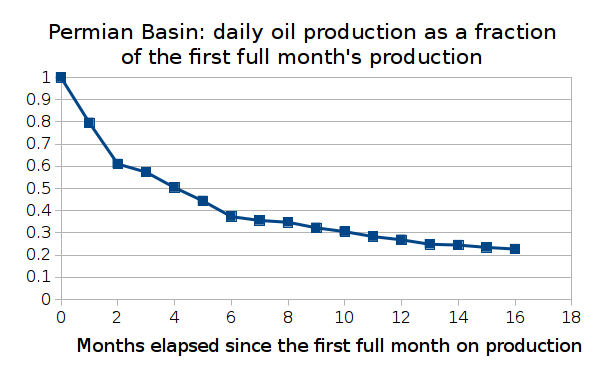 Source: Author's analysis of data from shaleprofile.com.
Given the above assumptions, forecasting production over the next 15 months is straightforward.
Chart 3: The resulting production forecast.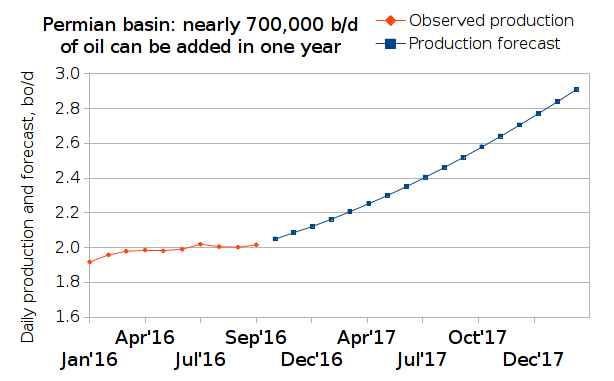 Source: Author's analysis.
An impressive rise is possible, of nearly 700,000 b/d from the recent levels of around 2 million barrels per day. A 35% YoY growth would, however, be consistent with plans announced by Chevron, EOG, Pioneer and others. On the other hand, such output gain would still be significantly less than 1.8 MMBbl/d cut by OPEC and non-OPEC combined. The implication is that as long as OPEC does not "cheat" by more than a half of its promised cut, Permian shale producers are likely to be in the privileged position of selling greater quantities of oil at elevated prices.
Now that the potential growth in the Permian has been quantified, let's take a quick look at Bakken and Eagle Ford for a more comprehensive view of domestic onshore oil production.
Eagle Ford Shale and Especially Bakken Are for Now Unlikely to Join the Recovery
Taking an example from the Bakken, newly drilled wells by Whiting Petroleum would only be economical at oil prices well above $60. Total basin production in the Bakken has been declining since December 2014, while Eagle Ford's has been on the downtrend since March 2015.
I estimate that the Bakken rig count would have to reach 46, a 50% increase compared to the latest figure of 31, to stabilize output. In Eagle Ford, 60 rigs would have to be operating continuously to keep production steady, as compared to the latest count of 34. Given the modest pace of recent drilling activity in the two basins, I expect production declines to be limited and to continue to slow down. The best yet feasible outcome of a pickup in completion activity would be to keep output flat.
Bakken and Eagle Ford DUCs - Just How Useful Are They in Generating New Supply?
A great number of DUCs particularly in Eagle Ford and also in the Williston basin has been cited many times as an overhang, preventing a rapid rise in oil prices. There are two factors that complicate reasoning about DUCs. First, it is possible that to maintain some leases, continuous drilling is required. Then, as well completion is two to three times as expensive as drilling, resulting wells are added to the inventory in anticipation of higher prices in the future. Secondly, the decision to put DUCs to use is likely dependent on the level of oil prices.
Bakken - If All Drilling Stopped, DUCs Would Still Last at Least 14 Months
With newly drilled wells economically meaningful only at oil above $60, the greatest surprise in the Williston basin is that drilling has not ceased completely. In recent months, drilling was ongoing at the rate of about a quarter of the pace seen in early 2014. As one would expect, drilling was outpaced by completions. Nonetheless, at 8 wells more per month being completed compared to being drilled, the stock of 821 DUCs in October will take over 8 years to be fully exhausted. Even if the DUC inventory were only expected to shrink to the average level of 664 seen in H1 2014, a decline to this level would take nearly two years.
The DUC inventory in the Eagle Ford is being worked through rather more rapidly than in the Williston basin. Almost 18% of the peak number of DUCs, 1590, seen in January 2016 have by now been completed. Completions outpace drilling roughly in the proportion of 7:5. Even so, the aggregate production in the Eagle Ford has been declining slowly.
Overall, Bakken and Eagle Ford first need to reverse production declines before it might make sense to talk about growth. Oil prices at $50 are likely not high enough, particularly for the Bakken.
Conclusion
The Permian basin offers shale producers an opportunity to ride on the coattails of OPEC talk and actions. The size of this opportunity appears to be just right: large enough to be material to companies such as EOG Resources and Pioneer Natural Resources, yet not be big enough to allow the Permian producers together to undo the surplus-reduction effort being undertaken by OPEC. Economically, it might just end up being a transfer of value from the Middle East and to purveyors of Texas black tea.
Note from the author: Thank you for reading. If you like this article, please follow me by clicking the "Follow" link at the top of this page and choosing "Real-time alerts on this author" to be informed of my latest ideas.
Disclaimer: Opinions expressed herein by the author are not an investment recommendation and are not meant to be relied upon in investment decisions. The author is not acting in an investment, tax, legal or any other advisory capacity. This is not an investment research report. The author's opinions expressed herein address only select aspects of potential investment in securities of the companies mentioned and cannot be a substitute for comprehensive investment analysis. Any analysis presented herein is illustrative in nature, limited in scope, based on an incomplete set of information, and has limitations to its accuracy. The author recommends that potential and existing investors conduct thorough investment research of their own, including detailed review of the companies' SEC filings and consult a qualified investment advisor. The information upon which this material is based was obtained from sources believed to be reliable, but has not been independently verified. Therefore, the author cannot guarantee its accuracy. Any opinions or estimates constitute the author's best judgment as of the date of publication and are subject to change without notice. The author explicitly disclaims any liability that may arise from the use of this material.
Disclosure: I/we have no positions in any stocks mentioned, and no plans to initiate any positions within the next 72 hours.
I wrote this article myself, and it expresses my own opinions. I am not receiving compensation for it (other than from Seeking Alpha). I have no business relationship with any company whose stock is mentioned in this article.