The Trump reflation trade was exceptionally giving for Bank Of America (NYSE:BAC) investors but less so for Citigroup (NYSE:C) investors. The key question for banking pundits is the proverbial "what to do now?"; capitalize your profits with BAC, keep dancing or double-down on Citigroup?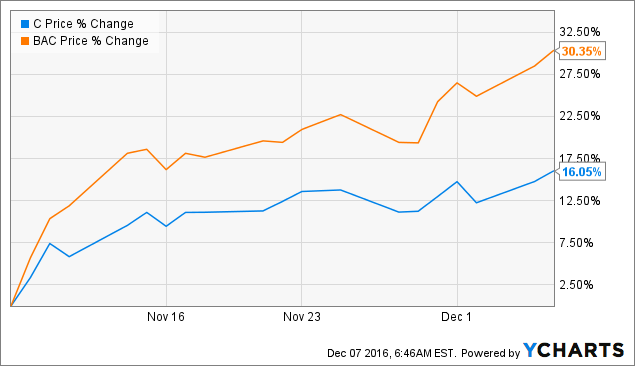 In this article, I will endeavor to answer this question but first it is well-worth considering in detail why BAC outperformed by such a wide margin as of recent times.
In a recent article titled "Bank Of America Or Citigroup: What If Bill Gross Is Right About QE4?" - I surmised that in this type of a rates environment, Citigroup is preferred over Bank Of America.
To recap, the king of bonds, earlier this year, forecasted that the Fed will raise short-term rates but flatten the yield curve by buying longer tenor bonds - otherwise known as QE4 or "helicopter money".
In this type of rates structure, Citi would generally have fared better - primarily, as it is more sensitive to the short-end and a rather bullish scenario for EM economies.
Well it seems that Mr. Gross was grossly wrong (for now) and perhaps not for the first time.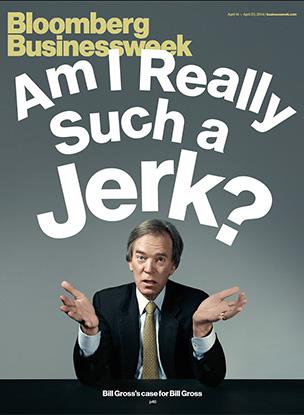 (source)
It became clear in recent months (well before the U.S. elections) that a global reflation trade was developing - as central bankers in U.S., Japan and Europe realized that the marginal utility of negative rates is suspect at best and that the global economy (and long-suffering savers, insurers and pension funds) needed a different kind of medicine; namely a steeper yield curve. Savvy investors in banks would have gone long at BAC at this juncture at very attractive prices (I know a couple here in Seeking Alpha).
The unexpected outcome from the U.S. elections trumped central bankers for sure - but there is much more than just a rates play in the apparent great rotation to financials.
Short and long-term rates
Advantage BAC.
I have covered this in great detail in this article. The long and the short of it is BAC is the most sensitive U.S. bank to steepening yield curve. As soon as the 10-year perks up, it instantaneously flatters BAC's bottom line and Mr. Moynihan can simply shine his shoes, come to office and count the benefit.
With Citi, it is primarily the short-end that matters and is reasonably agnostic (excluding indirect impact on trading volumes) to the longer term rates.
So it is reasonably clear to see why BAC would have an advantage over Citi (and most other banks) given the 60 plus basis points the 10-year gathered since the election.
Presumed U.S. Corporate Tax cuts
Advantage BAC once again.
Essentially corporate income tax cuts will benefit BAC fully and it has A LOT of U.S. taxable earnings.
A huge tail-wind by all accounts - no other way of describing it.
In Citi's case, the narrative is somewhat more elaborate. This is primarily due to its large Deferred Tax Assets (DTA) that currently sits at $45 billion. It is a complex topic to understand and is highly dependent on the extent and scope of U.S. Tax reform - but the likely outcome is that Citi will need to take an accounting charge effectively writing-off some of its DTAs. It is of course a non-cash accounting entry. However, in certain permutations, it can also adversely impact its capital ratios especially so, if the U.S. transitions into a territorial tax system as a large part of its carried-forward DTAs are in fact foreign tax credits. All in all, the absolute impact of this is should not very large. Citi CFO previously guided to a $4 billion hit to capital.
EM versus DM
Citi is the most global of U.S. banks and especially prominent in Emerging Markets (NYSE:EM). While overall, I do like Citi's EM presence especially in the Institutional space. I do have my difference of opinions with Citi's management on Mexico, where in my view, the bank is clearly a disadvantaged owner of this asset. I suspect deep down the board accepts that it has been a gross strategic mistake not to sell Mexico and buyback massive amount of shares when the stock was in the low 40s. Shareholders should be rightly irritated with management strategic choice in this instance that has effectively destroyed shareholders value.
Leaving Mexico aside, Trump reflation trade and increased interest-rates in the U.S. placed several EM markets have under severe pressure. The lure of higher interest rates in the U.S. is attracting "flighty" type of capital back to the U.S. from yield-chasers and syndicates. This is a temporary phenomenon of course and assuming nominal U.S. GDP rises, EM (and global economy) are set to greatly benefit.
For BAC the narrative is quite clean. It is quite a domestic bank. Even its EM exposures are primarily focused on U.S.-based MNCs subsidiaries in those markets as opposed to serving local EM corporates. It also doesn't have any meaningful retail presence in these markets. Suffice to say, any EM turbulence is not a huge factor in its valuation.
Deregulation and the orderly retreat of Dodd-Frank
Slight advantage BAC once again.
This topic really deserves a full article but I will just mention a few key points in the interim.
Dodd-frank is not going to be repealed in any major way when it comes to the large banks. The opportunity for the likes of Citi and BAC is concentrated in a more benign CCAR process and larger capital returns and dividends. The other potential opportunity is to continue to manage down compliance costs through automation and other efficiency measures.
It is slightly more meaningful for BAC as its current payout ratio is lower than Citi and thus has a much bigger opportunity to increase its dividends substantially (supported by earnings growth due to above-mentioned factors).
Banking is a fixed cost business - volumes and scale do matter
To those who followed my writing in the last year or so, would have seen me highlighting the potential for positive operating leverage surprises for the large banks. It looks like that potential is finally realizing.
It is important to understand that for the large U.S. banks it is largely a fixed cost base (branches, people, technology, compliance client s etc) - in other words, the pipes are all built-up and waiting for volume to pass through. When volumes increase (interest rates, trading volumes, loan growth etc) the marginal returns are extremely attractive. This could translate to much higher returns on a book value metrics.
On the flip side, the main risk in owning banks has always been a permanent loss of capital and dilution (as happened to several large banks during the 2008/2009 financial crisis). Given the regulatory landscape and huge capital and liquidity buffers - the risk of dilution post-crisis has reduced substantially. I believe this means investors and CEOs of banks can sleep a little more comfortably at night, knowing the checks and balances are in place and working.
As a point in case, in the early months of 2016 there was significant market volatility and fears around China, Deutsche Bank (NYSE:DB) and the collapse of price of oil - the U.S. banks were a bastion of calm (although equity prices did drop). Personally, I was not worried at all and in fact, I was quite bullish in a leveraged manner and saw it as a once in a cycle trading opportunity.
Final thoughts
The answer to the question above (i.e. Citi or BAC) is of course; "it depends" - saying it somewhat differently, tell me how the economy and macro environment evolve and I will tell you the answer. So if your base case is that the U.S. economy will continue to outperform with a stronger dollar and higher long-term rates - BAC will continue to melt-up and Citi will lag behind.
Alternatively, if EM stabilizes and recovers perhaps on the back of higher nominal DM GDP - Citi will catch-up and more.
A lot depends of course on what we all get out of Trump.
Considering relative valuation metrics: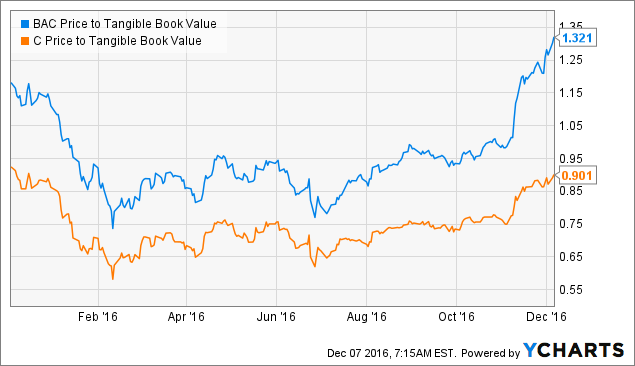 BAC Price to Tangible Book Value data by YCharts
Given the divergent valuation on a book-value metric (even adjusting for DTA) - Citi is clearly much cheaper. The current problem is not enough volume is going through its global "pipes" at this moment but this is likely to be a temporary thing.
I will leave you to reach your own conclusion (but please share your thoughts in the comments section below).
My target price for BAC and C is $24 and $65 respectively.
I provide quality and completely independent research on the large U.S., European, Canadian and Asian banks. I will be continuously updating developments with large U.S. and European banks; if interested in this topic, do subscribe as a "real-time follower" at the top of this article.
Disclosure: I am/we are long C, BAC.
I wrote this article myself, and it expresses my own opinions. I am not receiving compensation for it (other than from Seeking Alpha). I have no business relationship with any company whose stock is mentioned in this article.