(Red Mountain Project - Stewart, BC)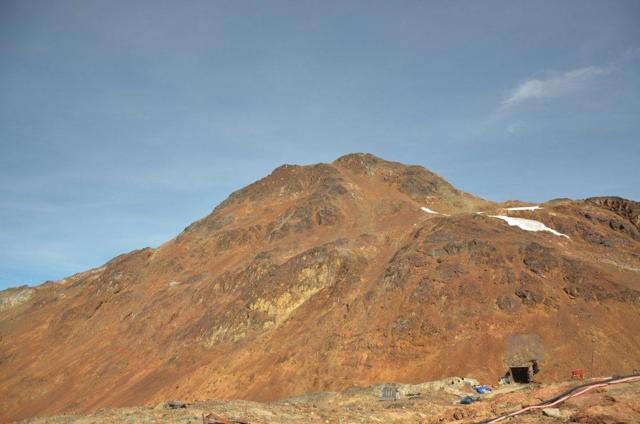 IDM Mining's Red Mountain Project in British Columbia's Golden Triangle is one of the most attractive high-grade gold projects on the planet due to its fast track to production and relatively low capital cost. On Monday IDM (RVRCF) released some impressive infill and step-out drill results which included intersects of 27.00 meters true width at 6.20 g/t Au and 23.25 g/t Ag, and 34.01 meters true width at 8.85 g/t Au and 13.28 g/t Ag. I connected with IDM CEO Rob McLeod to gain some additional color on the results and what investors can expect from IDM in 2017.
Robert Sinn: It's great to speak with you again Rob. This latest batch of drill results from Red Mountain looks really impressive. Can you add some color?
Rob McLeod: This is our last batch of results from the 2016 season and it also includes the bulk of the resource expansion drilling we did this year. Most of our work was geared towards getting the technical data we need for the feasibility study which we're targeting for release near the end of Q1 2017. This included converting the last little bit of inferred resources to measured & indicated because you can't use inferred resources in feasibility study economics.
What this news really demonstrates is that the deposit is wide open for expansion. We're fast tracking Red Mountain to production and we're confident that there's a lot more gold on the Property than what's been identified to date. This release with step-outs to the north side, south side, etc. shows that Red Mountain is getting bigger and bigger. We're rapidly advancing this project to a production decision next year and we also intend to continue growing the resource through more resource expansion and exploration drilling.
Robert Sinn: Can you give our readers an outline of IDM's timeline for 2017 and what are IDM's main objectives for 2017?
Rob McLeod: Our main objective from our 2016 drill program was to add another year to the mine life. This is a fabulous deposit, it's wide and amenable to bulk underground mining with a fully diluted mine grade of 7.0 grams/tonne gold with some silver credits. The biggest knock on the project has been the mine life which heading into this year was a 5-year mine life. Therefore, our objective heading into this year was to add a year to the project's mine life. I won't sugar coat the challenge working in this part of the world, it's expensive because we have to move everything to the project location by helicopter. Our plan from the outset was to get this project into production as soon as possible and reduce our cost of discovery once we're in there. We will probably reduce our discovery direct per ounce cost to about ¼ of what it has been to date once we move into production.
For next year we're going to have quite a few significant milestones for the company:
We're going to update our resource in January with the objective to potentially convert the last bit of inferred resources into the measured & indicated category. In addition to factoring in the step-out holes into the new estimate.
That will be followed by our feasibility study in March.
We also plan to potentially begin underground drilling again in February.
In April we're going to be filing our environmental application which in British Columbia is the document which the regulators review for your mine permit. The longest it can take to review is six months so we expect to get our EA Certificate by the end of 2017.
We believe we can build this mine in a year or less so we are targeting production by Q4 2018/Q1 2019 for a mid-size, high margin mine. It's going to be low cost, our PEA suggests between $400/oz-$450/oz to produce (marginal cash cost) and that's due to the bulk-minable nature.
Robert Sinn: How are you guys doing in terms of achieving a six year mine life (from the current five year mine life)?
Rob McLeod: The deposit is still wide open so additional drilling will all contribute towards extending that mine life. We are confident that we have a larger resource than what has already been established.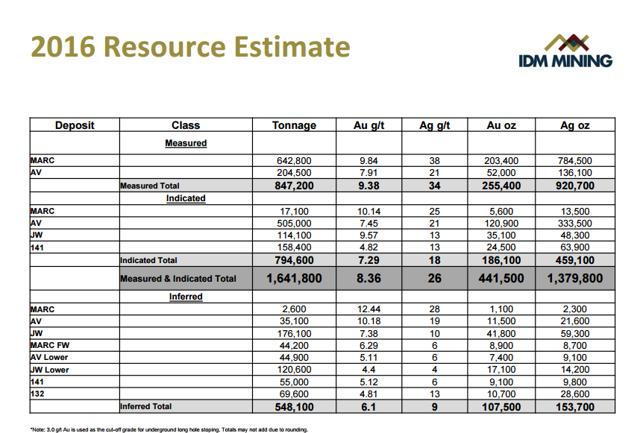 Source: IDM Mining
Robert Sinn: What is the continuity of the Red Mountain deposit like?
Rob McLeod: It's really consistent within hole and from hole to hole. There are some high grade areas that are 10-13 grams/tonne Au that we've already delineated that we'd look to mine during the first year or two in order to achieve payback quicker. However, we expect similar grades and similar thicknesses as we continue to trace the deposit along strike and down dip. You can also trace the mineralized horizon a further 800 meters from where our resource is and we look for drilling next year to build up some new ounces along that northern extension.
One of the benefits of the project is that we have this full sized production underground ramp where we couple potentially move 2,500 tonnes of ore per day out of the mine. One of the great aspects of the deposit is that it is wide, averaging 16 meters in width and amenable to low-cost bulk underground mining methods.
Robert Sinn: How sensitive is IDM to the gold price at Red Mountain? Also, are you focused more on the Canadian dollar price of gold or the US dollar price?
Rob McLeod: The US dollar does factor in for about 10% of our capital cost. So if the Canadian dollar, which is already very weak, gets weaker then certain capital items will become more expensive. All of our base case economic estimates are based on the US dollar gold price at $1,250/oz and a CAD/USD exchange rate of $.80 (this gold price/exchange rate combo equates to a C$1,563 gold price). When we come out with our feasibility study in March we will evaluate what exchange rate and gold price to use, based on peer group inputs, current prices and three year average prices.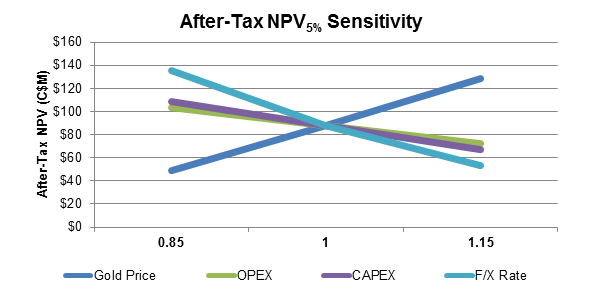 Source: IDM Mining
Gold remains very strong in Canadian dollar terms which helps to explain some of the M&A within the Canadian gold mining sector this year (Kaminak, Lake Shore Gold, Claude Resources, etc.). There is a dearth of Canadian shovel ready projects which are high margin and affordable to construct. We like to think that IDM is in this category with Red Mountain. While there has been some interest in us on the M&A side, our plan is to move forward and build this mine to create maximum value for shareholders.
Robert Sinn: How sensitive are the economics at Red Mountain to the gold price?
Rob McLeod: Well you have to also factor in the CAD/USD exchange rate. So even though gold has dropped in US dollar terms since we did our PEA, the economics of the project haven't changed much; the gold price in Canadian dollars is actually higher due the strong US Dollar. If gold fell below US$1,000 we'd have to back burner the project for a bit, however, if we saw gold up to US$1,300 we'd have an after-tax rate of return that's 40%+.
Robert Sinn: In terms of the permitting process what are IDM's biggest challenges?
Rob McLeod: We are permitting the project outside of a town in BC called Stewart which is my hometown. I'm a third generation miner from the community. This is one of the most pro-mining communities on the planet. We've been through a couple of public comment periods and we haven't heard a single negative word about this project yet. This is mining country. Both Pretium (NYSE: PVG) and Seabridge (NYSEMKT:SA) got their permits quite expeditiously for Valley of the Kings and KSM respectively.
In Canada you need to consult with the indigenous populations (First Nations) and at Red Mountain there is only one First Nation which we need to consult with and they are called the Nisga'a Nation. We are in active Impact/Benefit negotiations with them right now. The Nisga'a have signed three standing IBAs with mining companies over the last year so we don't expect any problems in reaching an agreement with them.
Moreover, there are no major environmental sensitivity issues (such as salmon spawning) at Red Mountain. There will be low environmental impact; we will backfill all of our development rock to the mined-out stopes, and once we're done mining there will be a low reclamation footprint so in the scheme of things it's one of the simplest projects as far as permitting is concerned. We don't expect any major permitting issues at all.
Robert Sinn: So to be clear investors should expect a feasibility study to be published in March and an environmental permit application in April?
Rob McLeod: That's correct.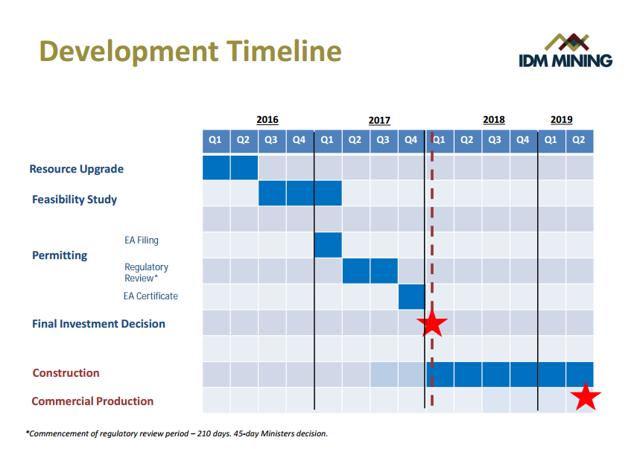 Source: IDM Mining
Robert Sinn: What do these latest step-out results mean for IDM and when can investors expect an updated resource estimate?
Rob McLeod: These results show that the deposit is wide open for expansion. In fact on the northern limits it is showing that it is getting thicker than what was thought previously, hence adding more tonnes. This allows us to also go to a long hole mining method which is one of the most cost effective underground mining methods, which bodes well for the economics of the feasibility study. In addition, in terms of the resource we should have an updated estimate out in January which potentially moves over some of the inferred into the measured & indicated category. As we do more drilling starting ideally in February/March 2017 we will continue to expand the size of the resource.
IDM's Red Mountain Project can be summed up quite simply as a low cost, high-grade, medium sized gold project with a fast track to production in the best mining jurisdiction on the planet. The economics at Red Mountain are also extremely sensitive to the Canadian dollar price of gold with a C$ gold price north of C$1,700/oz offering extremely compelling economics with each incremental dollar in the gold price flowing almost entirely to the bottom line. 2017 shapes up to be an exciting, and pivotal, year for IDM investors as the company moves to a production decision by year end while working diligently to expand the resource and increase the mine life at Red Mountain.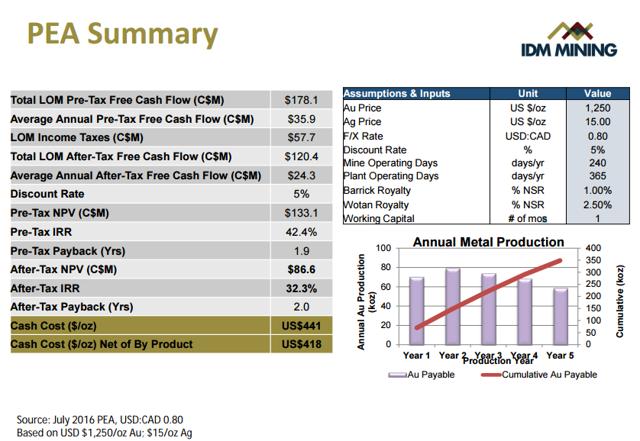 As IDM advances towards a mine construction decision by the fourth quarter of 2017 there is ample potential for IDM shares to bridge the gap between its current market capitalization (~C$42 million) and the after-tax NPV computed in the July 2016 PEA (~C$87 million). A critical year lies ahead for IDM Mining investors in 2017.
Do your own due diligence. As always, it's your money and your responsibility.
Disclosure: I/we have no positions in any stocks mentioned, and no plans to initiate any positions within the next 72 hours.
I wrote this article myself, and it expresses my own opinions. I am not receiving compensation for it (other than from Seeking Alpha). I have no business relationship with any company whose stock is mentioned in this article.