Domino's (NYSE:DPZ) has had an excellent year moving up 51% after having multiple blowout quarters. Moving forward, can it continue to do this well? How long can Domino's keep up huge comparable store growth? If it could keep this up for years, a 41x multiple makes sense. I see 2017 being a year of margin compression even if revenue grows. Depressed margins will force the stock down not only for Domino's but also Papa John's (NASDAQ:PZZA)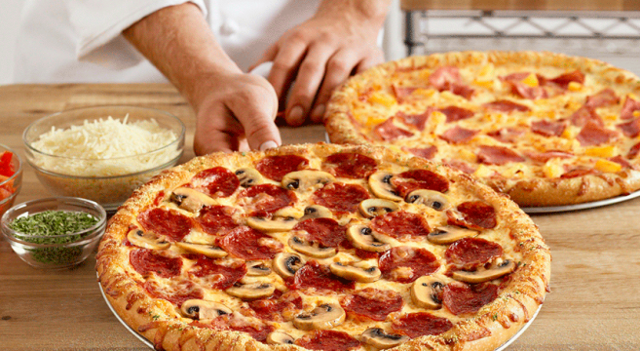 Before I discuss why margins will tighten in 2017, we have to look at the competition and the niche Domino's is capturing. You have three levels of pizza, extremely cheap and iffy quality like Little Caesars. Domino's sits middle of the road for both along with Papa John's. Then there is high-cost like California Pizza Kitchen. While personal preference can move consumers to pay more or less, Domino's pulls a lot of it from price. All the times in recent memory, I have paid $7.99 for a large pizza. It picked that price point wisely. The cost of a Domino's special is only $2.99 more than a $5 Little Caesars HOT-N-READY while a pizza from a local shop is $2-3 more than Domino's. So often consumers go with Domino's because it offers a lot of bang for the buck being the middle ground price point.
Since Domino's has price-conscious consumers, price increases to keep margins will be difficult to pass along. When the increased costs come, management will likely take a margin hit to keep the top line growing.
Catalyst for 2017
One of the largest costs employers are facing is the increasing minimum wage. This affects Domino's because many of its employees are at or near minimum wage. It will hurt most in the largest cities who are pushing it up to $15 an hour. For many of the states and localities, the first hike takes effect on 1/1/17.
Besides wage inflation, other commodities are expected to increase as well. Gas has already seen an increase due to OPEC, which cuts into delivery drivers. Increased gas prices will generally increase its food supply cost as well. According to DPZ's annual report, it does not have long-term contracts so prices can change quickly at any time. On top of all this, pizza is a highly competitive field. A pizzeria can start up with nearly no capital. Forex is another area where Domino's has risk. Since it is growing its international business, a strong dollar will have an impact on the bottom line. Both Domino's and Papa John's benefited in 2015 and 2016 from great margins. Those margins will likely squeeze since they will likely not pass them on to the consumer.
Effects on earnings
Currently, Domino's net margin is about 8.5%. I see the margin getting pushed to 8% which on the TTM would change yearly EPS by 23 cents. That kind of earnings hit on a 41x PE stock would hurt longs hard. The best-case scenario for 2017, Domino's grows revenues by 15% and margins stay the same at 8.5%, which would earn it $4.59 a share. Put 2017 earnings at a 35x multiple (very high) and you get a best-case price at $160 a share.
The likely case is DPZ grows revenue by 15% but margins are compressed to 8.1%. That would give it earnings of $4.37 at a 30x multiple, a 2017 price target of $130 or a 22% decline. If you take a worse case with a more normalized market PE ratio of 20x, you are looking at a 48% decline.
While I think Domino's is running a great business and I like its product, its stock is out of line with its growth. Domino's will face challenges this year and a 41x PE ratio is well over the top. It is time to take any profits and I will be looking to short if it pops into the $180s.
Disclosure: I/we have no positions in any stocks mentioned, but may initiate a short position in DPZ over the next 72 hours.
I wrote this article myself, and it expresses my own opinions. I am not receiving compensation for it (other than from Seeking Alpha). I have no business relationship with any company whose stock is mentioned in this article.