The SX7E, an index of European banking stocks, is up 43% since the day of the Brexit vote (23 June) and 9% since the supposed calamity of the Italian Referendum last Sunday, which felled Matteo Renzi, Italy's reformist Prime Minister.
The post Brexit performance of European banks then is even more impressive than that of US banks post Trump, albeit having taken place over a longer time frame and with a 3% weakening of the EUR to be considered. This has made a lot of commentators and investors look pretty silly, especially those who wrote the sector off at its low points in February and when Deutsche (NYSE:DB) was tanking for the second time this year in September. And it's worth reflecting on Deutsche having gained 60% from that low. Perhaps that was the time for a contrarian algo triggered by the level of sensationalist negativity in the financial press to do its thing.
So what's going on. It's been helpful for European market rates to move back into positive territory in recent weeks.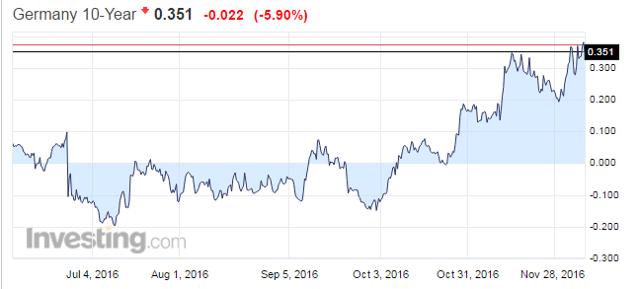 However, there's been no greater optimism about European economic data, which remains solid but unexciting. What's probably improved is the perception of sovereign governance risk in the sense that Brexit will play out over time and Italy's referendum, while raising questions about the future, will not necessarily lead to chaos. Indeed, it is plausible to argue that by seeking to secure a major shift towards executive authority, Renzi's program could structurally have worsened the potential for instability in Italy should a genuinely populist movement come to power.
While the Five Start Movement may indeed take power in Italy, this is by no means the most likely scenario given that it is one of three leading parties. The main threat of instability from Five Star, which is generally "pro-EU Eurosceptic" is its promise to hold a referendum about Italy's membership of the Eurozone. As I've written elsewhere, whether we would see a referendum on EZ membership should Five Start be able to form a government remains an open question and to my own mind, bearing in mind the common sense of the Italian electorate, the massive costs that a theoretical EZ exit would impose on the country's economy would lead to a rejection of the idea in practice. For investors the key consideration is that the market for now has decided the many steps for Italy to leave the EZ make it a sufficiently low probability that it can be put aside.
This doesn't extend to Italy's more troubled banks. What becomes of them is anyone's guess although if there were a bail-in, it's valid to ask if this might be a positive catalyst for investors once they market were able to look beyond it. For the stronger banks, such as Intesa (OTCPK:IITOF) (OTCPK:IITSF) (OTCPK:ISNPY), there is a risk of involvement in providing capital though it would probably be relatively small as a proportion of their own capital since investments in financial vehicles are deducted from regulatory capital. Still, I have little doubt that a post bail-in environment would be excellent for Intesa due to the quality of its franchise and high dividend yield here.
France has been a source of political worry for the EZ because it seems likely that the Front National will be in the run off for the Presidential Election in 2017, and Marine Le Pen, the candidate, has promised a referendum on EU membership if she wins. It is unlikely she will win especially if she contests Francois Fillon, the "Thatcherite" Republican advocating deep economic reform whom supporters of the socialist party in France would probably support in a tactical move to keep out the FN from the Presidency Here is some performance data for French banks with prices at the time of writing

This is an incredible round trip for a sector that largely has delivered pretty solid operating performance. The big moves reflect the shifting cares of the market through the collapse of oil and Chinese slowdown, and ECB monetary response, to stabilization of China and oil, and prospects of eventual ECB tapering (which remains some way off in my view). Will the market learn that the oil action had benefits to the consumer and was manageable in terms of asset quality risk and indeed that China's growth drama had little direct impact on European growth? Certainly it seems to be accepting gradual CNY depreciation as appropriate and desirable given it fits with China's domestic growth and policy position.
Other European banks we've looked at over the last couple of months repeat the pattern in the French banks stocks above post Brexit. The YTD performance in Intesa, Bankia (OTCPK:BNKXF) (OTCPK:BNKXY) and Deutsche reflect the Italian banking sector situation, gearing to sovereign bond yields and questions over capital needs together with the DoJ demand respectively

It is likely that European politics will roil European banks and markets in general again before the future of the EU and Eurozone is more settled. My own general preference is for US banks. They are more expensive, but their growth and regulatory outlook is improving markedly and the capital return credentials of many names remain solid so that the basic economics of the stocks still hold appeal while M&A among the smaller stocks should accelerate due to the chunky multiples some of them are now wielding. Still, In Europe, I would remain long ING (NYSE:ING) Svenska (OTCPK:SVNLF) (OTCPK:SVNLY), Intesa, BNP (OTCQX:BNPQF) (OTCQX:BNPQY) and DB. If you are feeling brave and want something geared to further rises in bond yields, Bankia is your stock.
Disclosure: I/we have no positions in any stocks mentioned, and no plans to initiate any positions within the next 72 hours.
I wrote this article myself, and it expresses my own opinions. I am not receiving compensation for it (other than from Seeking Alpha). I have no business relationship with any company whose stock is mentioned in this article.
Editor's Note: This article discusses one or more securities that do not trade on a major U.S. exchange. Please be aware of the risks associated with these stocks.