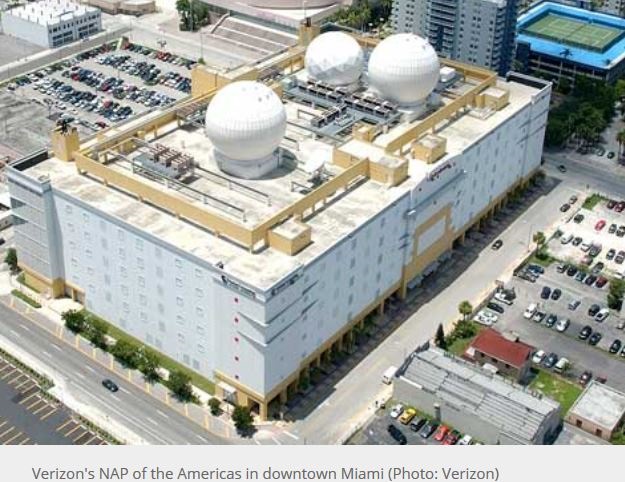 Source: Data Center Knowledge - image Verizon
The long-rumored deal for global interconnection leader Equinix, Inc. (NASDAQ: EQIX) to buy all or a portion of the data center portfolio owned by Verizon (NYSE: VZ) has now been formally announced.
The infographic below summarizes the deal highlights at a glance: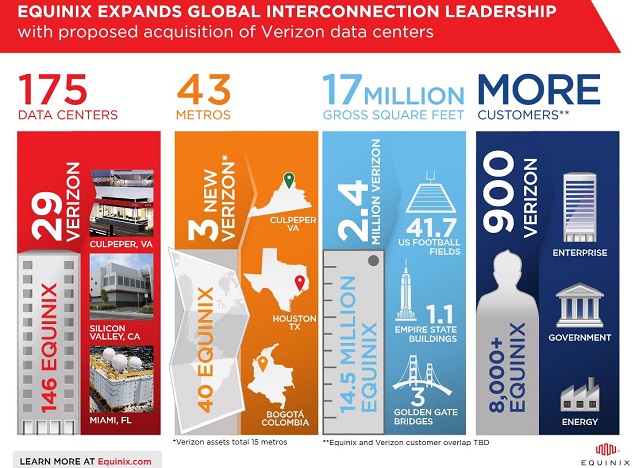 Source: Equinix
Equinix explained on the call that this deal, expected to close in mid-2017, will be accretive to AFFO per share. However, this excludes transaction and integration costs of ~$40 million, which means that it won't be fully accretive until 16-18 months after the transaction is closed.
Why Do This Deal?
The $3.6 billion purchase price represents ~13x adjusted EBITDA for the initial 12 months after closing. Equinix estimates that $270 million of EBITDA will be generated on $450 million of revenues for the first year for a 60% gross EBITDA margin. (This is a better run rate than the EQIX Americas' current 48% gross EBITDA margin).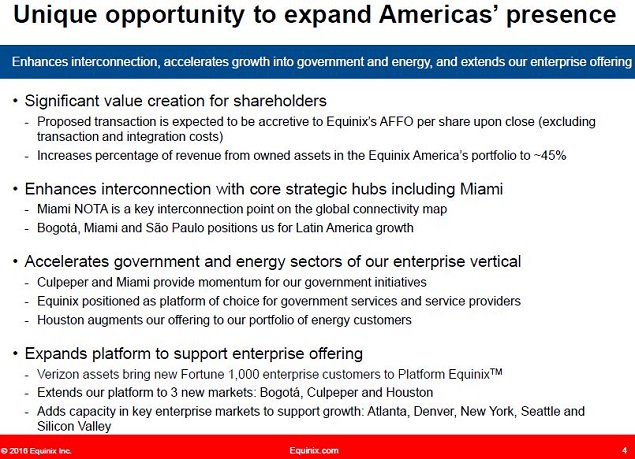 Source: EQIX - VZ presentation (for all slides below)
According to Equinix,
"Verizon will continue to run its managed services business and utilize Equinix for colocation. In addition to the purchase agreement, Verizon and Equinix will enter into expanded colocation and lease agreements covering Verizon's continued use of the facilities as a customer of Equinix."
There were no details offered on the conference call regarding the lease terms between Verizon and Equinix for the 29 data centers.
Platform Equinix - Overview
Equinix operates many large, state-of-the-art data centers.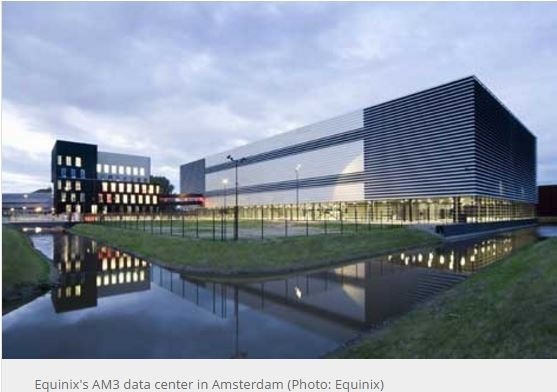 Source: Data Center Knowledge - image Equinix
These highly networked and interconnected data centers help to provide the backbone of the Internet. According to the company, over 90% of worldwide data traffic passes through the Equinix IBX data center network.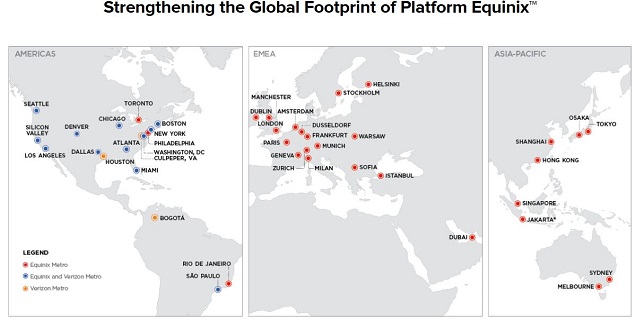 Source: Equinix - blog
In a blog post published on December 6, President of Equinix Americas Karl Strohmeyer wrote:
"To stay competitive, companies need to interconnect and collaborate across industries and regions. This strategic interconnection trend, which Equinix and industry analysts view as the future of IT, has led to the digitization of the global economy and is driving interest in mobile and cloud technologies and related trends like the Internet of Things and Big Data."

"The acquisition of these new data centers and customers will also significantly increase the size and sophistication of our enterprise and government ecosystems. Our expanded footprint will offer our customers lower latency, reduced bandwidth costs and increased revenue."
A key point here is these data centers must be viewed within the context of what value they bring to "Platform Equinix," already the largest network of interconnected data centers in the world.
Notably, these Verizon assets are all located in North and Latin America. The NAP (network access point) facilities, and the Culpeper, Virginia, campus appear to be the gold-plated pins in the map for Equinix.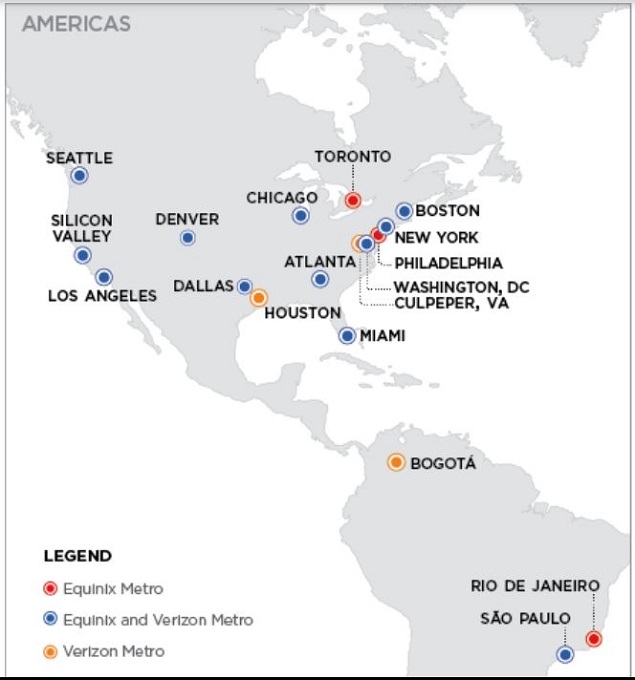 Source: Equinix
The map above shows that there is overlap between Verizon and EQIX in a dozen markets, with only three new metros: Bogotá, Houston and Culpeper, Virginia.
In addition to adding capacity, Equinix is simultaneously defending its turf and beefing up the size of its Americas moat with this massive Verizon acquisition.
Verizon "Crown Jewels"
Equinix specializes in owning and operating a global network of highly interconnected IBX data centers. According to Data Center Knowledge:
"Equinix didn't buy all data centers Verizon was hoping to sell, cherry-picking sites that were a good strategic fit. The telco has been looking to divest more than 50 facilities, including assets in Europe and Asia, but Equinix was only interested in North and South American markets."
This portfolio of 29 data centers includes 11 properties which Verizon acquired when it bought Terremark Worldwide in 2011. Notably, these assets were originally designed as carrier-neutral colocation facilities.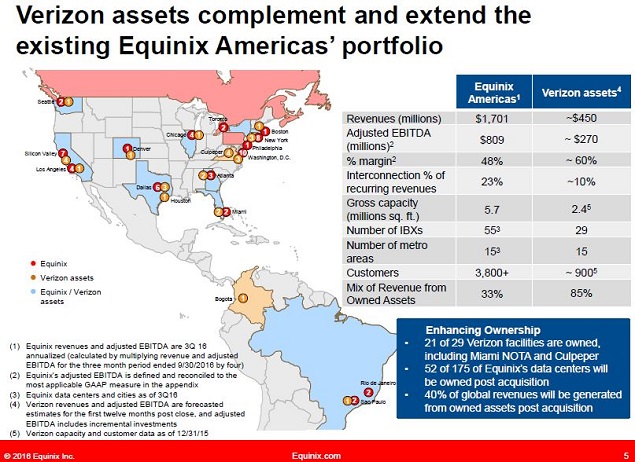 The Miami NOTA (NAP of the Americas) data center is one of the main reasons why Equinix was attracted to this portfolio since it is the fourth most active Internet exchange point in the US.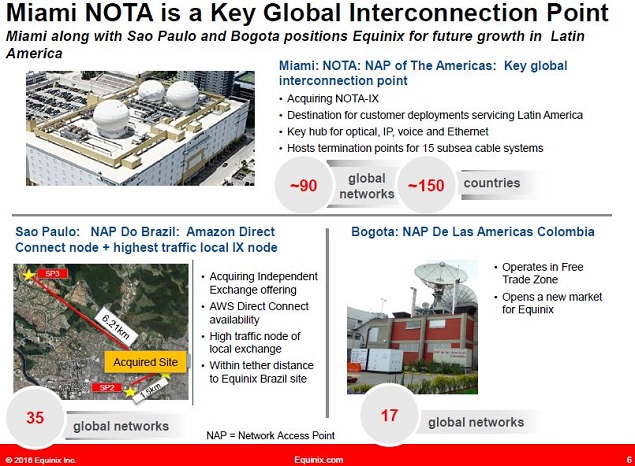 Equinix operates an existing global network in 40 metros deployed across five continents. Adding the Miami NAP facility to this network essentially adds value across the board, due to 15 subsea cable landings helping 90 networks to connect with over 150 countries.
Federal Government Opportunity
The Verizon Culpeper, Virginia, campus will help Equinix to accelerate its penetration of the government and defense contracting verticals. There are also healthcare and financial services customers located at this campus.
There are federal data center initiatives which encourage more secure and cost-effective ways to deliver services for government agencies, including a "Cloud First" initiative. It requires all agencies to evaluate alternatives to existing data centers for both new applications and existing IT deployments.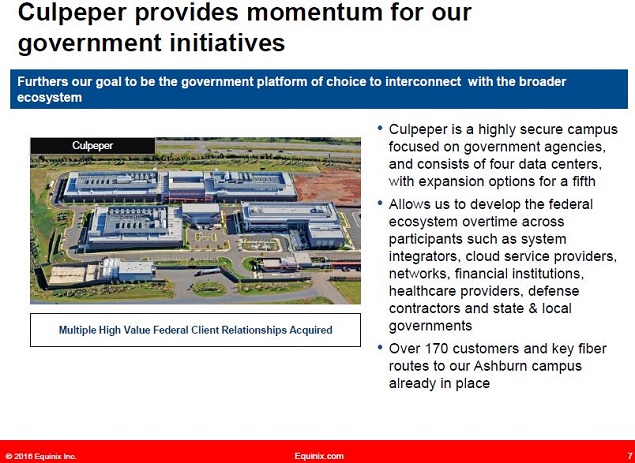 Of course, cyber security, both logical and physical, is crucial. There is an expensive and time consuming FedRAMP approval process in order for a data center operator to become approved to provide services. There can be tremendous value embedded in a facility that already has all of the FISMA approvals necessary to operate with an existing ecosystem of federal agencies, contractors and IT service providers.
Notably, Culpeper, Virginia, offers government agencies and contractors geographic diversity, and is already linked by fiber routes to Equinix's Ashburn campus. During the call, management emphasized that Verizon and Equinix will formalize a go-to-market strategy to jointly target expansion of government and enterprise customers.
VZ Portfolio Highlights
The cluster of four data centers in Northern Virginia and the Miami NOTA hub account for over 50% of the $450 million in annual revenue generated by the portfolio which Equinix has agreed to acquire from Verizon.
There is also a site available to build a fifth data center on the Culpeper, Virginia, campus.
Additionally, Equinix will be expanding into the Houston market. While Dallas is a much larger data center market, Houston is still the fourth largest US city by population. It is home to a tremendous number of Fortune 1000 firms, including many of the US energy sector giants.
Across the VZ portfolio there is 200,000 square feet of existing powered shell space that can be brought online fairly quickly. No color was given on the conference call regarding the capex budget and schedule for building out the space.
There will also be capex required to upgrade the Verizon facilities to Equinix standards and build out fiber to connect this portfolio with the lowest latency to the Equinix IBX network.
How Equinix Benefits
Equinix always seemed to be a logical buyer among the few companies with the ability to gobble up these Verizon assets for $3.6 billion cash.
Equinix already leases to over 8,000 global customers. The EQIX presentation indicated that there will be hundreds of new logos, including coveted Fortune 1000 companies, among the ~900 colocation customers which Equinix will be acquiring. Equinix has more existing customers and industry ecosystems to leverage in cross-selling services and interconnection than any other potential suitor for these Verizon data center assets.
Notably, this deal also comes complete with an AWS Direct Connect node in São Paulo and Google Cloud Platform nodes in both São Paulo and Bogotá.
The average revenue derived from interconnection from this Verizon portfolio is 10% as compared to 23% for the carrier neutral Equinix Americas IBX data center portfolio. This leaves plenty of room for Equinix to grow this highly profitable business segment.
How About Digital Realty?
Digital Realty (NYSE: DLR) certainly has the horsepower to have been another bidder and might still be assessing some of the VZ assets in Europe and Asia. However, regarding this portfolio, Digital likely was not as well-positioned to garner near-term revenue and expense synergies which Equinix can underwrite.
This is mainly because a connectivity pivot ushered in with Digital Realty's Telx acquisition is still in the early innings and building vibrant customer ecosystems takes years.
It is also highly unlikely that this deal would meet Digital CEO Bill Stein's acquisition criteria of bringing strategic value, being immediately accretive to existing shareholders, and leverage neutral to the balance sheet. Digital has an 11-year track record of raising its dividend for shareholders, and is the only data center REIT with an investment grade rating. Digital shares currently pay a quarterly distribution yielding 3.9% with a conservative FFO payout ratio of ~62%.
Equinix is one of Digital's largest tenants. When Equinix converted to a REIT in 2015, one of the goals was to own more of its data center portfolios. One big plus for Equinix is that 21 of the 29 data centers are owned by Verizon. When this deal is closed, Equinix will own 52 of 175 data centers and derive 40% of global revenue from owned facilities.
Equinix - M&A Machine
Along with expanding existing campuses to generate steady recurring revenue growth, Equinix has a long history of growing its global IBX network through strategic M&A. This Verizon acquisition is a bit different because it is an asset carve out rather than acquiring an operating company like TelecityGroup or Bit-isle.
According to Equinix:
"The Verizon assets will represent our sixth major acquisition over the past decade (IXEurope, Switch and Data; Alog, Bit-isle, Telecity, Verizon). Through the integration of these prior acquisitions and with our recent investments in Equinix Customer One (ECO), we have developed a strong platform to integrate acquisitions and have a team of experienced integration experts with a well-developed playbook. We expect the majority of these properties to plug into our existing metro operations across the Americas."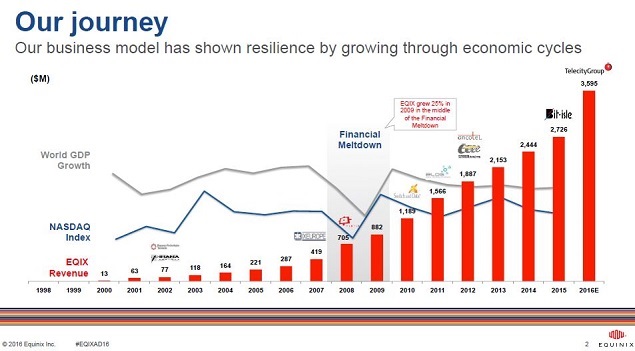 The acquisition of the Verizon data center assets in 2017 would simply be a continuation of a long-established trend.
Notably, these rapid fire acquisitions can make Equinix year-over-year and same-period financial comparisons a bit challenging for the average investor to digest.
Complicated Quarterly Earnings
Equinix invests $1B or so a year in organic expansions of existing data center campuses, underwritten at a 30%-plus unlevered cash return (based upon stabilized occupancy). However, only about half of the Equinix data centers are part of that same-property or stabilized data center pool.
The Bit-isle and TelecityGroup assets are currently not included in that pool. Upon closing, it takes some time for Equinix to upgrade data center facilities to its standards and to offer availability of all the products and services found in an Equinix IBX data center.
It looks like not long after the Telecity and Bit-isle properties are mostly integrated into the financials, Equinix will be closing on this massive Verizon data center portfolio. This will once again make same-period comparisons of financial performance a bit more difficult to comprehend.
Equinix management does a good job of providing "waterfall" slides and detailed supplemental filings which offer insights into pro forma performance, net of the acquisitions.
The slides below are from the latest Equinix earnings presentation and illustrate there are a number of "moving parts" and adjustments which need to be understood.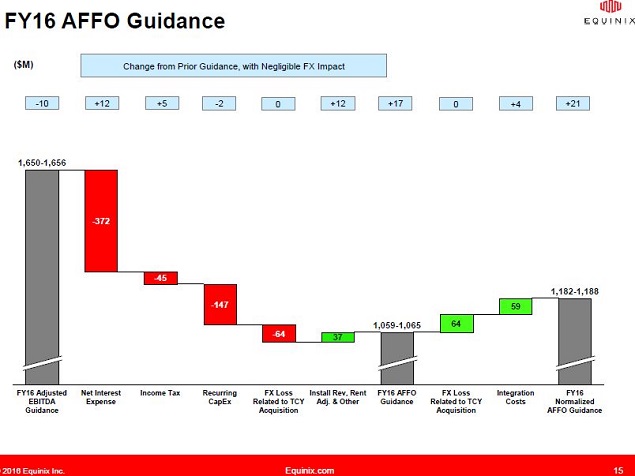 Source: EQIX - Q3'16 Earnings presentation
Because over half of Equinix revenues are generated overseas, forex adjustments to AFFO must also be taken into account.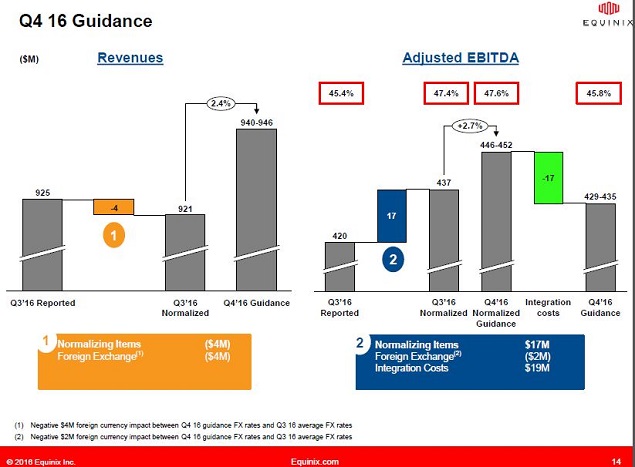 Source: EQIX - Q3'16 Earnings presentation
Management has an excellent track record of underwriting and hedging against forex headwinds, minimizing impact to adjusted EBITDA and normalized AFFO per share.
However, this is another risk factor that investors must consider next year under an "America First" administration led by President-elect Trump. There are plenty of unknowns regarding trade and international monetary policy.
Bottom Line
The entire data center REIT sector could be considered to be "growthy." However, Equinix has become the Pac-Man REIT, gobbling up strategic data center portfolios and acquiring competitors around the globe.
This massive $3.6 billion Verizon data center acquisition is consistent with management's focus on M&A to grow its global IBX platform and customer base.
Equinix will continue to invest in its technology platform to maintain and grow its global interconnection moat. While there are competitors in regions, countries and metros, Equinix continues to focus on meeting the needs of multinational companies.
Investor Takeaway
I have previously described Equinix as being a hybrid, a technology company which now reports REIT metrics.
Equinix only pays out 47% of AFFO as dividends, giving it about $500 million in cash flow to plow back into growth. EQIX shares currently yield 2.1% and the dividend raise from 2015 to 2016 was fairly skinny, from $6.76 to $7.00 per share, or just 3.6%.
Management has always taken a long-term view of the business at Equinix and the C-Suite has an admirable history of driving price appreciation and total return. However, in the short run, this $3.6 billion Verizon data center acquisition could scare away REIT investors concerned with how permanent funding of equity and debt might impact AFFO per share growth going forward.
Income-focused investors may want to consider CoreSite Realty (NYSE: COR), another data center REIT primarily focused on connectivity. It is a much smaller data center REIT which operates in just eight US markets. However, CoreSite management has demonstrated an ability to grow FFO per share at a double-digit clip since 2010, to support rapid dividend growth.
I relentlessly hunt for diamonds in the rough and rising stars, in addition to closely following data centers, covering REIT blue chips and breaking news. Please consider following me as a Seeking Alpha author if you would like to be notified when my future articles are published.
Disclosure: I/we have no positions in any stocks mentioned, but may initiate a long position in COR over the next 72 hours.
I wrote this article myself, and it expresses my own opinions. I am not receiving compensation for it (other than from Seeking Alpha). I have no business relationship with any company whose stock is mentioned in this article.