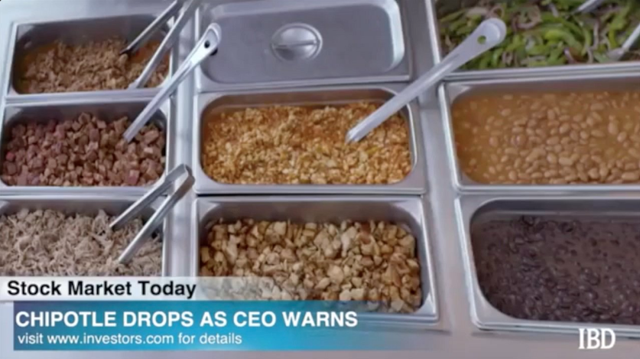 Hedge Softens Blow For Chipotle Longs
In September, we questioned Bill Ackman's due diligence and recommendations on Chipotle (NYSE:CMG), and suggested longs consider selling or hedging (Chipotle and Ackman: A Meaty Problem). Since then, shares of Chipotle are down more than 16%.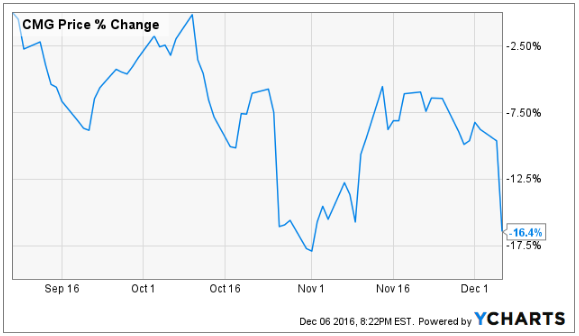 Let's update how that hedge has reacted to Chipotle's drop and then look at why social data firm LikeFolio has turned bullish on the stock (we know one of the cofounders of LikeFolio but have no financial relationship with the company).
The September 7th Optimal Collar Hedge:
As of September 7th's close, this was the optimal collar to hedge 200 shares of CMG against a greater than 16% drop by mid-March while not capping an investor's upside at less than 14% by the end of that time period (screen captures via the Portfolio Armor iOS app).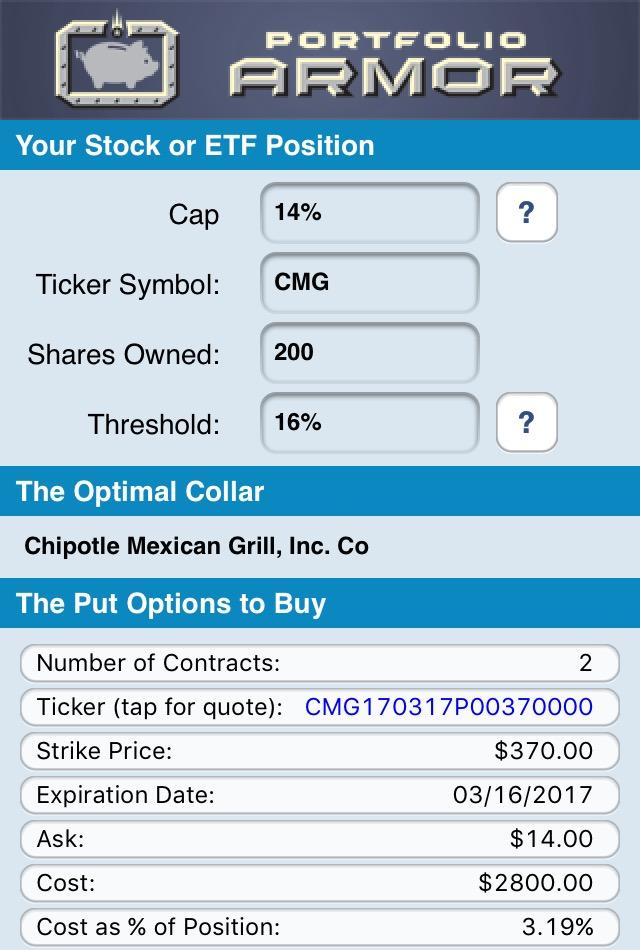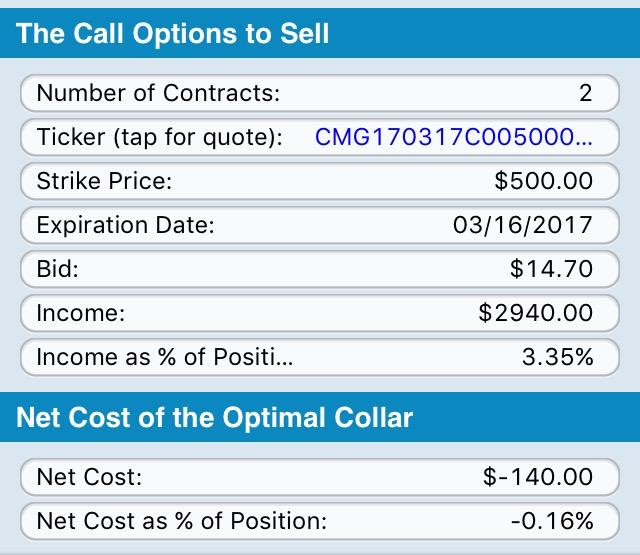 As you can see at the bottom of the screen capture above, the cost was negative, so an investor would have collected an amount equal to $140, or 0.16% of position value (calculated conservatively, using the ask price of the puts and the bid price of the calls).
The idea behind this hedge was that the investor could tolerate a decline of 16% but no more than that - we explained why we chose 14% as the upside cap at the time:
we checked Portfolio Armor's website, but the site didn't calculate a potential return for CMG on Wednesday because the stock failed the site's 2 screens. So, instead, we tried different caps until we found the highest one that eliminated the hedging cost, and that was 14%.
Let's see where you'd be had you hedged then and held through Tuesday's drop.
How The September 7th Collar Responded To CMG's Drop
Here's an updated quote on the put leg as of Tuesday's close:

And here is an updated quote on the call leg:

How That Hedge Ameliorated CMG's Drop
CMG closed at $438.45 on Wednesday, September 7th. A shareholder who owned 200 shares of it and hedged with the collar above then had $87,690 in CMG shares plus $2,800 in puts, and if he wanted to buy-to-close his short call leg, he would have needed to pay $2,940 to do that. So, his net position value on September 7th was ($87,690 + $2,800) - $2,940 = $87,550.
CMG closed at $366.37 on Tuesday, December 6th, down about 16% from its closing price on September 7th. The investor's shares were worth $73,274 as of 12/06, his put options were worth $5,980, and if he wanted to close out the short call leg of his collar, it would have cost him $255, using the midpoint of the spread, in both cases. So: ($73,274 + $5,980) - $255 = $78,999. $78,999 represents a 9.8% drop from $87,550.
More Protection Than Promised
So, although CMG had dropped by about 16.4% at the time of the calculations above, and the investor's hedge was designed to limit him to a loss of no more than 16%, he was actually down less than 10% on his combined net hedge plus underlying stock position by this point. As with the parachute for 3D Systems (NYSE:DDD), this illustrates the impact of time value on a hedge designed to protect based on its intrinsic value alone.
What Now?
You saw the negative news from coming out of Chipotle's conference presentation on Tuesday, but social data firm LikeFolio thinks this could be a bottom for the company. For those unfamilar with what LikeFolio does, it analyzes mentions of brands on social media such as Twitter (NYSE:TWTR) and Facebook (NASDAQ:FB), and ties that to the publicly-traded companies that own the brands. In LikeFolio's December letter, it raised the prospect that Chipotle could be a turnaround story for 2017.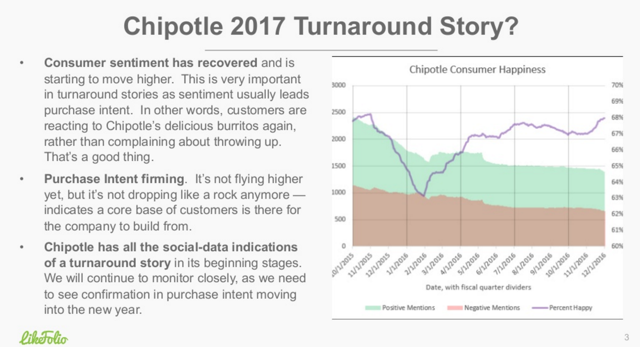 Recall that in our previous article on Chipotle, we noted negative comments about Chipotle's gristly meat (one commenter called us a "gristly bear" in response). But LikeFolio data shows consumers' attitudes toward the chain have been improving.
We should note our attitude has improved slightly as well as we've found two options on the Chipotle menu that are gristle-free: sofritas and chorizo.
To be on the safe side, though, if you're hedged, you may want to hold on to your put protection the event that a turnaround doesn't appear likely in early 2017. If you think CMG shares might skyrocket in the next few months, you could consider buying-to-close the call leg of your collar to eliminate the upside cap.
If you're out of Chipotle and still bearish on it, and are looking for another stock in its industry, consider Domino's (NYSE:DPZ), Portfolio Armor's number two stock.
Disclosure: I/we have no positions in any stocks mentioned, and no plans to initiate any positions within the next 72 hours.
I wrote this article myself, and it expresses my own opinions. I am not receiving compensation for it (other than from Seeking Alpha). I have no business relationship with any company whose stock is mentioned in this article.