OPEC rally sees rush to hedge
The first OPEC production cut in 8 years has seen a rally in crude oil prices back above the key $50 per barrel level. As I mentioned in a previous article, I am hopeful that prices will advance towards $60 as we head into 2017.
The rally in crude prices has led to a flood of hedging activity by shale producers, who are seeking to look in cash flows into 2017.
Pioneer Natural Resources (NYSE:PXD) CEO, Tim Dove, had stated in July that the company had hedged 55% of their 2017 exposure but added: "I'd like to see us get that number up as we go towards the end of this year."
The first oil rally on the hope of an OPEC agreement came in October following the Algiers meeting and in the latest investor presentation Pioneer noted that it had increased its hedging to 75% of its 2017 production.

(Source: Pioneer Natural Resources)
Smart derivatives strategy sets Pioneer up for gains
Pioneer's derivatives strategy is based on creating "Floor protection but retaining upside".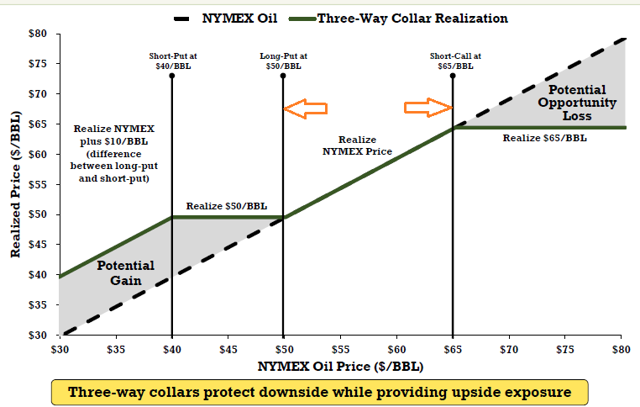 (Source: Pioneer Natural Resources)
As we see in the graphic, Pioneer now has 75% of its 2017 production locked in at a $50 floor, with upside profit available between $50 and $65.
This sets Pioneer up for a good 2017 relative to many of its peers if prices stay below $50, but a strong 2017 if we can hold above $50.
Any gains in crude would likely be capped at $60 due to further short-selling and producer hedging so the $65 number leaves a good range for a move higher and pause through next year.
What to expect in 2017
Pioneer's strength is in the Spraberry/Wolfcamp basin where it dwarves the competition in production and has increased its drilling rigs in 2016 from 12 to 17. If oil can sustain its move above $50 we can expect the company to look at increasing the rig count further to take advantage of its 800,000 gross acres there.
Pioneer currently operates 70% margins in these wells after cutting costs over the last two years and had already forecast production growth of 13 to 17% 2017. This figure is likely to be increased with a move higher in oil.
Pioneer saw its earnings per share move back into the black in the third quarter and sustained positive quarters in 2017 still creates value at the current price of $185 per share.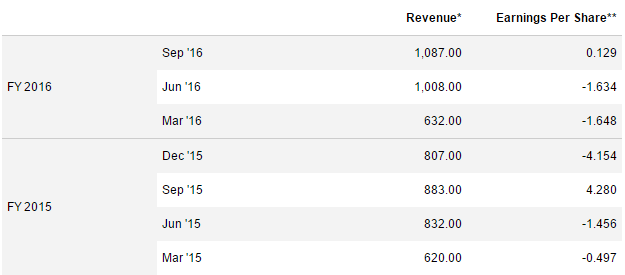 Conclusion
Pioneer has taken advantage of the recent OPEC oil rallies to lock in a price floor at $50 with potential upside above that level. With the company cutting costs and looking to increase production an oil price below $50 should still see healthy earnings in 2017.
However, an oil rally above $50 would set the stock up for further gains and my target for Pioneer Natural Resources is a further 24% upside at the previous highs near $230.
Disclosure: I am/we are long PXD.
I wrote this article myself, and it expresses my own opinions. I am not receiving compensation for it (other than from Seeking Alpha). I have no business relationship with any company whose stock is mentioned in this article.