I've been wanting to cancel cable for the past few years. Once our household had Amazon Prime (NASDAQ:AMZN), Netflix (NASDAQ:NFLX) and Hulu, what was the point of paying $80 a month and having to renegotiate monthly bills and deal with satellite outages and tech repair people? In August I followed through and picked up Sling TV for $25 a month. It had limited channels (it promised ESPN for example, but the WatchESPN app never worked), channels periodically went down as "unavailable," and the userface was a bit clunky, but for 1/3rd the price what was I really missing? I could deal without Game Show Network and CNBC for my weekly SharkTank fill that I could watch on Hulu anyway a week after airtime, right? On October 28, I wrote an article titled "If You Like Netflix, You'll Like The New AT&T." In that article I promised to cancel Sling TV if AT&T's (NYSE: T) DirecTV Now streaming television service offered what it promised. Just last week I did just that.
In this article I aim to provide a brief look at the service itself and arrive to the conclusion that, despite some mediocre early reviews in the media, AT&T's DirecTV Now is going to see some serious subscriber numbers. Today, AT&T's CEO Randall Stephenson confirmed just that, noting their launch numbers achieved forecasts and that the service was doing "very, very well." After that I'll take a brief look at the addressable market numbers I'm sure we're all familiar with, and close with a brief conclusion positing that, as I argued before, AT&T is morphing into the company they need to be to sustain and grow their dividend (and ultimately their image) moving forward.
The Channels
My last article promised that if DirecTV Now offered the right mix of channels, I'd be a subscriber, so it only makes sense to start here. We're undoubtedly all familiar with the pricing tiers but all that matters right now is that you can get their middle of the road package that comes with about 100 channels for $35. I'm looking at my TV right now and here's what it's got courtesy of 9To5Mac: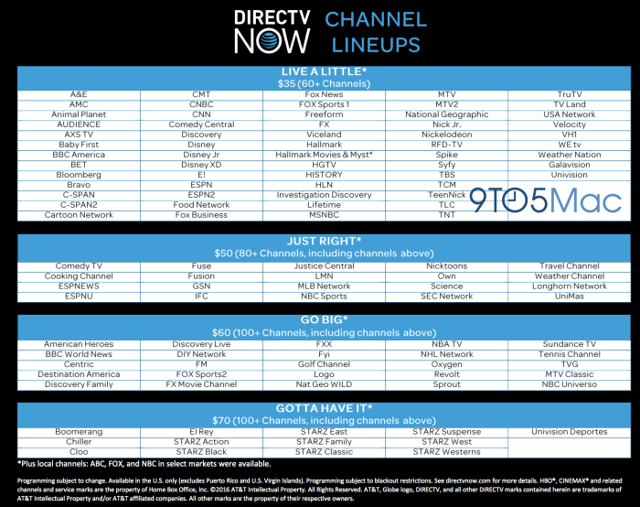 Remember, the promotional deal gets you "Live a Little," "Just Right," and "Go Big" all for the price of the lowest package. It's quite the deal. Through my first night of viewing I could not think of a single channel that I was really missing - it seems like live access to NBC is mobile only, CBS has yet to sign up, and ABC might be dependent on market, but my bet is that this changes as the service proves its worth. Also remember - from an investor perspective we're concerned with whether cord cutters or cord nevers are going to be convinced to make the switch, if the 20 million or so that fall into that group could live without ABC/NBC/CBS before, I don't see why their absence is going to make a difference.
I do have some concern that limited access to these admittedly large networks may hold some of the 50+ crowd back from converting. They've lived a life full of the "network" stations and "network" shows, and while as a group they're probably adjusted to watching new streaming series a la Orange Is The New Black, in addition the Big Bang Theory and The Bachelor et seq, I don't get the feeling that they're willing to completely give up the latter (based on some informal surveys of parental groups I've conducted). Of course, you can still catch these shows on demand with ABC, NBC and CBS apps, but that admittedly complicates the solution a bit.
The Price and Margin
Analysts had said previously that AT&T's margin on a $35-dollar streaming television package would be razor thin. The Wall Street Journal headlined a story with "AT&T's $35-a month internet TV service could help it win over regulators and customers, but it poses a serious threat to margins." In that story the WSJ had this to say:
But $35 may barely cover the cost of content. Monthly programming expenses for DirecTV Now are in the low-$30s range, UBS estimates. MoffettNathanson puts them at $34. That suggests AT&T is getting just a dollar or two in gross margin, compared with DirecTV's current video gross margins of around $60 a month.

Those don't account for costs such as marketing, customer service, data transport and storage or set-top box installation for satellite service. MoffettNathanson puts those at $3 per subscriber per month for the internet service and $18 per subscriber per month for satellite. That leaves satellite margins at $42 and pushes DirecTV Now margins to slim, or even negative.
Well, we now know that AT&T plans to not only make minor increases to that $35 over time (think your $80.00 a month cable plan randomly go to $82.81 one month and then $83.92 for no reason 8 months later but you really don't challenge it - one of the mysteries of the world I know!), but that at some point this promotional price goes to $60 for the 100 channel package, leaving a 60-channel package for $35, a $50-dollar option and a $70-dollar option. Despite this, I've seen little retraction or modification of their stories from outlets that reported this "razor thin margin on DirecTV Now to hurt AT&T" line.
Why should they retract or modify their line? Because now, that $35 price point that gives AT&T a negative or slightly positive single-digit margin becomes your bottom bucket. While it still might account for a sizable portion of their subscriber base, the other packages are still enticing (though probably not the $70 one) and still fall under the "lower price" element that I said was going to be critical (albeit admittedly, a sub-50 price point I think draws the most customers so that's a bit disappointing - $45 and $55 would have been more viable price points).
Don't forget that AT&T lets you add premium stations like HBO and Cinemax for $5 (and likely eventually Showtime), substantially less than signing up for these channels independently (typically coming in at $15). I suspect many who opt for the $35-dollar package will opt to make it an even $40, adding a solid 15% to AT&T's prior "razor thin single-digit" margin that analysts were anticipating. As such, the prior thought that the service would crush their margins is now not nearly as strong as it was before.
Financial Impact of A DirecTV Done Well
What does this all mean? It means AT&T can continue to generate revenue from their massive DirecTV acquisition. Back in Q2 2016, AT&T President had this to say about their DirecTV numbers:
"One year after our acquisition of DirecTV, the success of the integration has exceeded our expectations," said Randall Stephenson, AT&T chairman and CEO, in announcing the results. DirecTV added a net 910,000 customers over the last 12 months, to reach 20.454 million U.S. subs as of June 30, 2016.
Then, in October of this year in their Q3 numbers, they reported 323,000 U.S. DirecTV net adds with more than 1.2 million U.S. DirecTV net adds since the acquisition.
AT&T has said their addressable market for DirecTV Now is a group of about 20 million. Let's take a look at what various conversion percentages brings AT&T in terms of revenue over the next ~ 12 months, using the base/most popular promotional $35-dollar figure and channel package, or $420 a year (which remember, will rise to $60 at some point, or $720 a year, essentially doubling the below numbers).
5% conversion (1 million): $.42 billion (doubling to $.84 billion a year for a $60 dollar package average)
10% conversion (2 million): $.84 billion (doubling to $1.68 a year for a $60 dollar package average)
25% conversion (5 million): $2.1 billion (doubling to $4.2 billion a year for a $60 dollar package average)
Investors will undoubtedly keep a close eye on AT&T's Q4 announcement as to DirecTV Now sign-ups, and whether their main DirecTV service experiences a rise or decline in subscribers, and whether if a decline, whether that is attributable to any cannibalization. But for now, any fears about an eventual slowdown in cable subscribers should be allayed given what AT&T has admitted to be a successful launch. While the service will eventually have lower margins, it should begin to substantially contribute to revenue once the promotional pricing wears off, assuming people continue to sign up, which I'm betting on.
AT&T's "zero rating" of their service (meaning that AT&T subscribers won't experience a hit on their data limits) also means that AT&T might see a bump in cell phone subscribers. In short, the direct financial impact of the DirecTV Now service, compared to AT&T's gigantic overall revenue, it's probably not huge. But it's important that AT&T's cable division does not become a dinosaur, so the success of DirecTV Now is critical. So far, and judging by Stephenson's comments, it seems to be headed in the right direction.
Conclusion
In short, the service so far is solid. There were some hiccups at the outset for a few hours on November 30 with the app on my Apple TV, but that is to be expected. Absence of ABC, CBS and NBC are a risk to hamper initial sign-ups. I'll also note that at least for me, pausing Live TV has worked on every channel I've tested it on, with no time limit, a feature customer will undoubtedly appreciate since it was unexpected. With DVR functionality to arrive next year, it's hard to see why anyone looking to get into the streaming TV game WOULDNT choose DirecTV Now. Hulu intends to offer a streaming TV package sometime next year, but with AT&T being the first true effort at this type of service, their first mover advantage is huge. AT&T's "zero rating" of their service, meaning that it doesn't count toward your data cap if you have a corollary AT&T web/phone service, is icing on the cake as that will certainly convert a number of customers to AT&T's other services, helping them create the so sough after "ecosystem" effect. After a day of usage of DirecTV Now, AT&T's purchases of DirecTV and Time Warner are all merging into one nice big picture....literally.
Disclosure: I am/we are long T.
I wrote this article myself, and it expresses my own opinions. I am not receiving compensation for it (other than from Seeking Alpha). I have no business relationship with any company whose stock is mentioned in this article.
Additional disclosure: This article is intended for entertainment and educational purposes only. I am not a professional financial advisor and any reliance on the above information is at your own risk.