Jobless claims report tomorrow morning. Last week reported its weakest economic read in almost six months. That is just ahead of a rate decision that should see the second rate hike in a decade. A weaker economic signal is a stock market (NYSEARCA:SPY) negative.
Jobless Claims Slowed Last Week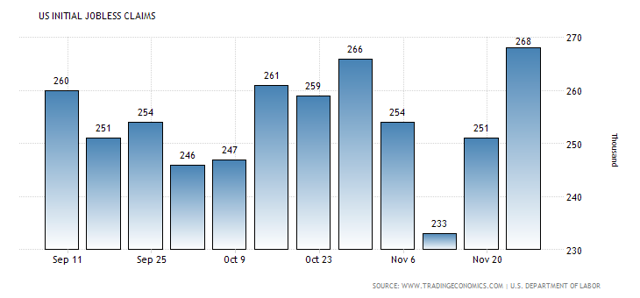 Source: Trading Economic
Last week jobless claims showed the economy slowed from the previous weekly reports. It was the slowest economic read in the data series since June.
With the Fed gearing up to hike rates this report tomorrow could cause markets to question the need for a rate hike.
Jobs and inflation are the main measures the Fed uses to determine its monetary policy.
The Fed's main measure for jobs is non-farm payrolls ("NFP") which reports monthly. Jobless claims report weekly and gives us a hint of the direction non-farm payrolls will come in for the month.
Just as the Fed wants to raise rates if jobless claims continue last week's trend then the fear will be that NFP will slow. The Fed watches jobless claims but really cares about NFP. They will not know about NFP for another month. They wouldn't change their stance at this next meeting unless they were to see a change in NFP, which they will not.
As investors though, we will know the last two weeks trend into their rate decision next week. Rising rates are typically associated with a strengthening economy. While the level of jobless claims is strong, the slowing can concern investors.
Tomorrow's number needs to drop (show economic strength) otherwise market players will be concerned that a slowing economy in a rising rate environment would be a market risk.
Conclusion
Many may not pay heed to jobless claims but it predicts NFP. Stacking up the four weeks of jobless claims gives you a good read into the Fed's favorite measure on jobs, NFP. Last week's rise in jobless claims implies a slower economy. If tomorrow's number shows the same into an imminent rate hike, investors have reason to be concerned and could sell.
PRO TRADER: Free Two-week Trial
Click here for a free trial.

Come see what we're doing.

Directional calls on stock market, stocks, gold, oil, bonds, currencies, indexes and more.
If you want Elazar's analysis on Seeking Alpha, scroll to the top of the article and hit "Follow." Elazar also writes real-time pieces as news is reported. If you want to be among the first updated check the box for "Real-time alerts on this author" under "Follow."
Disclaimer: All investments have many risks and can lose principal in the short and long term. This article is for information purposes only. By reading this you agree, understand and accept that you take upon yourself all responsibility for all of your investment decisions and to do your own work and hold Elazar Advisors, LLC and their related parties harmless. Any trading strategy can lose money and any investor should understand the risks.
Disclosure: I/we have no positions in any stocks mentioned, and no plans to initiate any positions within the next 72 hours.
I wrote this article myself, and it expresses my own opinions. I am not receiving compensation for it (other than from Seeking Alpha). I have no business relationship with any company whose stock is mentioned in this article.