There was a time when majority of investors equated the name AbbVie (NYSE:ABBV) with the best selling biologic drug, Humira. Not any more though. Today, AbbVie's product portfolio extends far beyond Humira, across multiple therapeutic segments such as immunology, oncology, virology, neurosciences, and women's health.
AbbVie boasts of promising investigational drugs across all these segments, many of which have potential to become blockbuster therapies. Based on strong existing product portfolio, research pipeline, and commercial assets, I believe that AbbVie is one of the best investment opportunities in the biotechnology industry.
In this article, I will focus on AbbVie's immunology portfolio, which has been a key driver of the company's profit margins and share prices till date. In subsequent articles, I will explore the company's products in other segments. I will also analyze AbbVie's valuation multiples to explain why the company is a good buy at the current price point.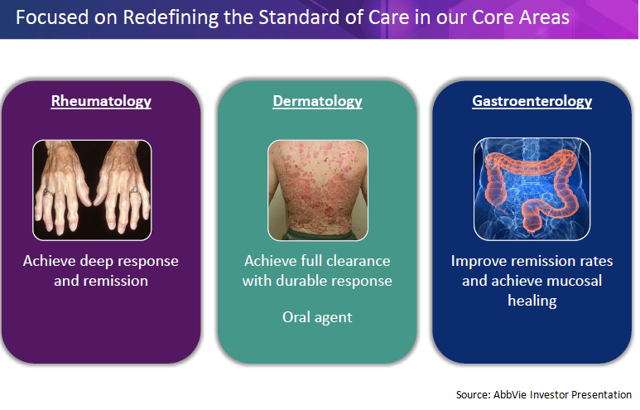 Leadership in Immunology segment
Till date, AbbVie has developed Humira across 13 indications. Further, the company also boasts of an research pipeline with 20 promising investigational drugs for 14 different immunology conditions. AbbVie's focus on continuously improving the standard of care to achieve complete remission for the patients forms the basis of the company's strategy for immunology segment.
Humira faces multiple challenges
For major part of year 2016, AbbVie's valuation multiples underperformed its peers. Investors have been concerned about the impending expiry of Humira's composition of matter patent in USA on December 31, 2016. Humira is also facing competition from branded immunology drugs from Jonson & Johnson (NYSE:JNJ), Pfizer (NYSE:PFE), and Celgene (NASDAQ:CELG) as well as from biosimilar versions of Enbrel and Remicade in international markets.
Humira continues to be leading immunology drug
With Humira raking in $11.8 billion revenues and accounting for about 63% of AbbVie's total net revenues in first nine months of 2016, it is but obvious that the growth prospects of the drug are closely tied to those of the company.
In USA, Humira currently accounts for 31.8% of the overall immunology market. This includes 26.8% share of the rheumatology market, 43% of the gastro-intestinal market, and 35% of dermatology market. The drug has managed to maintain its leadership position in rheumatology and dermatology segment, through growth in sales volumes in 2016.
This trend is expected to continue in 2017 and 2018 as the company has managed to negotiate favorable payment terms including limited rebates as well as price control features with majority of payers in the contracts for 2017 and 2018. The strong clinical profile of the drug coupled with AbbVie's commercial expertise has helped in making Humira a number one prescribed biologic in 2016.
Being a market leader has also helped Humira withstand competition from IL-17 inhibitor class of drugs and specifically Celgene's Otezla in dermatology segment. Since anti-TNF drug, Humira, is generally the first choice of physicians and patients, IL-17 drugs generally get their market share from patients who fail to respond to anti-TNF drugs. Hence, the heat has been felt most by it the second leading anti-TNF drug which has witnessed higher market erosion due to competition.
Humira has a strong patent estate
On October 30, 2015, AbbVie had forecasted that global Humira sales will reach around $18 billion in year 2020. The company has not changed this forecast despite changes in competitive environment, a sign that AbbVie is confident about Humira's extensive patent estate.
In 2016, the company further added additional 30 patents to Humira's already broad intellectual property. This makes it pretty difficult for competitors like Amgen (NASDAQ:AMGN) to enter in the market with biosimilar versions of Humira. In case of at-risk launch, there is high possibility of the competitor being slapped with a penalty to make up for the branded drug's lost profits. Hence, to launch a biosimilar, competitors will have to prove all other Humira patents such as indication/method of treatment patents, formulation patents, manufacturing patents, and other device and diagnostic patents, invalid or unenforceable.
While AbbVie considers Humira to be the main player in its immunology portfolio, the company is also keen to launch ABT-494 and Risankizumab as companion products. The company expects to leverage its experience and market position in the immunology segment to successfully launch the new investigational drugs in the market. The company expects ABT-494 and risankizumab to dominate niches within the immunology segment.
It can be seen that launch of new classes of drugs may lead to some degree of cannibalization of Humira's revenues. However, it will help AbbVie in retaining its patients from switching to drugs belonging to other companies.
ABT-494 may revolutionize rheumatoid arthritis segment
Janus Kinase inhibitors or JAK inhibitors are oral drugs that work by blocking enzymes which play a pivotal role in cell signaling pathway such as tyrosine kinase, JAK 1, JAK2, or JAK 3. By this action, the inflammation and immune responses in rheumatoid arthritis are suppressed, giving relief to patients.
On November 06, 2012, Pfizer's Xeljanz (tofacitinib) was approved by FDA as therapy for rheumatoid arthritis. Xeljanz works by inhibiting JAK1 and JAK 3 enzymes. However, it results in side-effects such as anemia caused by secondary JAK2 inhibition.
The logic of developing selective JAK1 inhibitor, ABT-494, is to provide relief to rheumatoid arthritis patients while limiting adverse effects such as anemia or suppressing normal immune function against tumors and infections associated with JAK3 inhibiton. So ABT-494 is 74 times more selective in inhibiting JAK1 than JAK 2 and 19 times more selective in inhibiting JAK1 over JAK3.
Based on ACR20, ACR50, and ACR70 scores, in Phase 2 trials, it was demonstrated that lower dose of ABT-494 being tested in Phase 3 which is equivalent to 6mg twice daily dosage is as at least as effective as higher dosages of other JAK1 selective inhibitors such as Filgotinib and Baricitinib. The higher dose of ABT-494 which is equivalent to 12mg dose twice a day scores significantly higher on the efficacy metrics as compared to other selective JAK1 inhibitors. Further, in Phase 2 trials, as compared to other JAK1 selective agents such as Filgotinib and Baricitinib , ABT-494 has also managed to demonstrate higher efficacy in rheumatoid arthritis patients who failed to respond to two or three previous anti-TNF biologic therapies. This is a definite advantage for ABT-494, which can target the anti-TNF failure patient population to gain market share.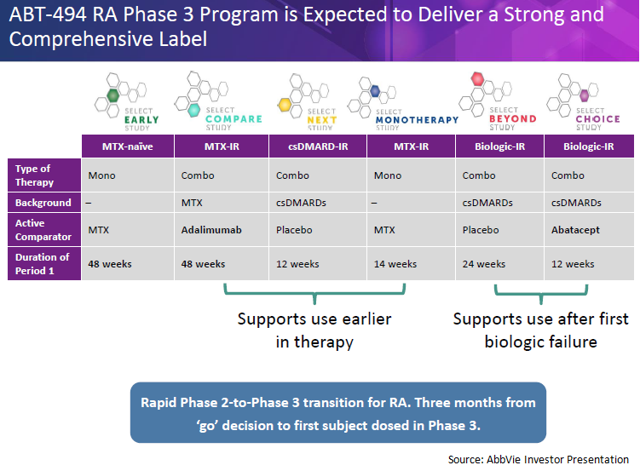 ABT-494 is currently being studied in six pivotal trials in Phase 3 study for rheumatoid arthritis as once a day dosage. It can be seen that these trials are being designed in a manner which will ensure a broad label for ABT-494. AbbVie expects data from these trials by 2018, while the drug is expected to be launched in the market by 2019.
Further, AbbVie also plans to expand ABT-494's label in other immunology areas such as psoriatic arthritis, ankylosing spondylitis, atopic dermatitis, crohn's disease, and ulcerative colitis. Data from Phase 2 trial of ABT-494 in Crohn's disease is expected by early 2017 while data from Phase 2 trial for ulcerative colitis is expected in 2018.
Risankizumab may transform psoriasis segment
Risankizumab is a monoclonal antibody that inhibits functioning of interleukin-23 or IL-23 , considered to be responsible for inflammatory cascade in multiple immunology conditions such as psoriasis, psoriatic arthritis, and Crohn's disease. Risankizumab is expected to demonstrate higher efficacy and safety profile as compared to Jonson & Johnson's Stelara (Ustekizumab) as the latter also inhibits interleukin-12 or IL-12 alongwith IL-23. IL-12 blockage has been proved to be not very effective in reducing inflammation related to autoimmune diseases. Hence, by only blocking IL-23, Risankizumab can help IL-12 to continue displaying normal immune action.
In Phase 2 trial, Risankizumab has demonstrated higher efficacy in psoriasis as compared to Humira, Stelara, as well as other IL17, IL-23, and IL12/IL23 inhibitors. This efficacy was seen both in PASI90 score or in patients with 90% response rates as well as PASI100 score or patients with complete clearance of skin disease at the end of 12 weeks after taking the drug. Further, Risankizumab is dosed once every 12 weeks, a very convenient dosage frequency to ensure high patient compliance rates.
The four Phase 3 trials for this indication have also being designed to ensure broad label for the drug in psoriasis segment. So, there will be two trials which will compare Risankizumab with Stelara for moderate-to-severe psoriasis. There will be one more trial comparing Risankizumab with Humira for moderate-to-severe plaque psoriasis. And finally, the last trial will study effects of withdrawal and then retreatment with risankizumab in patients suffering with moderate-to-severe psoriasis.
Enrollment for all these trials has been completed well ahead of the schedule. AbbVie expects data from these trials by end of 2017.
Risankizumab has also demonstrated high efficacy in Phase 2 trial exploring use of the drug in Crohn's disease as compared to that displayed by existing and investigational drugs in their Phase 2 or Phase 3 trials. This was despite the fact that AbbVie had enrolled those patients who had failed to respond to around three anti-TNF drugs, a difficult-to-treat patient segment, in the phase 2 trials. Since 20% of the Crohn's disease patients have also displayed endoscopic remission in the phase 2 trials, AbbVie plans to initiate Phase 3 trials in early 2017. Risankizumab is also being explored for other indications such as psoriatic arthritis and ulcerative colitis.
AbbVie also has other immunoly agents in its research pipeline such as drugs inhibiting TNF, IL17, IL-1 alpha/beta, IL-6, and IL-13.
So should AbbVie investors look beyond Humira?
While AbbVie has managed to maintain its dominant position in immunology segment, the company is also making significant progress in expanding its footprint in the oncology segment. Through targeted acquisitions, AbbVie has managed to add promising oncology drugs such as Imbruvica and Rova-T to its product portfolio.
In the next part of this series, I will explain the key drugs in AbbVie's oncology portfolio and their impact on future growth prospects of the company.
Disclosure: I/we have no positions in any stocks mentioned, and no plans to initiate any positions within the next 72 hours.
I wrote this article myself, and it expresses my own opinions. I am not receiving compensation for it (other than from Seeking Alpha). I have no business relationship with any company whose stock is mentioned in this article.