Author's note: this is a follow-up article on Silicom Ltd. (NASDAQ: SILC). My first research work on SILC, A Pure GARP Play: Silicom Ltd. is available on this site to whoever might wish to know more. I might take some information about the company for granted based on this previous research.
Investment thesis (unchanged from July)
Silicom is going through a robust growth spurt. The company has a good track record of profitability and its July trading price ($30) seemed a reasonable entry point. With ROIC well above the company's cost of capital, investors are in a good position to profit from the company's high growth levels.
Reasons behind the current article
We are moving towards year's end, a sensible period for small caps like SILC. Two quarterly reports have been issued since my previous article. The stock is now trading slightly below $40, still up around 30% from the bullish call I made on SA in July. The stock seems to have recently entered a downtrend, so I decided to take a review of the foundations of my last bullish call in order to reassess the market outlook and target price for Silicom: should investors like myself take a nice short-term profit or keep going for the long run?
Growth: What design wins are telling us
Strong organic growth is the single most important factor for a bet on this stock, so it is important to closely monitor the matter. As stated in my previous research, Silicom's revenue model is strongly linked with design wins. New design awards act like a flywheel, storing the necessary energy for the company to grow. SILC operates within what can be referred to as a long sales cycle: When the company is awarded a new design from a partner, a great deal of time has to pass before actual sales begin (12-18 months) and the "growth energy" is released.
However, once deliveries start to ramp up, subsequent orders are guaranteed over a reasonable stretch of time. In July, I reported the following table, which only included major* design wins (*the ones disclosed by management through ad-hoc press releases):
| Year | 2014 | 2015 | 2016 (July) |
| --- | --- | --- | --- |
| Major Design Wins | 3 | 7 | 4 |
In the last months, the company added 4 major additional wins, bringing the outstanding total for 2016 to 8 (Press releases: August 01, August 23, October 18 and November 07). Again, it must be noted that each of these awards is likely to translate into several millions in revenue, even without incorporating the increased likelihood of further wins or incremental business with the target customer. Longer data series also seem to confirm the correlation between the number of major design wins and SILC's revenue growth.
Investors are now pleasantly eyeing the results of a "strong" 2015 R&D (and M&A) activity, with revenues growing 30% in the current year. Based on results, press releases and management's comments, chances are very high that 2017 will show a similar CAGR. The results the company is achieving in the segment of SD-WAN technology, which is a market tipped for huge growth potential in the short to medium term, also bode well for the thesis of further extraordinary growth in the long run.
Fundamentals & Ratios
When I wrote my first article in July, Silicom was hiding in plain sight: A valuation based on common multiples such as P/E and P/B would have revealed the company was selling for cheap. This is perfectly summarized by the table I presented in the article, where I stated SILC could have been a suitable Ben Graham conservative investment choice.
Since that time, the stock has shot up 30% and the price multiples have naturally become less appealing. On the positive side, the company retains its balance sheet strength: The already strong cash position has been positively impacted by the two profitable quarters and since no major M&A activity has occurred in the period, the extremely low debt level hasn't changed either.
While the company has probably ceased to be a value bargain when compared with its current operating earnings, investors might still appreciate Silicom as a growth stock being sold at a discount by the market once its superior prospects are accounted. If shareholders see their investing activities as long-term actions of asset allocation, the company is likely to reward them nicely.
Violent market reaction after earnings calls needs also to be briefly addressed. Since high volatility is expected in such periods for small and micro caps, my assessment purely concerns the direction taken following the reports' release. The market reacted enthusiastically after the Q2 release, resulting in much of the current upside from July levels. However, Q3 caused the stock to be flushed on apparently disappointing results.
Still, though income statement numbers were clearly below the stock's recent narrative, they fail to offer a comprehensive picture of the situation without a look at the balance sheet. Investors oblivious to the balance sheet might have decided on a premature pull of the trigger, but thoughtful ones may have instead used the balance sheet to spot the reversal of the trend in Q4.
For a seasonal business like Silicom, high inventory levels in Q3 are in fact a clear indication of shipments booked for Q4. Based on these levels, I frankly expect the company to be able to report a comfortable estimate beat in the next call.
Valuation
Reexamining the fruitful discussion I engaged in with commenters on my July article, valuation was an area in need of a refresh. As I said, the company was clearly trading cheaply then based on a simple look at the multiple, and this fact made the necessity of a precise valuation less urgent. Based on a scenario analysis, I estimated a value range between a minimum of $54 and a maximum of $82. However, as Silicom has been moving from value territory towards growth, I decided to review my estimates and provide a more careful assessment of the intrinsic value.
In order to do this, I started reviewing all the assumptions in my models and generated an improved version of the pro-forma income statement I considered in my previous article. I decided to abolish scenarios and provide a valuation range and come up with an estimate I feel is conservative enough. This may seem contradictory since intrinsic value has to be assessed in order for us to possibly include more uncertainty than before (related to the future growth prospects) but I felt the need to offer readers (and myself) a single price number, like most analysts do.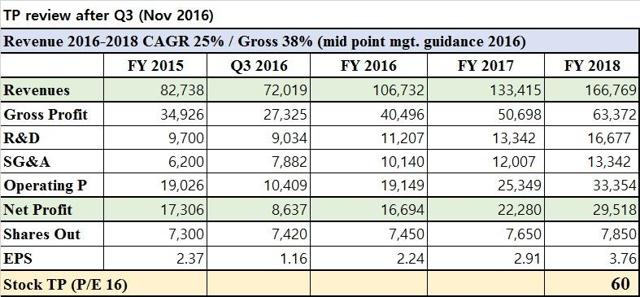 The reasons I believe these estimates are still conservative include the following:
Assumed CAGR is 25%, but 2016 figures are pointing at a 30% increase. While I am aware that growth assessments based on the rear-view mirror are dangerous, the high number of new design wins achieved through 2015 and 2016 established a convincing base for the claim. The market also seems not to appreciate fully the first design win recently achieved by Silicom in the SD-WAN technology space, a segment with 2015/2020 forecasted CAGR close to triple digits. Silicom's management firmly believes the firm is in a privileged spot to open up a new revenue stream for the company and profit from this market as well.
Gross profit is estimated at 38% or the middle point of management guidance at the beginning of 2016. Again, this seems like the most reasonable case rather than the best one, and product mix always has the last word on the issue. However, the margins were cut at the beginning of the year by the management as part of a new strategic focus to target the market aggressively. The approach seems to be paying off and further cuts are in my opinion unlikely, at least in the short term.
A P/E multiple of 16 is still a relatively moderate one when compared with both SILC's historical values and the tech industry average. While it is not easy to define an industry average value as the company operates in what can be considered a niche segment, Silicom itself has traded at higher multiples in the recent past. I find 16 to be a very reasonable multiple since it still results in an earnings yield of 6.25%
In addition to the presented data, I performed several EPV and DCF-based valuations, and findings were in line with the provided valuation model and target price. Also, in this case, I proceeded to test different scenarios, and results fluctuated within a $50-$70 per share range on conditions.
Although the scenario analysis suggested that the TP of $60 should be actually viewed as a middle point rather than a conservative estimate, I also believe those results give further support to the appraisal. Growth estimates at the end of the day will play a huge role in all the models and determine the fate of the stock; however, as I said, I believe there are several reasons for optimism.
Risks and conclusion
A major risk factor in the appraisal is clearly a weaker-than-expected growth rate and its associated negative influence over future cash flow levels. In the meantime, a minor risk factor is associated with further decline in margins granted by Silicom to achieve the above-mentioned growth targets. Although downside protection is included in the current price, there is no assurance that results will turn out to be as brilliant as expected, and investors are always strongly advised to do their own homework before taking any position.
Based on the provided data, despite recent profit taking seen on the stock, I still believe that Silicom remains a buy given the strong growth prospects and tailwinds ahead. The potential for further upside is more than 50% from the current price levels in a reasonable time frame, which makes the company a compelling long case for 2017.
Disclosure: I am/we are long SILC.
I wrote this article myself, and it expresses my own opinions. I am not receiving compensation for it (other than from Seeking Alpha). I have no business relationship with any company whose stock is mentioned in this article.