Litigation - CardiAQ (Private) vs Neovasc (NASDAQ:NVCN):
On June 6, 2014, CardiAQ filed a federal lawsuit in Boston against Neovasc for fraud, misappropriation of trade secrets, breach of contract and unfair and deceptive trade practices. In that lawsuit, CardiAQ sought to prohibit Neovasc from further developing and commercializing Neovasc's TMVI technology, including the Tiara, which is based upon CardiAQ trade secrets and know-how. CardiAQ also sought to have one or more of its employees named as inventors on the Neovasc patent and patent applications that resulted from Neovasc improperly using CardiAQ's proprietary technology.
Financial and Operational Performance:
On November 14, 2016, the company reported its 3rd quarter earnings with an operating loss of about $7.5 million. For the first three quarters of 2016, the company generated $6.7 million in net revenue versus $7.7 million in 2015 which is about a 15% decrease in net revenue compared to 2015. The operating loss for 2016 increased by about 45% or about $10 million.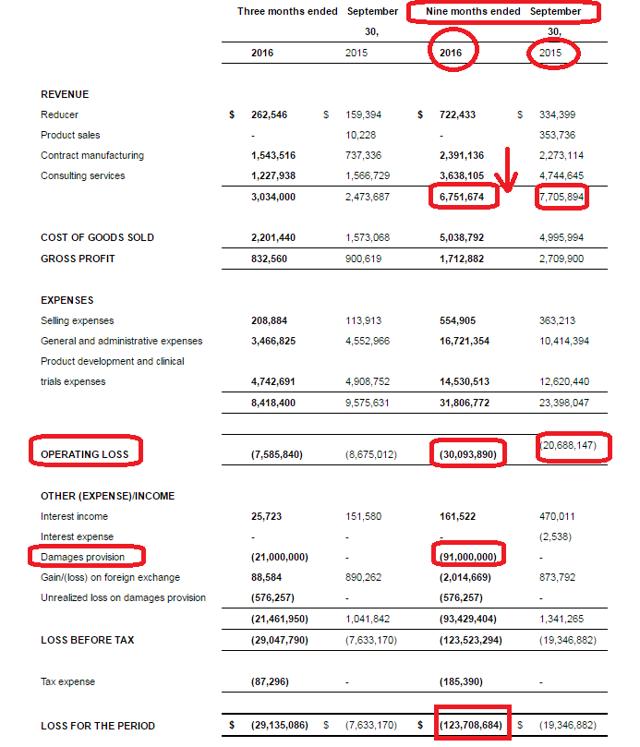 Source: Neovasc
Although Neovasc has indicated that they will appeal the validity of the US$91 million verdict, they are already showing a $91 million loss on their balance sheet, see above.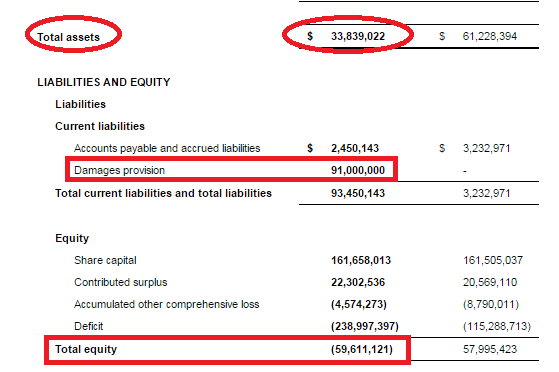 Source: Neovasc
At the end of third quarter Neovasc had about $34 million in total assets, with debt exceeding assets by about $60 million. The company has negative shareholders' equity, making them a risky proposition to invest in. If they sell all of their assets to pay down debt, there will be nothing left for common shareholders.
Neovasc and Boston Scientific Reach US$75 Million Agreement:
On December 2, 2016, Boston Scientific agreed to buy Neovasc's tissue processing technology and facility for $67.9 million. Boston Scientific has also committed to invest an additional US$7,090,200 in Neovasc for a 15% equity interest in the company at a price of US$0.60 per Common Share.
Conclusion:
In terms of the appeal process Neovasc has up to a year, until the end of 2017. If their appeal is successful in the federal lawsuit filed by CardiAQ, they will not have any financial burden. If not, they will be obligated to stand by the US$91 million judgment awarded CardiAQ. Neovasc also said in its third quarter earnings report as follows:
The Company intends to continue to vigorously defend itself in the litigation with CardiAQ and as such the outcome of these matters, including whether the Company will be required to pay some or all of the US$91 million awards, is not currently determinable".
The company further said that if they are unsuccessful in their defense of these claims, including any appeal of the verdict in the litigation with CardiAQ, they may be faced with significant monetary damages that could exceed their resources, as well as facing the loss of intellectual property rights and damage to its competitive position.
Because Neovasc is selling its tissue processing technology and facility to Boston Scientific, the company's total assets and revenue potential will be decreased. The fact that Boston Scientific has committed to invest an additional US$7,090,200 in Neovasc for a 15% equity interest in the company is a good sign, but they are paying $0.60 USD a share while the stock trading more than a $3 dollars a share. My question is that if Boston Scientific is paying only $0.060 a share, why would one pay more than a $3.00 a share for a company that has negative shareholders' equity and a pending case with $91 million damages to pay?
On a positive note, they currently have more than $100 million in cash and cash equivalents. They can use this money for R&D and commercialization of their products, such as Tiara.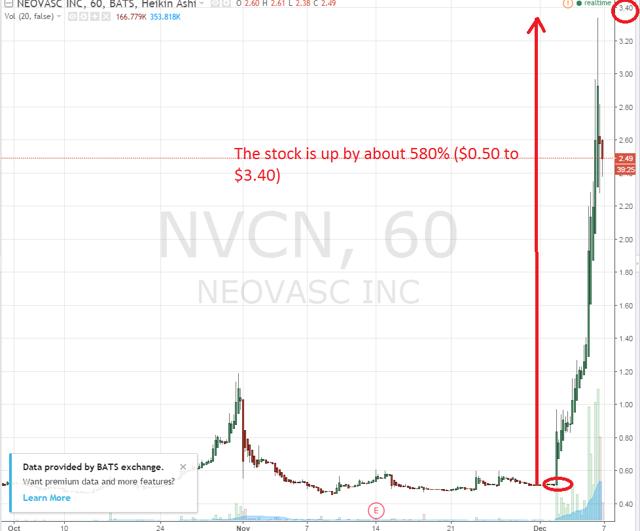 Source: Trading view (notation was added by author).
After news of the Boston Scientific (NYSE:BSX) deal, stock is up by about 580%
My recommendation is that if profit is on the table, take it.
Disclosure: I/we have no positions in any stocks mentioned, and no plans to initiate any positions within the next 72 hours.
I wrote this article myself, and it expresses my own opinions. I am not receiving compensation for it (other than from Seeking Alpha). I have no business relationship with any company whose stock is mentioned in this article.