Investment Thesis
Altria (NYSE:MO), a company that has rewarded its shareholders with impeccable returns over the last decades, has always been a dividend investor's darling. With the recently closed mega-merger between SABMiller and Budweiser forming Anheuser-Busch Inbev (NYSE:BUD), Altria as a long-term investor in SABMiller was rewarded with notably more cash than expected from that transaction. I provide guidance as to what options Altria has to invest that cash and how this impacts the long-term prospects for a dividend investor, taking into account the current relative weakness in the stock price.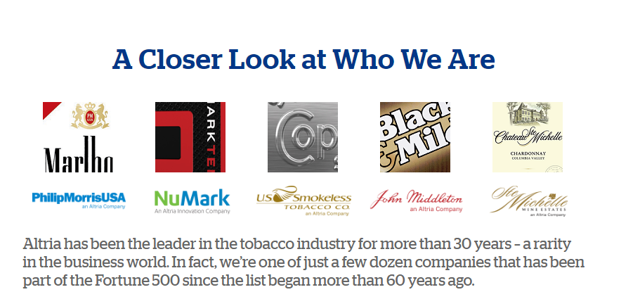 Source: Altria Investor Relations
Altria remains one of the best stocks for dividend investors
The company has raised its dividend 50 times over the last 47 years - and this despite tougher regulation and higher taxes on tobacco. For an income-seeking investor who is investing for stable and consistently rising long-term returns while at the time looking for a safe stock with rather low volatility, Altria is probably the best stock with such a risk profile. The company's beta (0.59) is far below the market's beta (1.00), and many regard it as a proxy to bonds.
The stock has been recently sold following the California cigarette tax hike and broad sector and asset rotations from bond-like stocks such as Altria to real Treasury bonds. Historically, the current 3.8% yield is not overwhelmingly high as in fact the company has closed the year with a higher yield the last 4 times.
Altria is more than a tobacco company. With its formerly 27% stake in SABMiller, the latter's mega-merger with Budweiser forming Anheuser Busch InBev poured more than the expected cash into Altria's already rich liquidity bags. In fact, the company received $5.3B, compared with the expected $3B.
Why did Altria receive more cash than expected?
Since the deal was officially announced, Altria tried very hard to reduce the cash component of the deal in order to avoid paying huge capital gains taxes and instead has been strongly in favor of equity over cash. As a result, a deal was crafted that would have left Altria with around $3B in cash, tax-free.
What happened was that other investors than Altria accepted the equity option of the deal, which left Altria with a lower-than-expected stake in the newly formed company but with a higher-than-expected cash inflow.
That's why Altria very quickly began acquiring more stock in BUD in order to get above the 10% threshold entitling it to tax benefits on AB Inbev's foreign dividends. This left Altria with a 10.2% stake compared with the previous 9.6%. Altria achieved this higher stake by buying roughly 12 million ordinary shares within 10 days.
What is the company doing with all this $5.3B pre-tax cash?
Altria is a very dividend-investor-friendly company and as such has immediately responded to this huge cash income with the following two actions:
The existing stock repurchase program was raised by $2B to $3B in total and is expected to close by mid-2018
The company raised its dividend by 8% as part of its typical late-summer dividend hike
A bigger buyback and a higher dividend are great news for investors. But is there more to come?
Altria's roughly $197,000,000 restricted shares of Anheuser-Busch InBev should lead to higher dividend proceeds for Altria and higher earnings per share as well provided the current downturn in A-B InBev's stock will not boil down to its dividend, i.e. the dividend needs to remain at least stable.
As Altria is targeting a payout ratio of 80%, the additional proceeds from InBev's dividend will lower its payout ratio and create additional room for maneuver. So additionally to the company's usual 2016/Q3 dividend hike, we could very well see another increase in early 2017 or a higher dividend increase in 2017/Q3. If this is happening early then late January 17, Altria's next earnings call, would be the perfect time to announce this.
However, there is a big IF here, and this boils down to the sharp depreciation in price in BUD's share over the last two months. With alcohol in particular, and beverages in general albeit to a lesser extent, on sale over the past weeks, Altria could also invest its cash into buying more stake of BUD at substantially lower prices. This may seem more valuable to existing shareholders than buying back its own stock: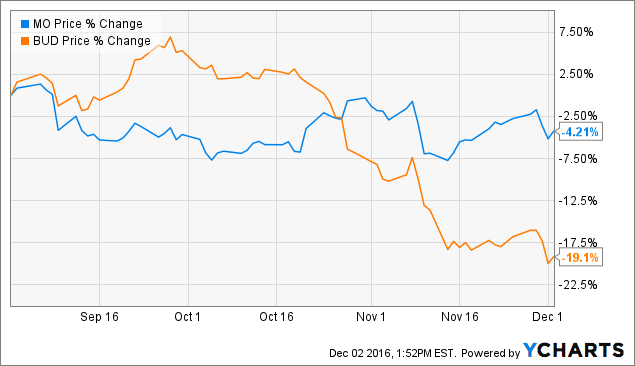 While Altria's own stock price has only declined by around 4% the depreciation in BUD's share price is more than 4 times as large. Buying more shares in BUD with a higher yield compared to MO's yield might appear beneficial to Altria's shareholders. We need to do some math to validate if this guess holds firm against plain numbers.
Assuming Altria has $1B in cash to spend and now needs to decide whether to use this money to pay out a special dividend, buy back more of its own shares or increase its stake in BUD. Here are the results for an Altria investor:
Special Dividend: The first option does not really require any calculation as distributing $1B across Altria's $1.952B outstanding shares would result in a special dividend of $0.51 per share and bring Altria's current 3.8% dividend yield up to 4.65%.
Buy back own shares: At Altria's Friday closing price of $63.50 Altria could buy back around 15.8M of its own shares. Using Altria's most recent FY2016 guidance of $2.98-3.04 EPS this buyback would result in a $0.02 higher EPS or an increase of 0.81%
Buy shares in BUD: At BUD's Friday closing price of $101.25 Altria would be able to buy around $9.9M shares netting $39M annually in dividend payments based on BUD's latest $3.95 annual dividend. Translating these proceeds back to Altria's EPS would result in $0.02 higher EPS but does not factor in that Altria would have to pay taxes on that foreign dividend income.
All in all, options 2 and 3 are very similar while a special dividend will create a big one-time effect for shareholders. In the end, Altria would be wiser to either invest in its own business by buying back shares or paying out a special dividend. In each case Altria's investors will benefit and may be up for a belated Christmas gift in late January.
Investor take-away
Altria received more than expected cash from the mega-merger of SAB Miller and Budweiser to form Anheuser-Busch Inbev. While it has already boosted its dividend and share repurchase program, all other things being equal, in particular BUD's dividend policy, Altria may make its shareholders a belated Christmas gift in early 2017 with another dividend raise.
Alternatively, the company could wait until late summer to announce a larger-than-expected dividend hike. Analysis has shown that Altria is better off investing the cash back to its own business rather than into BUD.
As the future continues to look bright for Altria, long-term (prospective) shareholders and investors can now benefit from the relative weakness in Altria's stock price and lock in a safe 3.8% dividend yield together with the potential of a 4.5%+ yield should Altria pay out a special dividend. Either way, through a special dividend or an increase share buyback program, investors will benefit from the future moves of this dividend investor friendly company.
What do you think? Will Altria pay a special dividend or raise its buyback volume or do something completely different or nothing at all?
If you like this article and want to read more, please click the "Follow" button on top of the page.
Disclosure: I am/we are long MO.
I wrote this article myself, and it expresses my own opinions. I am not receiving compensation for it (other than from Seeking Alpha). I have no business relationship with any company whose stock is mentioned in this article.