Energy has been one of the most bullish areas of the markets for most of the year. Both oil and natural gas have at least doubled from their respective lows in February and early March. Natural gas had lost much of its yearly rally by the beginning of November, but then experienced a major turnaround with a spectacular move up that took it to almost two-year highs. The underpinnings for the late year rally were in place - a drop in the number of drilling rigs to a 29-year low, according to Baker Hughes, and an ongoing increase in power plants using natural gas instead of coal - and then the prediction of much colder weather in December came along.
Year-to-Date 2016 Natural Gas Prices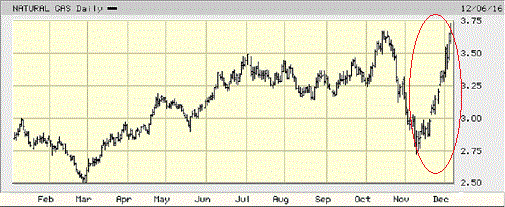 Red circle November Rally
According to the EIA (Energy Information Agency) there are two peaks to natural gas usage. One is very early in the year and is driven by heating needs. Around half of U.S. residences use natural gas for heating, so cold winters are very bullish for prices. The other major use for natural gas is for electricity generation and electricity usage peaks in the summer because of air conditioning. This has become increasingly important over the last two decades because natural gas has been replacing coal in power plants. The strongest seasonal impact for natural gas prices is still in the winter, with prices tending to be strong from around November to March (this underlying pattern is obscured by Gulf Coast hurricanes that can cause huge price spikes in September and/or October).
Natural Gas Seasonal Usage Patterns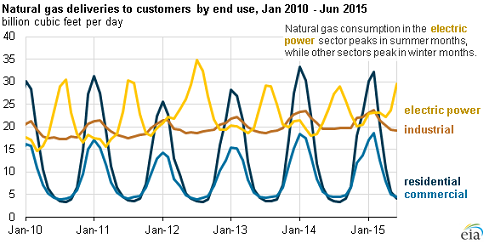 Natural gas has been in oversupply since the fall of 2015 when the amount equaled the five year maximum. In 2016, the amount of the commodity in storage established a new five-year maximum. Currently, it's right at the level, but the difference between the five-year maximum and minimum is narrow at this time of the year. A prolonged cold spell could bring it down to average and a cold winter down to the five-year minimum. With the number of drilling rigs at an almost three-decade low, the oversupply situation is likely to ease. The prediction of colder than usual weather for most of the United States in December was enough to create a big spike in prices. Prices have a peak of $3.75 so far for the January futures contract. While the low for this contract was $2.50 back in the beginning of March, the low for the near-term contract was only $1.66.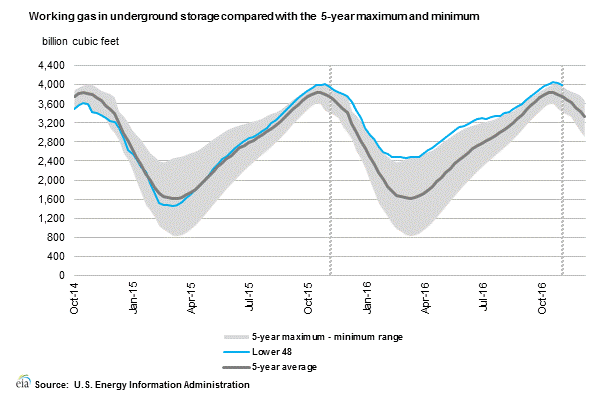 As can be seen from the price chart above, the price of natural gas can be very volatile. More money can be made by trading it than using a buy and hold strategy. The sudden and extreme drop in October was an overreaction to unusually warm fall weather in most of the United States. The even sharper rally that followed is also likely to prove an overreaction. The default state should be considered to be bullish until around March/April based on typical seasonal behavior (it should be kept in mind the 2016 low was during this time and the usual seasonal patterns didn't exist for most of this year). Longer term, the storage report level needs to move toward the lower end of the five-year range for natural gas to remain bullish. It still remains to be seen if this will happen this spring.
Investors can use ETFs/ETN's to invest in commodity natural gas. These include: UNG, UNL and GAZ. Leveraged, long UGAZ and BOIL can be used by aggressive short-term traders. It's best to buy when there's been a drop on news of a warm winter spell and sell during a cold snap. Currently, the price has gone up quite far in a short period and will soon need some give back before it can go higher. A cold winter could produce a price as high as $4.75 by the beginning of the spring, but the ride might be very bumpy.
Disclosure: I/we have no positions in any stocks mentioned, and no plans to initiate any positions within the next 72 hours.
I wrote this article myself, and it expresses my own opinions. I am not receiving compensation for it (other than from Seeking Alpha). I have no business relationship with any company whose stock is mentioned in this article.