In the fixed income space, the narrative has changed recently. Before Trump's election in the United States, all investors cared about was yield, and they were looking all over the place to find that yield. Emerging markets, high yield, distressed were just a few of the areas where market participants were diligently rummaging through the heap of available issues to find the few gems that would light up their portfolios and at the same time allow them to sleep well at night.
After Trump's election, however, investors' priorities suddenly shifted, and they started being more concerned about capital losses from rising interest rates and cared less about yield potential. A significant outflow of capital from the fixed income space followed, especially from high duration securities such as preferred stocks. For me as a trader, the rising interest rates are not a problem, because I can take both long and short positions in the securities I trade. But what about long-only investors? Should they stay away from the fixed income space altogether? I would argue against that. And in this article, I want to show you why.
High yield and high margin of safety
The headline seems internally inconsistent, at first glance. Are there such securities that can provide you with a decent return, while they also don't expose you to too much risk? I believe that if you look hard enough, you will find financial instruments that meet both those criteria. Just remember to look at the right places.
I myself start my search at companies that have recently fallen out of grace, and in the second half of 2016 there was one such company that was dominating the financial news for a long time: Deutsche Bank (NYSE: DB). To say that the company is going through some challenging times would be an understatement. But in recent months the company's stock has actually moved significantly higher as is visible from the chart below: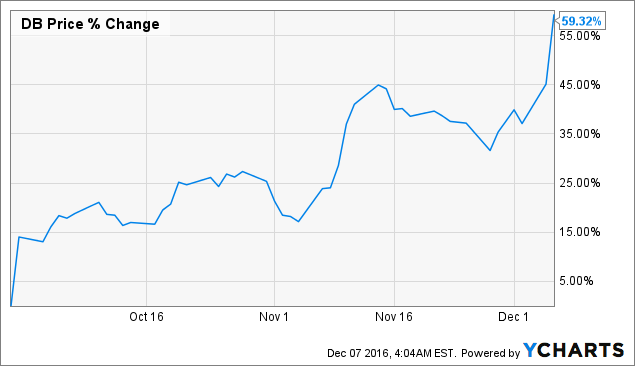 Why has the stock advanced so much, despite DB's troubles? First, the bank posted better-than-expected results in Q3, beating market projections for both revenues and profits. The trading division significantly outperformed, much in line with what was happening in other banks as well. Second, Trump's election had an uplifting effect on the whole financial industry as market participants speculated that with the expected increase in interest rates, interest-sensitive sectors such as financials would be the ones to benefit the most. And lastly, in October Deutsche Bank announced its five-year strategy plan that included significant measures aimed at cost-cutting, de-leveraging and de-risking, which was greeted by the markets. Implementing the plan, however, could be challenging and would probably involve a lot of hard decisions.
Even though Deutsche Bank's stock has soared recently, its preferred stocks have barely moved. One would assume that rising equity prices could be perceived as an indication of an improving credit quality, but that hasn't been reflected in the prices of securities such as the 6.55% Trust Preferred Securities (NYSE: DXB), the 7.60% Trust Preferred Securities (NYSE: DTK) and the 8.05% Trust Preferred Securities (NYSE: DKT). More information about the three issues could be found in the table below: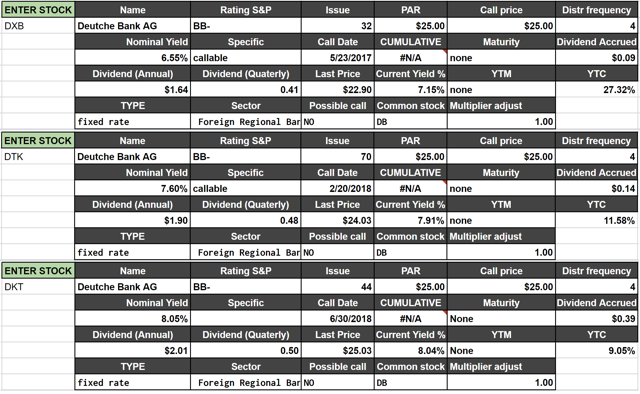 Source: Author's spreadsheet
As you can see from the table, all three preferred stocks offer a very handsome current yield. The yield to call seems to indicate that neither of the three securities is likely to be called, but even if it is called, the realized yield would be better than what the current yield is indicating.
Why are those securities trading so low? I believe the reason is the market perception of heightened credit risk. I use the word "perception" because I think that investors are discounting too heavily the prices of the preferred stocks to compensate for the inherent credit risk. How are things looking fundamentally then? To understand that, I will take a look at some rating agencies' reports and actions to build my case.
Just a couple of weeks back, S&P downgraded the rating for all three of the preferred stocks from BB to BB-, but at the same time reaffirmed its rating for Deutsche Bank as a whole. Is this a reason to make you jittery as an investor in those securities? I would argue against that. Just look at what Moody's did while S&P was downgrading Tier 1 securities - it upgraded 29 bond issues of Deutsche Bank. In its latest credit opinion Moody's outlined a number of positives regarding Deutsche Bank's credit position. According to Moody's, DB has a strong liquidity position, is well-capitalized and is not overly levered. On the negative side, the biggest challenges ahead of DB are considered to be the implementation of its new strategy and the high expected earnings volatility during the upcoming re-engineering phase. How about Fitch? How does Fitch see the credit risk of Deutsche Bank's preferred stocks? Well Fitch is the most optimistic of the three agencies and gives the securities an investment grade rating of BBB- with a stable outlook.
OK, overall, there seem to be some mixed signals from the credit rating agencies, so let's assume the most pessimistic view - that of S&P. So, now the question is, do you think that a current yield of between 7.15% and 8.04% is adequate for a BB- rated bond?
Let's take a look a Royal Bank of Scotland for example (NYSE: RBS). The bank's common shares have been also performing well recently, uplifted by the general positive sentiment towards financial companies. But the company is in a heap of trouble. It posted a huge loss in the last quarter, warned that it might miss its long-term goals and also scrapped a planned spin-off. On top of that the bank is investigated by the Department of Justice for issuing and underwriting residential mortgage-backed securities. As of August, S&P's credit rating for RBS preferred stocks is B+. Despite the lower rating, RBS's preferred stocks have generally lower yields than those of DB. Just look at the table below: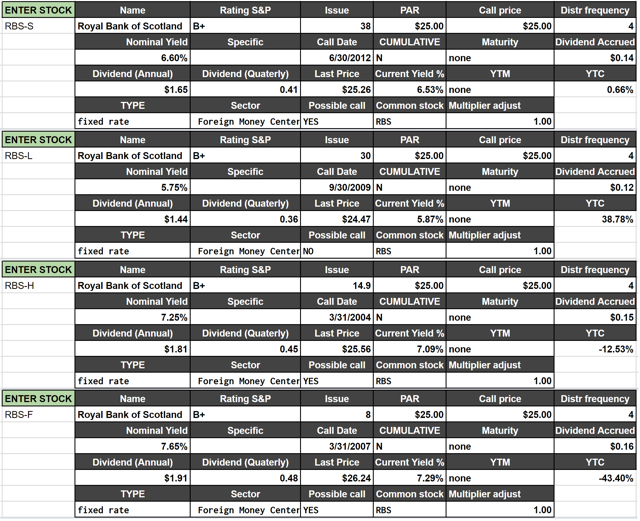 Source: Author's spreadsheet
And it's not just RBS. If you look across the financial sector you would rarely see yields as high as 8% for a BB- rated security.
One more thing to consider when deciding whether to buy any of DB's securities is that there is a general wave of preferred stock redemptions in Europe due to bank refinancings. Since Deutsche Bank is emphasizing in its new strategy plan that it will be focusing on de-leveraging and de-risking, it would come as no surprise if the bank decides to redeem any of its outstanding preferred stocks in the process. In that case you as an investor are likely to realize the yield to call of those securities, and that yield is even more appealing than the current yield.
Is a pair trade possible?
As a trader I tried to short DB and go long the preferreds many times on this rally, but the model is weak from both fundamental and statistical point of view, so I did not cover a single winner in this trade. Currently the deviation is greater, but there is no strong model to rely on, so the better trade can be just to buy the preferreds and sell them on any weakness in the common stock.
Author note: Don't think that by buying WFC preferreds, you are not exposed to the credit risk of DB.
Conclusion
Deutsche Bank's seems to be making the right moves to get out of the troubled situation it found itself in the second half of 2016. The macro environment has also been helpful for the bank. As of now, it seems that the credit risk associated with DB has declined, but the bank's preferred stocks haven't reacted at all to the changed environment. With an S&P rating of BB- and current yields of between 7.15% and 8.04%, those securities are worthy of your attention.
Disclosure: I/we have no positions in any stocks mentioned, but may initiate a long position in DTK over the next 72 hours.
I wrote this article myself, and it expresses my own opinions. I am not receiving compensation for it (other than from Seeking Alpha). I have no business relationship with any company whose stock is mentioned in this article.
Additional disclosure: I may short DB over the next 72 hours