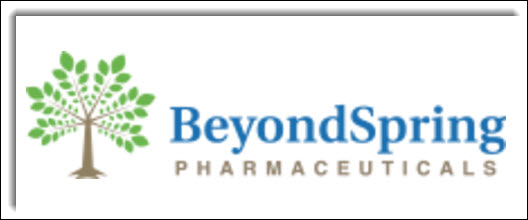 Quick Take
BeyondSpring Inc. (NASDAQ:BYSI) has filed to sell up to $100 million in common stock in its IPO.
The company has had promising Phase 1/2 trial results for its lead candidate Plinabulin, which may treat chemotherapy-induced reduction in white blood cell count.
We won't know the results of its current trials until the second half of 2017.
Existing private investors haven't expressed an interest in buying into the IPO, which at $100 million seems quite large for a biopharma at this stage.
My opinion is NEUTRAL on the IPO.
Company
BeyondSpring, Inc. is a Cayman Islands-based clinical stage biopharma company that was incorporated in 2014, although its principal executive offices are in New York and the firm has a holding company structure with several subsidiary relationships, as detailed in the company organization chart below.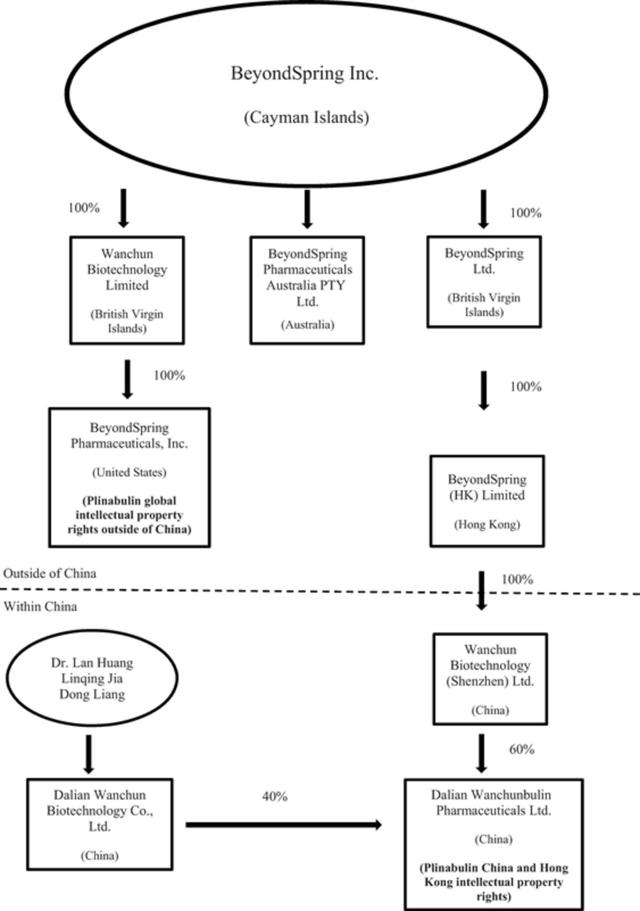 (Source: BeyondSpring F-1)
BeyondSpring, Inc. is the entity that wants to go public.
BeyondSpring Pharmaceuticals (United States) holds the IP (Intellectual Property) rights to its license for Plinabulin outside of China and Hong Kong.
Dalian Wanchunbulin Pharmaceuticals is the sub that holds the IP for Plinabulin in China and Hong Kong.
Technology
BeyondSpring acquired the global rights to Plinabulin in 2013 from Nereus.
Plinabulin was in Phase 2 trials and is believed by the company to:
be an effective treatment for docetaxel chemotherapy-induced severe grade 4 neutropenia

act as an anti-cancer agent in combination with docetaxel in advanced non-small cell lung cancer, or NSCLC.
Neutropenia is the abnormally low concentration of certain white blood cells called neutrophils, which make up the majority of white blood cells that serve as a primary defense against infections.
The company's drug candidate pipeline is shown below: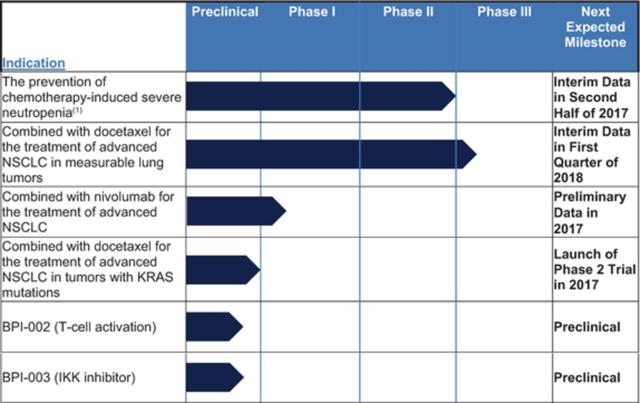 (Source: BeyondSpring F-1)
BeyondSpring says that in the Phase 2 portion of its Phase1/2 trial, the addition of Plinabulin reduced the incidence of grade 3 and four neutropenia adverse events from 26% of patients to 7% of patients.
The company received trial feedback from the FDA in September 2016 and said it plans to initiate two Phase 2/3 trials shortly, with the first trial in 4Q 2016 and results by 2H 2017; the second trial is expected to begin in 1H 2017 and have final results in 1H 2019.
Market and Competition
According to a 2011 GlobalData report, the worldwide market for chemotherapy-induced neutropenia is expected to reach $5.8 billion by 2018, a CAGR of 2.3% from 2005.
The company says that the existing market for therapies is more than $7.3 billion, but currently available treatments have the twin drawbacks of side effects and the requirement that they are administered at least 24 hours after a chemotherapy treatment.
Potential treatment competitors include:
Pfizer (NYSE:PFE)
Novartis (NYSE:NVS)
Hanmi Pharmaceuticals
Kirin Holdings
Dong-A Socio Group
Apotex
Enzychem Lifesciences
Lupin Limited
Jiangsu T-mab BioPharma Co.
(Source: Market Research Reports 2016)
BeyondSpring believes its Plinabulin treatment can be administered to patients one hour after chemotherapy, reducing inconvenience and symptoms.
Other treatments for neutropenia include Granulocyte-Colony Stimulating Factor, bone marrow transplant, corticosteroids and white cell transfusions in rare and severe cases.
Financials
BeyondSpring's financial results are typical of a clinical stage biopharmaceutical company in that it has no revenues and losses due to R&D and G&A expenses
Below are the company's operational results for the past two and ¾ years (Audited GAAP for full years):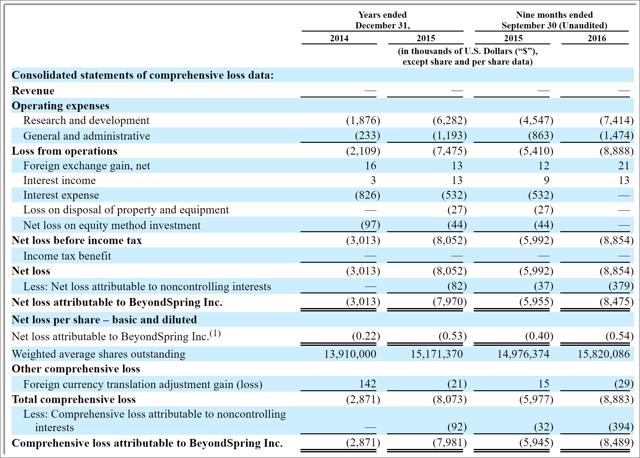 (Source: BeyondSpring F-1)
In 2015, the company closed a $16 million financing from China-based institutional investors. In September 2016, it completed a $15.25 million financing.
As of September 30, 2016, the company had $17.3 million cash on hand and $3.4 million in current/total liabilities. (Unaudited).
IPO Details
BeyondSpring intends to raise $100 million in its IPO, although that number may be a placeholder amount since it rather large for a biopharma at its stage of development and pipeline.
It says in its F-1 filing that it will use the proceeds for the following purposes:
to conduct a Phase 2/3 clinical trial of Plinabulin in combination with docetaxel, for the reduction of docetaxel chemotherapy-induced severe neutropenia and a Phase 2/3 clinical trial of Plinabulin in combination with other chemotherapeutic agents for the prevention of non-docetaxel chemotherapy-induced severe neutropenia

to pay certain expenses in connection with a Phase 1/2 clinical trial and to conduct a Phase 3 clinical trial of Plinabulin in combination with nivolumab, for the treatment of NSCLC

to fund our collaboration with the Fred Hutchinson Center and The University of Washington

to conduct preclinical study and early clinical studies of BPI-002 and BPI-003, which we expect to be sufficient through the submission of INDs

to support investigational and clinical development of Plinabulin in NSCLC patients with KRAS mutations, which we expect will allow us to cover the investigational and clinical development cost with respect to a Phase 2 trial of Plinabulin in NSCLC patients with KRAS mutations

to support investigational clinical research related to brain tumors

to pay the NDA cost for the NSCLC indication; and

to pay salaries and consulting fees and to cover general and administrative costs.
That is quite an ambitious and long-term list of use of proceeds. I suspect it is more of a 'laundry list' of initiatives the company would like to conduct, but the market for its IPO will determine whether it receives funding to do so.
The lead left underwriter for the offering is Citigroup.
Commentary
As with most clinical stage biopharma companies, prospects will be determined by clinical trial results.
We won't know the first Phase 2/3 trial results for one of its lead candidates until the second half of 2017.
Nevertheless, Phase 1/2 trial results are tantalizing, with results achieving their endpoints.
Although the market for chemo-induced neutropenia is large, it appears to be slow growing at below 3% CAGR.
The company has continued to raise private financing and has a significant amount of cash on hand.
Although we currently don't know the proposed share price range and resulting valuation, I believe $100 million for a biopharma IPO at this stage of development is likely not a viable IPO.
I would like to see a downsized IPO and greater focus by management on its lead candidates, rather than a 'laundry list' of everything they want to do.
Also, there was no mention of existing investors expressing an interest in buying into the IPO, which is a potential negative signal.
As a result, my opinion is NEUTRAL for the BeyondSpring IPO.
---
I write about technology IPOs, secondaries, and M&A deals. If you want to receive future articles automatically, click the +Follow link next to my name at the top of this article.
Disclosure: I/we have no positions in any stocks mentioned, and no plans to initiate any positions within the next 72 hours.
I wrote this article myself, and it expresses my own opinions. I am not receiving compensation for it (other than from Seeking Alpha). I have no business relationship with any company whose stock is mentioned in this article.