The holidays are coming, and merger arbitrage has a few last-minute opportunities for the savvy investor before the end of the year. Alere (NYSE:ALR) certainly seems to be on sale, and is my favorite position in the merger arbitrage space.
One place to find merger arbitrage deals is Chris Demuth, who does a great job of presenting some of these ideas on his merger arb daily posts. I like some of Chris's picks, but I like some of his concepts even more. I first heard of this idea from his postings, so I will give credit where credit is due. I only get credit for making my own decision to follow up on this idea.
So now, on to my thoughts. The type of stuff my 300 followers care about, like deep value positions.
How do you combine a love of deep value with merger arbitration? You buy positions in merger deals that have some degree of uncertainty. Past is prologue, so let me share my last two merger arbitration plays.
Recently I purchased Lexmark (NYSE:LXK) for a nice profit in just a few weeks' time. I posted my real time trades here as Seeking Alpha stocktalks. Even better was Hutchinson Technology (NASDAQ:HTCH), which you can read about here. While everyone was trying to figure out what would happen in these situations, I acted based on what I perceived to be the most likely outcome. The returns were great. Sadly, they tell me, "past performance is not indicative of future results."
My current idea, Alere, is not a new idea on Seeking Alpha, but it could return handsome profits in a relatively short time frame. (Even saying this makes me cringe, because nothing is certain, but I stand by my thesis.) It is not an investment without risks. There are issues, and no one knows when these issues will be resolved. With that said, let us get to the heart of the matter.
On February 1, 2016, Abbott Labs (NYSE:ABT) made an offer to purchase Alere for $5.88 billion. Shares skyrocketed 46%, but the good times were not to last. Since this explosion to the upside, we have discovered some problems, which are reflected in the stock price.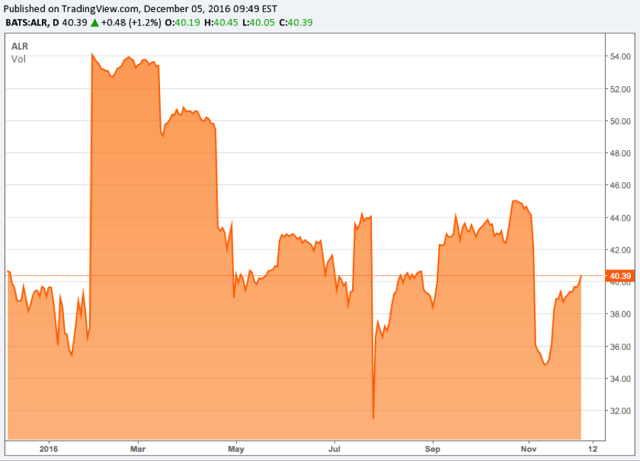 The problems started with a Department of Justice probe regarding Alere's billing practices, which Seeking Alpha reported on July 27, 2016. You can see the impact this news had above.
In late august, Alere sued Abbott to complete the acquisition after Abbott offered $50 million to terminate the agreement and allegedly threatened to make life difficult for Alere. The relationship looked really ugly at this point.
Mediation regarding the merger started September 8, 2016. Then on November 4, Abbott filed a suit against Alere to obtain merger-related information. Since this report, not much has changed.
When you decide to partake in any merger arbitrage opportunity, there are a few things I consider. In this case, there are two essential questions.
Will the deal be completed?
What is the IRR? IRR is basically return divided by days equal to unknown over 365, a simple proportion that shows what your yearly return would be. For example if a merger closes in six months for a premium of 50%, your IRR would be 100%. Pretty simple. You can also think of it as pro-rated at a yearly rate.
I think this deal gets done because nothing much has changed since Donastia Capital wrote this article in September. Donastia thinks the deal still looks likely to get done, although it could get done at a lower price. The truth is a revision is not a re-filing. I think the concerns are overblown.
Here is what I think happened using an easy-to-understand example. Think of this as an auto purchase.
I feel like Mr./Mrs. Abbott decided to buy a used car. They found one they liked, named ALR, and rushed to buy it before some other interested buyer swooped in and took away their sweet used vehicle. To be fair, the ALR is red (pipeline) and has a spoiler (revenues). (Quick tip: If a salesperson ever tells you to hurry because someone else is really interested — run away.) So now Abbott just got home and has to explain to their spouse (shareholders) what happened. The conversation probably started ok until that horrible news story about the car (DOJ investigation), and then it got ugly. The only way to get the spouse to forgive you is to give it the old college try.
So Mr. Abbott went back to the dealer. He offered them $50 million just to take ALR back. The dealer (ALR shareholder) decided they did not want it back and happily pointed out that the Abbott's had signed on the bottom line. Now the question is: Did the dealer defraud the buyer? Or, maybe more importantly, can the buyer prove it?
I think it is a tough case to prove beyond a reasonable doubt. At least the Abbott shareholders can take solace in the very public effort but in reality all of the noise probably is much ado about nothing. Most Abbott analysts have included the acquisition in all of their models despite the news, and overall it should positively impact their bottom line.
Let's invert, shall we? Most people refuse to consider the worst-case scenario, but we are not most people. We are Mr. Pink, and we think ALR, without the deal, could realistically fall below $34 a share (third-person delusion apologies). If the DOJ finds them guilty of mass collusion, it will be a major setback, but it would not be the end. This article by EP Vantage explains what could go wrong.
Even if this did occur, ALR continues to develop their pipeline and should be able to grow their revenues. The downside reasonably could be $25na share. The upside is the deal goes through at $56. There is a possibility the deal could go through at a lower price, but still at a premium to today's price of around $40 a share.
Whether you decide to buy ALR boils down to two essential questions: Will the deal go through, and at what price? I can't specifically tell you the odds. My estimate is that the deal is very likely to go through. As to the price, I am confident that it will be higher than $45 a share. I also think many of these issues will get resolved prior to the new year, but I am willing to wait. Some buyers have been waiting a lot longer than that.
The best way to protect yourself in this type of merger arbitrage trade is to size your position accordingly, and only buy positions with high potential upside returns. Time frame is also important in merger arbitrage, and one of the better aspects of this deal. You won't be holding ALR for three years waiting for this to play out. (I always hear ominous music when I make statements like that.) In this case, time should benefit ALR shareholders. This deal should be done, or at least the uncertainty of this deal should be resolved, relatively quickly. The stock price has slowly floated upwards recently, so I think I am not alone in my sentiment.
The current price shows that the market is expressing uncertainty, which is slightly different than assuming the deal has fallen through. Mr. Market gets very nervous when things get uncertain. I have tried to take advantage of this by purchasing a position. If the deal goes south, I am prepared for what will happen. If everything works out the way I think, it should be profitable.
Thanks for reading. Please include any of your favorite merger arb plays in the comments section, and good luck investing.
Disclosure: I am/we are long ALR.
I wrote this article myself, and it expresses my own opinions. I am not receiving compensation for it (other than from Seeking Alpha). I have no business relationship with any company whose stock is mentioned in this article.
Additional disclosure: I am not an investment professional. Please do your own due diligence. You are responsible for any purchase you make in the stock market. Creating your own portfolio and investment strategy is not for everyone and each equity presents its own risks so buyer beware.