Much uncertainty lies ahead in financial markets in 2017. The implications of President-elect Trump's policies seem to be inflationary in nature, at least from where we sit now. Proposed infrastructure spending coupled with tax and regulatory cuts have raised optimism throughout corporate America; However, some remain skeptical of a looming trade war, increased deficit, and policy decisions that may drive a wedge between winning and losing stocks in the U.S. equity market, streamlining uncertainty. Now is a great time for ETF investors to consider diversifying, especially if your portfolio is highly concentrated in U.S. stocks. Expectations around a stronger dollar and future growth has driven a run in small caps which are up roughly 18% year-to-date. Going forward, long-term opportunities have presented themselves in large caps, emerging markets and across Europe. Now may be the right time for long-term investors to hedge their bets against U.S. financial markets with low volatility developed nations, large cap U.S. stocks, emerging markets and real estate assets. With interest rates expected to rise later this month, corrections in foreign equities and the U.S. real estate market could present longer term opportunities that U.S. equity markets may lack going into a Trump administration. If you're concerned that U.S. stocks are overpriced, targeting broad investing themes through ETF diversification may taper performance in the short-term but provide the opportunities for growth that the U.S. markets can no longer provide.
While I do believe sector growth exists in areas such as biotech, regional banking, semiconductors, and artificial intelligence, the following ETFs focus on broader markets and international diversification. On top of diversification, dividend reinvestment can help increase the quantity of shares owned over time and maximize returns.
Since last month's elections, tech and other growth stocks have lagged behind the financial and energy sectors. Concerns about tariffs and a possible trade war have shares of Apple Inc. (NASDAQ:AAPL) down roughly 5% from where they were this time last year, presenting a long-term opportunity to purchase the tech giant, which plans to release the newly redesigned iPhone 8 in 2017, at discounted prices. Other large caps have lagged behind small caps throughout 2016 making a play on U.S. growth stocks a less risky proposition. Keeping an eye on the Vanguard Growth ETF (NYSEARCA:VUG) can get you long U.S. growth stocks with a distribution of 28% in tech, 18% in consumer cyclical, 14% in healthcare, 10% in consumer defense and 9.6% in industrials. VUG is one of the most affordable growth funds around at an expense ratio of just 0.08% (less than 1/10th of 1%). Its top 5 holdings include shares of Apple (AAPL), Amazon (NASDAQ:AMZN), Alphabet (GOOG, GOOGL) and Facebook (NASDAQ:FB), which compose nearly 18.5% of total holdings. Below you can find the 10-year performance and top 25 holdings for VUG.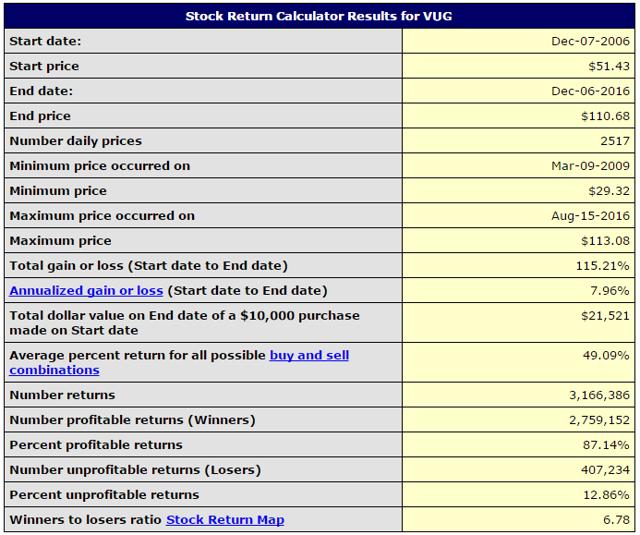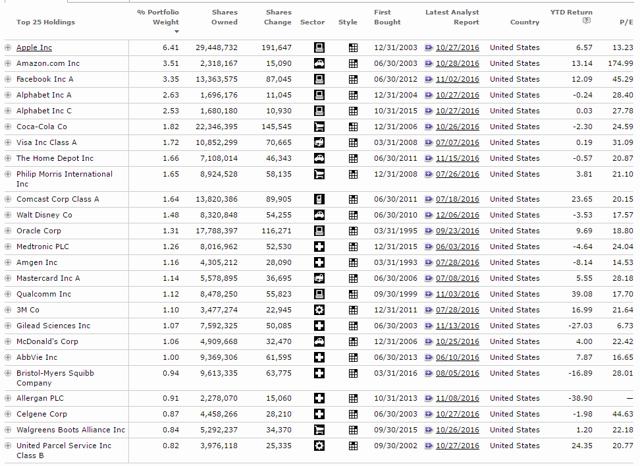 With shares of U.S. growth stocks secured, investors in 2017 want to consider allocating part of their portfolio to other developed nations. One way to bet on a recovery in parts of the world such as Europe is to take a long position in the iShares Edge MSCI Minimum Volatility EAFE ETF (NYSEARCA:EFAV). EFAV invests in lower volatility stocks in developed nations emphasizing holdings in consumer necessities, healthcare and utilities. The portfolio is well-diversified and takes a holistic approach to providing exposure to developed nations while reducing the volatility that has been associated with foreign markets since the crash of 2008. EFAV will provide you with 16% exposure to consumer defensive, 16% exposure to financial services, 15% exposure to industrials, another 15% to healthcare and almost 10% to communications services. On top of that, it provides a higher dividend than U.S. low volatility ETFs with a 12-month yield of 2.7%. None of its holdings compose more than 1.55% of the total portfolio. Its largest holdings are in Swiss Re (1.55%), Nestle (1.46%), Novartis (1.44%), Roche Holdings (1.43%) and CLP Holdings (1.42%). Since inception in 2011, the fund has returned an annualized gain of 6.52%. European markets have lagged behind U.S. markets since 2008 and due to Brexit and other political outliers, a recovery has lagged. You can gain access to upside opportunities without taking on additional risk through EFAV.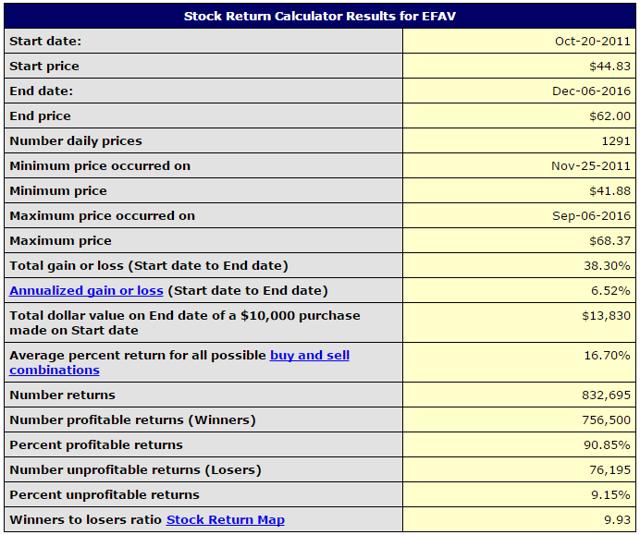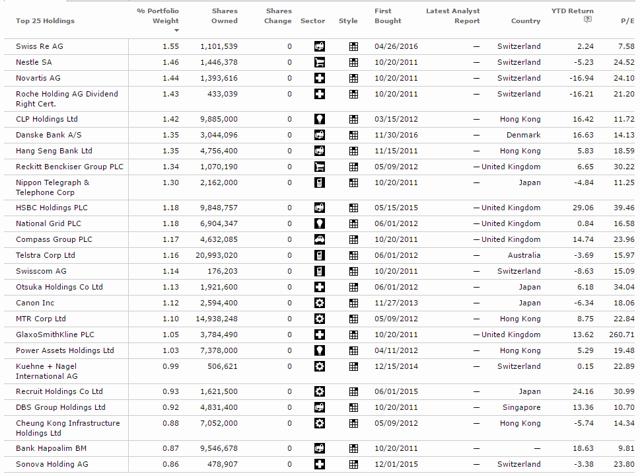 Emerging markets have not yet recovered from their pre-crisis highs or even from pre-Brexit levels. While some look at China's 7% growth as meager, a 7% rate of GDP growth far exceeds even the highest hopes for U.S. growth. Vanguard's FTSE Emerging Markets ETF (NYSEARCA:VWO) offers broad, cap-weighted exposure to equities spanning 21 different emerging markets (excluding South Korea). Its holdings are heavily composed of financial services and technology firms which make up a combined 42% of holdings. Basic materials, consumer cyclicals and consumer defensives compose another 26% of the portfolio. While emerging markets have been inherently volatile and risky in the past, allocating a small percentage of your portfolio to emerging markets in a play on long-term growth in a globalizing commercial environment can provide opportunities for gains that could be unmatched by developed nations in the next decade. VWO holds many Chinese equities including A-shares. China makes up the largest part of the portfolio at 27.9% of holdings with additional holdings in Taiwan, India, Brazil, South Africa, Mexico, Russia, Thailand, Malaysia, and Indonesia in the top 10 equating to over 90% of holdings. One concern is the high turnover rate of over 13%, however, high turnover is an inherent risk in emerging economies. Fortunately, VWO is highly concentrated in mega and large caps. Other risks include currency, index sampling, and a-shares availability. The VWO seeks to track the performance of the FTSE Emerging Markets All Cap China A-shares Inclusion Index. Below is 10-year performance and top 25 holdings of the VWO ETF.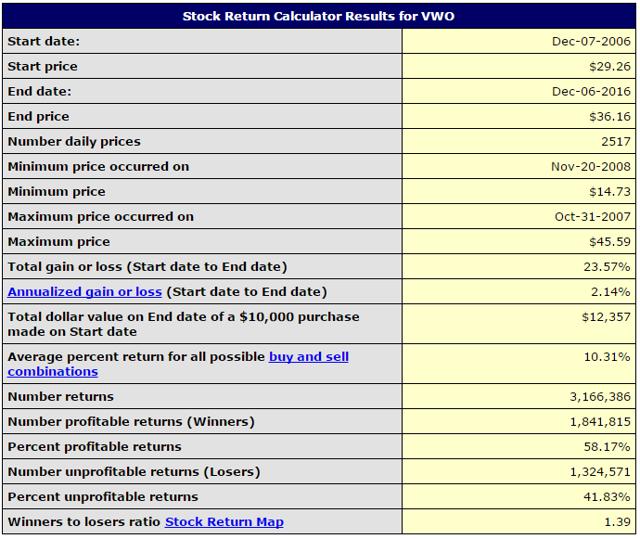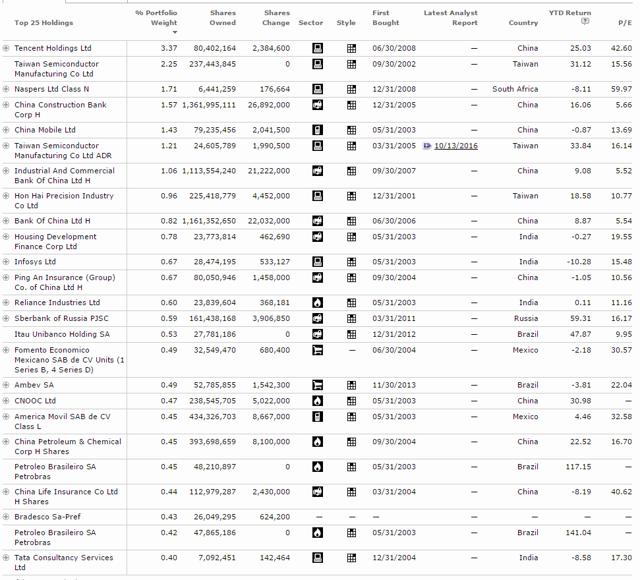 While many see real estate holdings as a poor investment in a rising interest rate environment, shares of quality REIT ETFs can be an excellent value if interest rates rise at a slow and controlled paced. Inflationary policy benefits landlord rent rolls as well as higher rates of inflation facilitating higher rents. The Vanguard REIT ETF (NYSEARCA:VNQ) seeks to track the performance of the MSCI US REIT index. The fund employs a passively managed, full-replication strategy of tracking. The ETF is composed of equities concentrated in Retail REITs (23.6%), Specialized REITs (15.9%), Residential REITs (15.7), Office REITs (12.9), Healthcare REITs (12.8%), along with smaller allocations in diversified REITs, Industrial REITs, and Hotel & Resort REITs. Along with the highly-diversified group of holdings, dividend yield for equates to roughly 4%. Historically, real estate assets have been some of the most secure holdings over the long term. With such a high yield, investors reinvesting dividends can benefit greatly from the inflation protection real estate assets provide. Below you will find historical data and the top 25 holdings for the VWO ETF.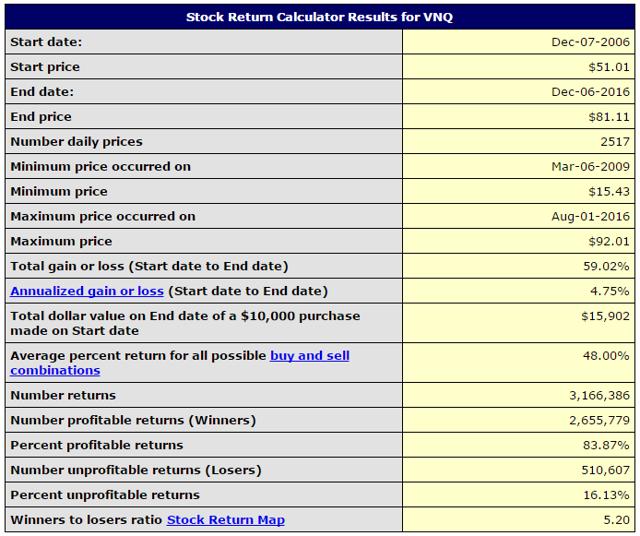 The Bottom Line:
Uncertainty in the short and mid-term is raising legitimate concerns about overvaluation in U.S. equity markets. Inflationary policies may be on the horizon making now a great time to consider growth sector stocks along with foreign and real estate assets. Depending on your appetite for risk, a wide range of ETFs are available to help you diversify your holdings, some of which can be purchased commission-free through many retail brokers. Given the outperformance witnessed in U.S. small caps, U.S. growth stocks, such as technology stocks which have lagged behind the rest of the market, will likely benefit from reduced regulatory burdens and corporate tax cuts in 2017. Those seeking low-volatility investments can obtain diversity through low volatility developed nation ETFs and REIT ETFs. Those of you with more health risk appetites can look to emerging markets for long-term growth opportunities that are unlikely to be found in the U.S.
Disclosure: I/we have no positions in any stocks mentioned, and no plans to initiate any positions within the next 72 hours.
I wrote this article myself, and it expresses my own opinions. I am not receiving compensation for it (other than from Seeking Alpha). I have no business relationship with any company whose stock is mentioned in this article.