Qualcomm (NASDAQ:QCOM) today announced commercial sampling of its ARM architecture server processor, the Centriq 2400. The 2400 features up to 48 custom ARM CPU cores and is fabricated, somewhat surprisingly, on a 10 nm FinFET process, probably by Samsung (OTC:SSNLF). Being fabricated on 10 nm could put Centriq ahead of Intel in energy efficiency and potentially head off competition from AMD's (NYSE:AMD) forthcoming Zen server chips.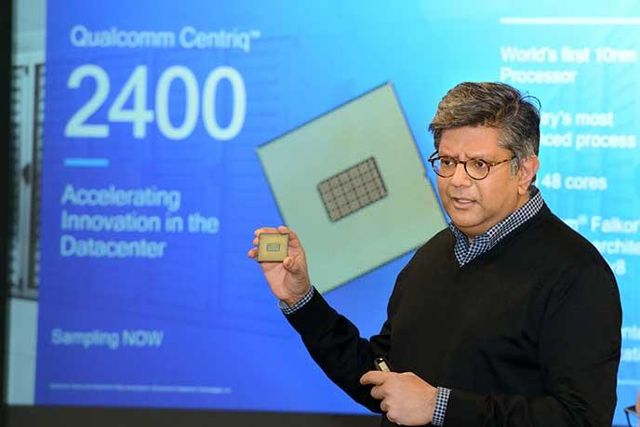 Source: Qualcomm
Uphill Battle
When Qualcomm first launched its pre-production Server Development Platform (SDP) in October 2015, I was initially very skeptical. Although I consider ARM architecture to be the probable wave of the future in computer CPUs, I recognized that Intel had tremendous advantages in the data center. Despite some worthwhile attempts, ARM-based servers hadn't made significant inroads in this core Intel market.
In fact, it doesn't appear that the initial Qualcomm product impressed datacenter users very much. Although Qualcomm was light on technical details of the SDP, we know that it used a 24-core SOC that supported ARM v8 64 bit processing. Since it was disclosed that it featured "advanced FinFET technology," that meant that it was either fabricated by Samsung (likely) or TSMC (NYSE:TSM) on their 14 or 16 nm processes.
But for all that, Qualcomm apparently decided that it needed even more. So the Centriq has been beefed up with 48 cores and is being fabricated on a 10 nm process. Since Qualcomm and Samsung recently announced that the Snapdragon 835 processor would be fabricated on Samsung's new 10 nm node, there is little doubt that Samsung is fabricating Centriq as well, although TSMC is also a possibility, since it also is starting its production ramp on 10 nm this quarter.
A word about the meaning of the process designations. I've read some misleading statements about it such as the Wall Street Journal's writeup this morning by Don Clark (also available on MarketWatch). He states that the new process "creates transistors with features measured at just 10 nanometers." This isn't correct. As Intel and others freely admit, for a given process node, there is nothing that measures the process node numerical designation.
Thus, at Intel's 14 nm node, there is actually nothing that measures 14 nm. The chart below, from Intel's 2014 Investor Meeting, shows the actual feature sizes for the 14 nm node.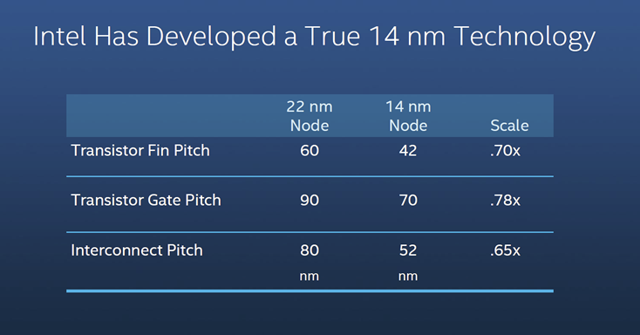 The semiconductor industry has adopted the number designation to indicate changes in areal transistor density. The numbers are generally a rough factor of square root of 2 different between generations. This serves to indicate that the area required for the same number of transistors will shrink by a factor of 2.
Intel has claimed, with justification, that the 14-16 nm nodes of its competitors were not truly equivalent to its own 14 nm process. So it's not clear that the 10 nm processes currently being fielded by the ARM foundries are truly superior to Intel's 14 nm process, but they almost certainly have achieved performance parity. This is an accomplishment in itself.
And it certainly puts Qualcomm in a better position to compete for the datacenter business. In today's preview, the head of Qualcomm's datacenter subsidiary, Anand Chandrasekher, claimed:
The Qualcomm Centriq 2400 series processors will drive high performance, power efficient ARM-based servers from concept to reality. Qualcomm requires the leading edge of integrated circuit technology to deliver high performance at low power for the newest premium smartphones. We are first in 10nm IC technology for mobile, and leveraging our expertise in ARM processors and system on chip design, we are the first with our Qualcomm Centriq family of server processors to bring the leading edge to the datacenter.
Recognizing that maturity of the Linux-based software stack for ARM servers has been a stumbling block in acceptance by data centers, Qualcomm made sure to demonstrate the Centriq running Apache Spark and Hadoop on Linux.
Collision Course(s)
Centriq is expected in the second half of 2017, which puts it on a collision course with AMD's upcoming Zen Naples server chips. After not meeting with much success with its Seattle ARM server processor (Opteron A1100), AMD is focused on leveraging its new Zen x86 compatible architecture for servers.
Naples features 32 hyperthreaded cores and is fabricated on a 14 nm (probably Global Foundries) process. Naples could pack quite a bit more punch than Centriq, and it has the advantage of running the regular Intel compatible software stack.
Until more technical details emerge about either processor, I think it's up in the air, which might win this particular contest. AMD will undoubtedly price its offering very competitively, but Qualcomm may have inherent cost advantages in the ARM architecture, as well as fielding a more energy efficient chip by virtue of 10 nm fabrication.
In addition to Qualcomm and AMD, IBM (NYSE:IBM) will be fielding its new Power9 servers in 2017 as well, and these will also benefit from a 14 nm process. IBM still has a lot of credibility in the datacenter and has worked very hard through the OpenPower foundation to mature the Linux software stack to run on Power9.
With so much competition for Intel in the datacenter, it seems inevitable that Intel will either lose some market share, or some revenue, if it chooses to undercut its competitors. 2017 is shaping up to be very interesting in the server space.
Investor Takeaway
Although I'm a Qualcomm investor, I admit to some skepticism regarding the Centriq 2400. It still has an uphill battle ahead of it. It has to overcome the incumbency advantage of Intel as well as prove itself against formidable competition. Unless Qualcomm has achieved something truly remarkable, Centriq is unlikely to be big revenue and profit generator for the company.
But it's probably the start of a long-term shift away from Intel architecture in the datacenter. Qualcomm's pending acquisition of NXP (NASDAQ:NXPI) also lends the effort some much-needed gravitas. Prospective data center customers can feel more assured that Qualcomm will be around for the long term in this business. Profitability for the Qualcomm Datacenter Technologies subsidiary may be long in coming, but the addition of NXP provides additional revenue to cover the ongoing costs of developing the ARM server product line.
Of its major competitors, including Intel, AMD and IBM, Qualcomm is the most aligned with ARM architecture for future growth. This is my key reason for investing in Qualcomm. I remain long Qualcomm and recommend it as a buy.
Disclosure: I am/we are long QCOM.
I wrote this article myself, and it expresses my own opinions. I am not receiving compensation for it (other than from Seeking Alpha). I have no business relationship with any company whose stock is mentioned in this article.
Editor's Note: This article discusses one or more securities that do not trade on a major U.S. exchange. Please be aware of the risks associated with these stocks.