I am using this opportunity to present a unique short-term investment opportunity leading into catalyst events for Vericel Corp (NASDAQ: VCEL). From a technical perspective, the charts for Vericel Corporation, a commercial-stage biopharmaceutical company dedicated to repairing and regenerating damaged tissues and organs, are indicative of multiple-bottoming pattern around the $ 2.30~$2.35 price regions. While shares have traded marginally above this at the time of this writing, I believe leading into early January, 2017 and into the news for MACI, the stock is likely to gain momentum. The entry here at this price level (i.e. between $ 2.35~$2.45) appears very attractive given the chart analysis presented in this article. Vericel is trading right at the 50-DMA and below the 200-DMA. Holding the 89-EMA is encouraging from my own technical point of view and the recent green candles are supportive of a move up leading into the catalyst event.
While long-term research goals focus on harnessing stem cell therapies for renewal, in the near term, very few cell therapy based drugs or research exists as a viable treatment option in managing cartilage injuries. Lxmyelocel T is an autologous multicellular therapy intended to treat advanced heart failure due to ischemic dilated cardiomyopathy (DCM). One of these two drugs, MACI is in pipeline review with the FDA in January 2017.
While my article isn't clinically investigative in nature, it attempts to provide the reader a perspective in the cell therapy research conducted by Vericel in conjunction with past successes with Epicel and Carticel. When considering such alternate treatment methods, safety concerns are particularly important, especially for non-life-threatening disorders. The risks involved in short-term processing are primarily the risk of compromised sterile technique or cell toxicity during processing. Culture expansion methods introduce the additional risk of inadvertent selection of clones with undesirable epigenetic or genetic changes. Having reviewed the details of Vericels' presentations on MACI, I am led to believe that presently there aren't any known safety concerns, particularly in the setting of autogenous cell transplantation.
The company's financial reports are reflected in this September 30th 10-Q filing with the SEC. In summary, the balance sheet summarizes the Cash position being $8.8 Million and Accounts Receivable and Other Current Assets adding to about $ 12.219 Million. The loss from current operations amount to $ 6.380 Million with the big ticket expenses being with cost of product sales, R&D, Selling & General Administrative expenses offsetting the revenues for this net loss. The recent chart is published below and provides a good short-term buying opportunity at the current price level.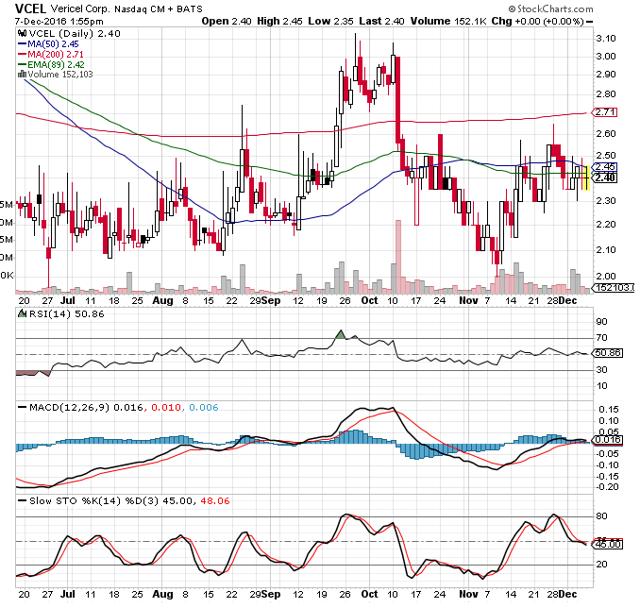 For the two drugs in development, I consider it important to provide some guidance on the demand for such therapeutic solutions in the industry, and to provide information on the related triggers associated with the catalyst events. Dilated cardiomyopathy, a progressive disease of the heart, is a leading cause of heart failure and heart transplantation. DCM is characterized by weakening of the heart muscle and enlargement of the heart chambers, leading to systolic abnormalities (difficulty of the left ventricle to pump blood). Heart enlargement and poor function generally lead to progressive heart failure with further decline in the ability of the heart to pump blood efficiently throughout the body. There is no cure for heart failure and there are limited treatment options in the advanced, refractory stage of the disease.
Pharmacological interventions are typically introduced in earlier stages of heart failure and maximized as the condition progresses, with more invasive and aggressive interventions reserved for patients in later stages. By the time a patient progresses to the advanced stage of heart failure, they are being treated with multiple drugs with limited success for the treatment of persistent and severe symptoms, may have an implantable cardioverterdefibrillator (ICD) or cardiac resynchronization therapy, and have few remaining treatment options. In a 2013 study, the NIH provides a very comprehensive study of experimental clinical studies with challenges and future direction. It is this future direction that Vericel has engaged in with MACI, which goes into FDA review in early January, 2017.
Typically, cells are harvested from the patient's own blood, bone marrow or fat and cells may be combined with platelet rich plasma to treat conditions such as Osteoarthiritis and other cartilage defects. Knee osteoarthritis (OA) is a debilitating disease that is increasing in prevalence because of several factors particularly in physical activity leading to intra-articular injury, aging, and rising rates of obesity. Total knee arthroplasty is effective when a trial of non-operative measures fails.
The CDC estimates that in the United States alone OA affects 13.9% of adults aged 25 and older and 33.6% of those 65 and older. These numbers from a decade or more ago place the number of affected at 26.9 Million adults, a staggering number given the increase in the aging population over the past decade and the baby boomers approaching this category. The desire of the younger patient base seeking alternatives has seen an increase in recent years as alternatives to surgery and the rehabilitation nightmares that follow. Studies in this field reporting intra-articular cellular therapy injection for the treatment of OA and focal cartilage defects in the knee were positive and no major adverse events were reported.
While my readers here will perhaps agree that meta-analysis becomes infeasible where studies are heterogeneous, outcome differences in trials of individuals using these types of alternate treatments exist. The fact that treatment effects are sometimes reported and advised as being modest when you seek the opinion of a specialist or discuss this with your own primary care physician does not diminish the overall potential value of cellular therapies.
With the aging and athletic populations having a strong desire to remain active, the desire to avoid the expense and risks associated with knee arthroplasty exist, and therefore these treatments hold promise. The analysis here is that the arthritic knee or areas of focal cartilage injury is likely to be deficient in the content of progenitor cell mass and that this shortage may be addressed by the placement of harvested cells into the knee region.
Treatment mechanisms theoretically could vary but the effects could be long lasting, almost like a steroid shot that temporarily gives relief to conditions like "Golfers elbow", if the transplanted cells become permanent residents in the knee or if their action induces a durable change in the population of local cells.
Disclosure: I am/we are long VCEL.
I wrote this article myself, and it expresses my own opinions. I am not receiving compensation for it (other than from Seeking Alpha). I have no business relationship with any company whose stock is mentioned in this article.
Editor's Note: This article covers one or more stocks trading at less than $1 per share and/or with less than a $100 million market cap. Please be aware of the risks associated with these stocks.