These 20 stocks' prices are all over the place in the last year.
Figure 1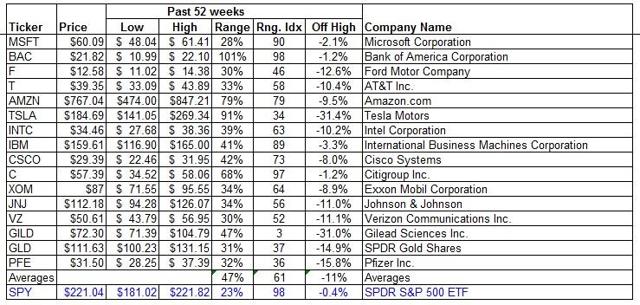 source: Yahoo Finance
We've got Gilead (NASDAQ:GILD) and Tesla (NASDAQ:TSLA) -31% off their highs, And Bank of America, Citigroup and the SPY at the top of +100%, +91% and +23% gains.
In an election campaign where nobody knew what he might do and everyone knew what she was likely to do (or not do) enough voters in important places chose the guessing game over "more of the same" that took us to where we are now.
So how do we tell where we are headed?
Follow the money.
The Market-makers [MMs], who help the managers of $-billion portfolios contest with each other and with the less-well-informed rest of us, see prices of these stocks and ETFs headed in differing directions, from where their prices are now. Here's what they now see for not far in the future (~3 months).
Figure 2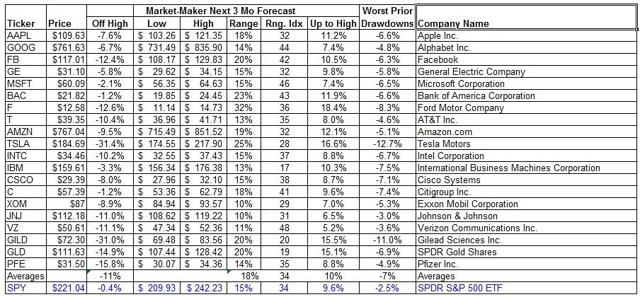 source: blockdesk.com
Here in Figure 3 is a map comparing the "Up to High" reward forecasts with the experienced "Worst Prior Drawdowns" risks.
Figure 3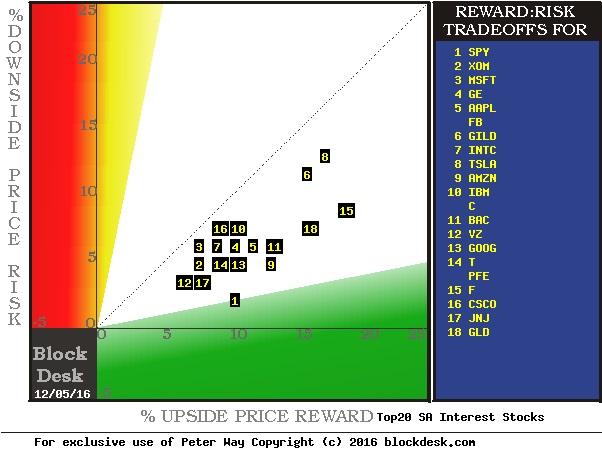 (used with permission)
Each stock or ETF is positioned in this map by its intersection of upside price change forecast on the green horizontal scale and experienced price drawdown exposures (on the red vertical scale) typical after prior forecasts like today's. Any issue above the dotted diagonal has more potential risk than return at its present price.
Why believe them?
Because these MMs (you know 'em as Merrill, GS, MS, etc.) maintain world-wide 24-hour information-gathering systems manned by thousands of experienced securities appraisers who constantly feed what they know to the block-trade and "prop"(rietary) trade desks. (What gets fed to the investing public is likely to be something else, or today's info, but significantly later).
And the MM traders are in direct-phone-line communication dozens of times throughout the market day with the trading desks of the $-billion Portfolio Managers. They know what the PMs intend or need to do, and how badly they want to do it.
Besides, we've been watching them every market day this century, and know how well their prior forecasts, similar to the ones above in Figure 2, have actually worked out. Or not.
As market environments evolve, investor attitudes change. Some investors do dumb things and some do smart things. Even by experienced market pros. Not the same players on the same (dumb/smart) side every time.
But as Yogi said, you can observe a lot just by watching
So we do, and got to see over 4,000 daily forecasts being made in "real time" for most of these issues since Y2K. Some were seen where market quotes were low in the forecast price range, where stocks were cheap and rose up. Others were falling knives. Knowing which is which, and at what level of the forecast range prevents a lot of serious portfolio juggling wounds. (I know one juggler who can sustain 7-balls, but that's a different story of over 40 years' experience.)
What matters is where the balance is now between upside and downside price change prospects. That's what the Range Index [RI] tells. SPY here has a RI of 34, which means that 34% of its forecast price range from a low of ~210 to a high of ~242 is below the present 221. The other 66% (about twice the 34%) is to the upside, a +15% gain potential.
The RI for each stock is changing most of the time, so it is important to know what has been the result of a forecast made, say at a RI of 30 for TSLA, compared to what happens after a RI forecast of 50 is seen. Here are the subsequent price change experiences of the last 4+ years.
Figure 4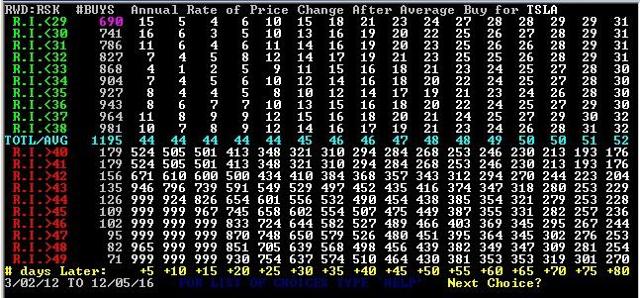 source: blockdesk.com
The blue row in this table shows TSLA's Compound Annual Growth Rate over every 5-day to 80- market day, sequentially-measured period in the last 4+ years. The blue row is an excellent representation of the stock's past 4+ year, long-term CAGR. The table's top row averages the 690 instances of the stock's price changes during the 1 week to 16 weeks of the columns, when RIs were below 29, where it is now.
One might reasonably believe that when TSLA's RI is 50 (a forecast of as much downside as upside) it might not do so well in the after-forecast real world of the market. But that's not the way it works with TSLA, which is a "momentum" stock, not a "value stock. Once TSLA's RI gets to 40 and above (only ~15% of the time) it is a signal for further rising prices.
TSLA here is an illustration, not a recommendation. Figure 3 is pure history, not a forecast. But it does illustrate that significantly different rates of price change are experienced at different levels of RI. And not always the way they might be expected.
So how to tell where opportunity or hazard lies?
If you know the stock's present RI forecast you need to understand the historic odds for profitability, and the size of those prospective payoffs. They are shown for our subject 21 issues, including SPDR S&P500 Index ETF (NYSEARCA:SPY), in Figure 5.
Figure 5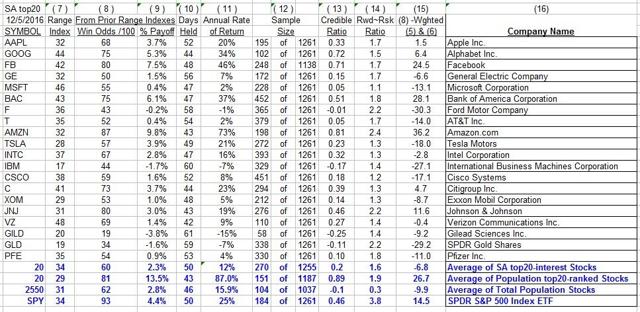 source: blockdesk.com
Here column (12) shows that in the past 5 years of AAPL's 1261 daily forecasts, 195 of them have had RIs similar to today's. Using that sample, in (8) only 68 of each 100 forecasts ended under TERMD with a profit. Not a very good result, compared, say, to AMZN, whose 198 forecasts also at RIs of 32 made money in 7 out of every 8.
The poor odds showing for AAPL (just at this RI, which is what we have THIS DAY) resulted in (9) an average net gain (including losses) of only +3.7%. Column (13) compares that (9) result with the forecast upside now of +11.2% in Figure 2, showing that what was actually achieved under prior like forecasts was only 1/3rd as much, a credibility ratio of .33.
Not a confidence builder, compared to today's credibility of AMZN where its sample of prior forecasts earned over 80% of its today's upside forecast in Figure 2 of +12.1%.
The leverage of time is indicated by comparing AAPL's average 52-day holding period of prior forecasts (10) with that of C, which also achieved a +3.7% gain on its prior forecasts, but did it in average holding periods of 44 market days. The CAGR difference in (11) is 23% for C, vs. 20% for AAPL. That 3% difference is, academic papers, worth shouting about in their circles.
Today's forecast histories for GOOG and FB show the kind of (11) differences that may be worth shouting about in real investment circles.
Conclusion
The interplay of risk and reward from Figure 2 shown in Figure 5 at (14), and evidenced by the Win Odds and %Payoffs results, are assembled into a Figure of Merit [fom] in (15). It can be used as a selection guide between candidates for capital investment in contests arising from new capital injections in a portfolio, or for reinvestment by liquidation of a portfolio holding due to a variety of reasons, including success in reaching a sell target.
When used that way on today's data, Amazon.com Inc (NASDAQ:AMZN) would appear attractive with a fom of 36.2 and a prior forecasts CAGR result of +73%. But do your own due diligence in addition.
This set of 20 stocks are obviously of importance to SA member/contributor/readers. But others are continually present as from-time-to-time viable competitors for portfolio inclusion.
The blue line at the bottom of Figure 5 labeled Average of population top20 ranked stocks shows an average from today of 26.7 and average CAGRs of 87%. AMZN is currently part of that list of 20. It contains several stocks or ETFs of interest not among Seeking Alpha's top 20 most-followed stocks - but perhaps should be, at least for wealth-builders. This list is updated daily and available by the day's subscription.
Additional disclosure: Peter Way and generations of the Way Family are long-term providers of perspective information, earlier helping professional investors and now individual investors, discriminate between wealth-building opportunities in individual stocks and ETFs. We do not manage money for others outside of the family but do provide pro bono consulting for a limited number of not-for-profit organizations.
We firmly believe investors need to maintain skin in their game by actively initiating commitment choices of capital and time investments in their personal portfolios. So our information presents for their guidance what the arguably best-informed professional investors, revealed through their own self-protective hedging actions, believe is most likely to happen to the prices of specific issues in coming weeks and months. Evidences of how such prior forecasts have worked out are routinely provided. Our website, blockdesk.com has further information.
Disclosure: I/we have no positions in any stocks mentioned, but may initiate a long position in AMZN over the next 72 hours.
I wrote this article myself, and it expresses my own opinions. I am not receiving compensation for it (other than from Seeking Alpha). I have no business relationship with any company whose stock is mentioned in this article.