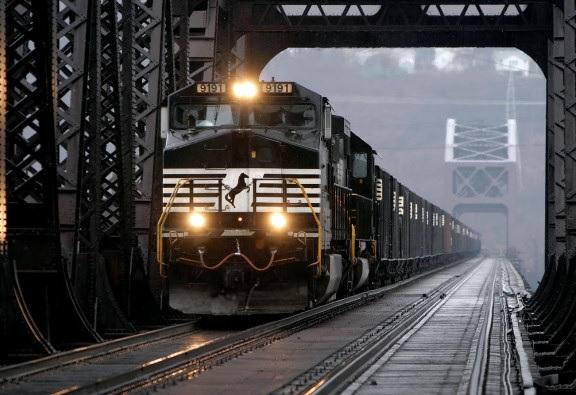 I am on record that President Obama might not deserve the credit he gives himself for saving the global economy. After eight years of record low interest rates, the economy is starting to show cracks. Rail traffic - a harbinger of economic activity - is down. For the first 40 weeks of 2016, total carloads for the U.S. and Canada were down Y/Y by 6.9% and 5.7%, respectively. That does not bode well for Norfolk Southern (NYSE:NSC).
The company's Q3 revenue fell 7% Y/Y. Five out of the company's seven product segments experienced revenue declines. Throw in 16% exposure to coal - the pariah of the railroad industry - and the outlook appears bleak. The company's cost containment program helped drive EBITDA margins to 43%, up from 40% in the previous quarter. EBITDA margins for Canadian National (NYSE:CNI) and Canadian Pacific (NYSE:CP) are north of 50%, which could be a bogey for Norfolk Southern to shoot for.
NSC Is 20% Overvalued
I envision that going forward Norfolk Southern will experience revenue declines and increasing EBITDA margins. For now, NSC is worth $90 or 20% off its $109 share price.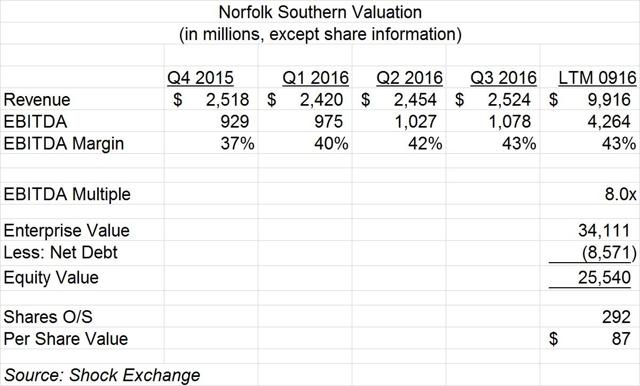 Revenue
Revenue of $9.9 billion represents results for the last 12 months ended September 30, 2016. I expect rail traffic and Norfolk Southern's revenue to trend downward in the near term. Any rebound in coal prices/demand could change that narrative.
EBITDA
Over the past 12 months, the company's EBITDA margin was 40%. However, I applied a 43% margin (equal to Q3 results) which I believe is sustainable going forward. The company likely has more levers it can pull in terms of cost cuts. The push/pull between declining revenue and rising margins could define the stock in 2017.
EBITDA Multiple
Railroads are cyclical businesses. They have high barriers to entry - land rights, regulatory approval - so an 8x multiple seems appropriate.
Enterprise Value
The company's enterprise value (equity and debt) is $34.1 billion. The enterprise value could be slightly optimistic given the potential for a decline in future revenues.
Equity Value
After subtracting net debt (debt less cash and equivalents) of $8.6 billion, I derived an equity value of $25.5 billion or about $90 per share.
Per Share Price
I assumed 292 million shares outstanding which was sourced from Yahoo!.
Conclusion
Based on a bottom-up analysis, NSC is 20% overvalued. I expect rail traffic and Norfolk Southern's top line to continue to fall, yet efficiency gains to pick up. Nonetheless, investors should avoid the stock.
Disclosure: I/we have no positions in any stocks mentioned, and no plans to initiate any positions within the next 72 hours.
I wrote this article myself, and it expresses my own opinions. I am not receiving compensation for it. I have no business relationship with any company whose stock is mentioned in this article.