Business
MACOM Technology Solutions (NASDAQ:MTSI) is an analog semiconductor company that provides radio frequency (RF) and optics semiconductor products. The company's end markets include telecommunications, aerospace and defense (A&D), and what the company calls multi-market (industrial, medical, and test and measurement and scientific applications).
As of FY2016, MTSI generated the bulk of its revenue from its Networks segment, which made up 72.3 percent of total sales. The company's A&D and Multi-markets segments made up 13.9 percent and 13.7 percent, respectively.
Investment Thesis
MTSI is a company that has a multitude of red flags that investors should be very worried about:
A very aggressive shift in revenue recognition in 2015;
Organic revenue growth that has been substantially below the company's reported revenue growth;
Working capital management is well below its peers;
Insiders that are selling stock like there is no tomorrow;
Very shareholder unfriendly related party transactions;
A very high valuation compared to its competitors;
A history of poor (and increasingly worse) returns on capital and incremental returns on capital;
Using the industry's average EV/EBITDA multiple, MTSI has 33 percent downside.
Concerning Shift in Revenue Recognition
In 2015, MTSI changed its revenue recognition practice of recognizing revenue on a sell-through basis to recognizing revenue on a sell-in basis. This is a significant change that not only warrants the skepticism of retail investors like you and me but also warrants the skepticism of regulators.
When a company recognizes revenue on a sell-through basis, the company recognizes revenue when its distributors sell its inventory to end-consumers. On a sell-in basis, companies recognize revenue when products get shipped to its distributors and not end consumers.
One of the issues that arises from companies using sell-in revenue recognition is channel stuffing. Channel stuffing is simply selling more product to distributors than that which can be sold to the end customers. In effect, this practice artificially inflates revenue and makes Wall Street analysts very happy. While I'm not saying MTSI is stuffing their channel, some of the classic tells of channel stuffing are apparent in the company's financial statements.
The first classic tell is a rapid increase in Days Sales Outstanding (DSO), which estimates the amount of days before a company collects on its sales. An increasing DSO figure could indicate that a company is being more aggressive in extending credit to its customers to beef up the sales figures. Increasing DSO also translates into worse cash flow as it takes longer for the company to collect the cash associated with its sales.
MTSI's DSO has continuously increased over the years and currently stands at 73 days. When compared to many of its publicly traded competitors, 73 days is currently the longest time it takes to collect upon its receivables: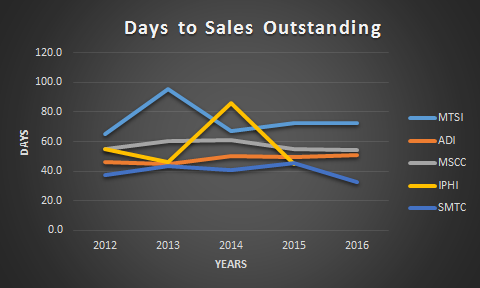 (Source: SEC filings, author calculations)
(Note: IPHI's DSO as of the third quarter of 2016 stood at around 52 days)
Albeit taken from an old industry primer, the Oppenheimer semiconductor primer from 2011 also suggests that semiconductor vendors tend to have DSOs in the ~45-day range on average: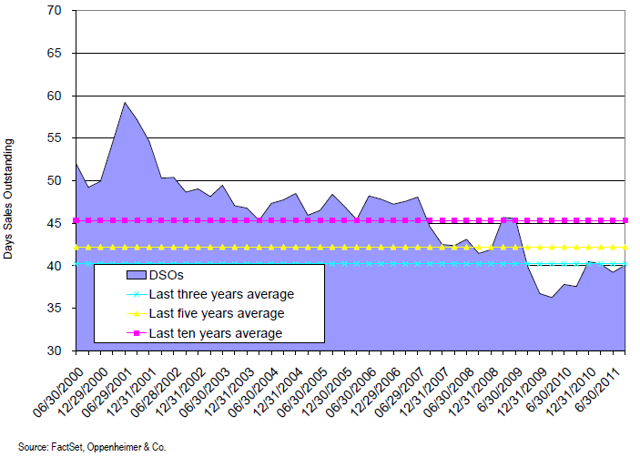 The other classic tell is a rising Days Sales of Inventory (DSI) metric. This metric calculates the amount of days before a company's inventory is sold. A rising DSI could indicate a lack of demand for a company's products, especially if distributors have more than enough inventory to sell to end-customers.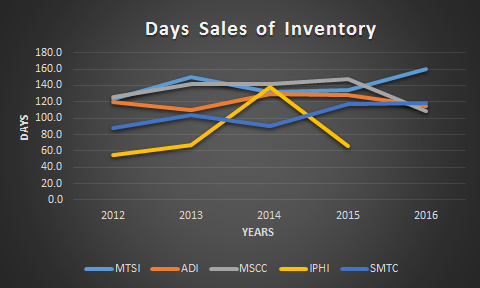 (Source: SEC filings, author calculations)
(Note: IPHI's DSI was around 59 days as of third quarter of 2016)
It is interesting to note that after MTSI's revenue recognition change, DSI took off, going from 135 days to 160 days.
On a cash conversion cycle basis, MTSI has shown consistency in lagging behind its competitors in turning its inventory and receivables to cash. After the change in revenue recognition policy, MTSI's cash conversion cycle climbed from 158 days to a whopping 190 days.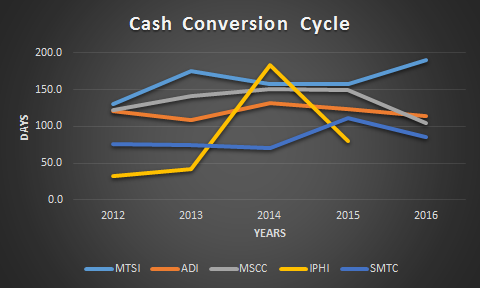 (Source: SEC filings, author calculations)
(Note: IPHI's cash conversion cycle stood at around 62 days as of third quarter of 2016)
Organic Revenue Growth has been Significantly Lower than Reported Growth
Beginning in 2014, MTSI has aggressively pursued acquisitions to fuel revenue growth, and boy has reported revenue growth been impressive. In 2014, the company reported growth of 40 percent, in 2015, growth was reported at 24 percent, and in 2016, growth was reported at 29 percent. Since 2014, MTSI has appreciated over 100 percent, thus garnering the company a hefty valuation of 37x LTM EBITDA.
However, when combing through the filings and backing out the contribution of revenues from acquisitions, the spread between reported growth and organic growth is startling: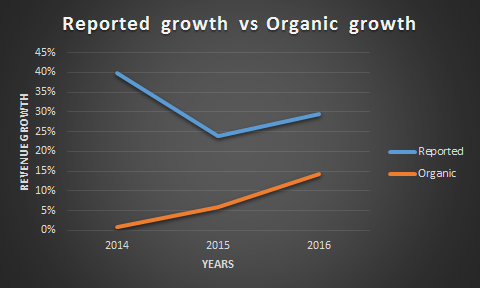 (Source: SEC filings, author calculations)
Insiders are Bailing
One of the most startling aspects of MTSI is the amount of insider selling that has been going on over the course of 2016. Take a look… it's absolutely epic:


Shareholder Unfriendly Related Party Transaction
Along with the questionable change in revenue recognition, the rising DSOs and DSIs, and the insider selling stampede, MTSI is also party to a shareholder unfriendly related party transaction.
In 2014, MTSI acquired a GaN on Si provider called Nitronex. As part of this acquisition, MTSI paid Nitronex's controlling shareholder, an entity called GaAs Labs, a sum of $26.1 million upon closing. GaAs Labs is a private equity firm that's controlled by MTSI's own 40 percent shareholder, John Ocampo. GaAs Labs also is the entity that acquired MTSI for only $90 million back in 2009.
It is simply odd how GaAs Labs wound up selling Nitronex for a mere $26 million in 2014 when they acquired the company in 2012. Keep in mind, Nitronex generated revenue of around $10 million in 2010, and MTSI's management continues to pump their GaN business on quarterly calls by saying that they are poised to disrupt a $1 billion LDMOS market. Perhaps the GaN business is more fluff than substance and Ocampo wanted out. He sure has been selling a lot of stock. In any case, Mr. Ocampo seems to consider MTSI as his own piggy bank.
History of Poor Returns on Capital
Over the years, MTSI's return on capital has deteriorated, giving evidence of increasingly poor capital allocation decisions on the part of management.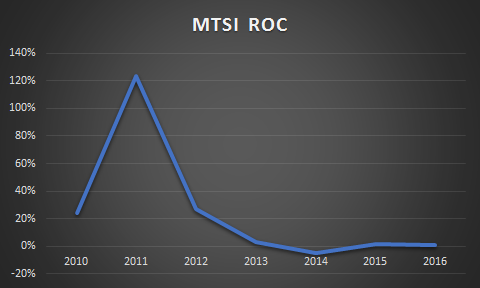 (Source: SEC filings, author calculations)
Incremental ROC has been even worse…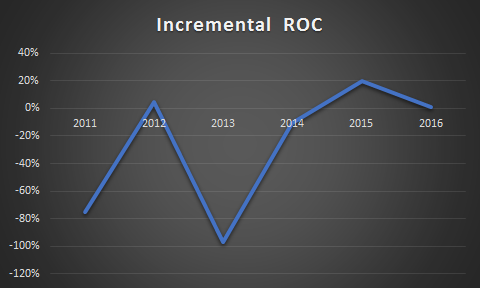 (Source: SEC filings, author calculations)
MTSI is Significantly Overvalued Compared to Peers
To top off all the red flags associated with MTSI - extremely suspicious change in revenue recognition, rampant insider selling, increasingly worse working capital management, Ocampo's disregard towards minority shareholders, and increasingly worse returns on capital - MTSI also trades at 37x LTM EBITDA and 27x my estimate of 2017's EBITDA. This valuation is significantly higher than the average EBITDA multiples of many of its peers, as shown below: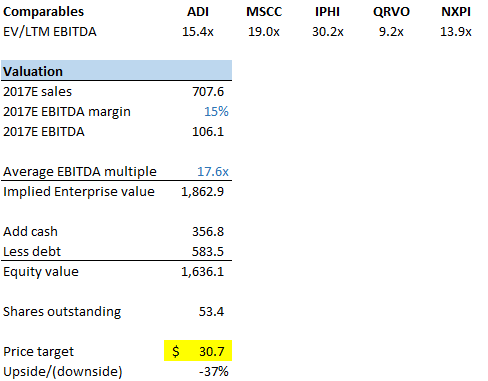 For this valuation, I assume MTSI can grow its sales by 30 percent in 2017 as management claimed that they would be able to generate a similar amount of growth and profitability next year. This year's EBITDA margin was 13 percent, so I'm willing to give them credit for a 200 bps improvement in margins. Keep in mind, hitting 15 percent EBITDA margin is higher than anything MTSI has achieved over the past six years when you back out income from discontinued operations.
Now, if MTSI hits a 20 percent EBITDA margin in 2017, downside is still significant for the stock as shown below: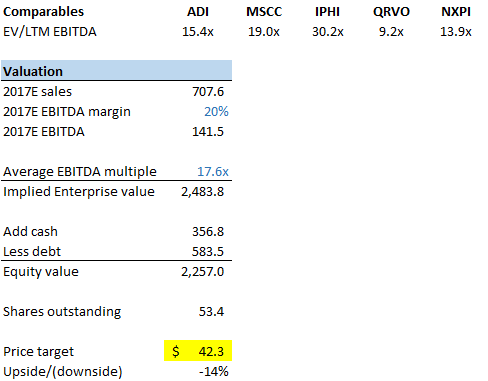 Disclosure: I/we have no positions in any stocks mentioned, and no plans to initiate any positions within the next 72 hours.
I wrote this article myself, and it expresses my own opinions. I am not receiving compensation for it (other than from Seeking Alpha). I have no business relationship with any company whose stock is mentioned in this article.