OPEC understands that most producers around the world cannot turn production on and off in the matter of weeks or months. Most producers face production declines with a bit of a lag to oil prices. Conventional production requires capex up front with oil production steadily rising, and the opposite is true.
The non-OPEC meeting, as we highlighted in this weekly oil markets outlook, is more of a formality than anything else. The reality of low oil prices that have taken away billions in capex won't change just because oil rallied from $45 to $50. Even if oil rallied to $60 or $65, these non-OPEC countries will still see production decline.
This is what IEA currently expects in 2017: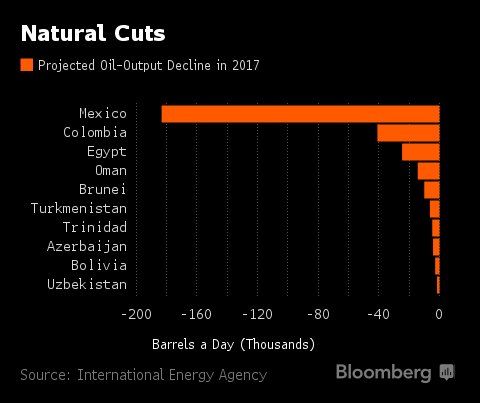 These natural cuts total 293k b/d in 2017. If Russia does cut by 300k b/d, then non-OPEC would've cut production by 600k b/d.
Here's the other thing we don't think many people have considered. Russia's oil production figure is like China's economic statistics. The government says whatever it wants, and no one has the proof to disprove anything. When we went back to check 2016 capex guidance from the major Russian oil producers and oil trader reports of export volumes out of Russia, they all confirmed that October and November production should be 10.7-10.8 million b/d vs. the 11.2 million b/d Russia reported.
The increase in Russia's oil production also came right after the Algiers meeting, which is even more suspect. What this leads us to believe is that Russia is actually just keeping oil production flat, and over the next six months, it will show a gradual decline in oil production before its oil companies are ready to boost production by 2%-3% for the back half of 2017.
Remember, just because a country self-reports a production figure doesn't make it the right figure to follow. In most instances, when a country reports a production cut, it's more likely to be true than when it over reports. We don't see the non-OPEC meeting having any issues, and when non-OPEC announces an agreement, we expect oil prices to start their ascent to $55 and $60 by year-end.
HFI Research has launched a new daily article with oil, natural gas, stock ideas, and macro updates. This new daily is only available to premium subscribers, so if you are interested, please sign up here.
Disclosure: I/we have no positions in any stocks mentioned, and no plans to initiate any positions within the next 72 hours.
I wrote this article myself, and it expresses my own opinions. I am not receiving compensation for it (other than from Seeking Alpha). I have no business relationship with any company whose stock is mentioned in this article.