Timing Is Everything for San Juan Basin Royalty Trust
San Juan Basin Royalty Trust (NYSE:SJT) is a trust that consists of a 75% net overriding royalty interest on the oil and gas production of properties in the San Juan Basin of northwestern New Mexico. The properties account for 151,900 gross (119,000 net) producing acres in San Juan, Rio Arriba, and Sandoval Counties. There are 3,598 gross (1,708.1 net) wells, of which 3,585 (1,303.7 net) are natural gas producing. All of the acreage is held by production and has been classified as "developed," but each formation has not been fully developed.
The natural gas price curve drives the value of SJT. The unit price has declined more than 80% during the past eight years due to the drop in commodity prices and the downturn in production.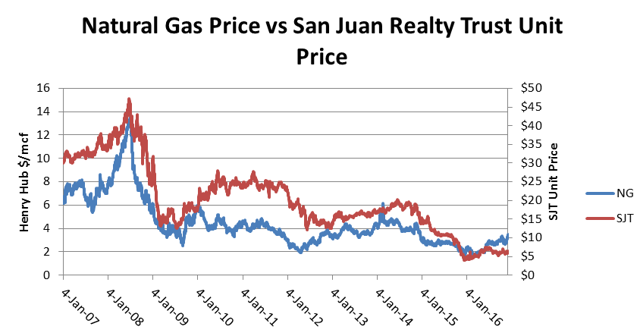 SJT's upside is limited due to a $5/mcf natural gas price environment, declining developed reserves, and low capital investment.
EIA Projects Natural Gas Prices Remain Under $5.15/mcf for the Next 20 Years
The price for natural gas drives the short-term value for SJT, and a sustained period of higher or lower prices determines the amount of product that can be extracted in the future. The second point directly impacts the amount of developed reserves and the level of capital investment to be deployed in the future.
According to the EIA, natural gas prices are expected to remain near or under $5/mcf for the next 20 years.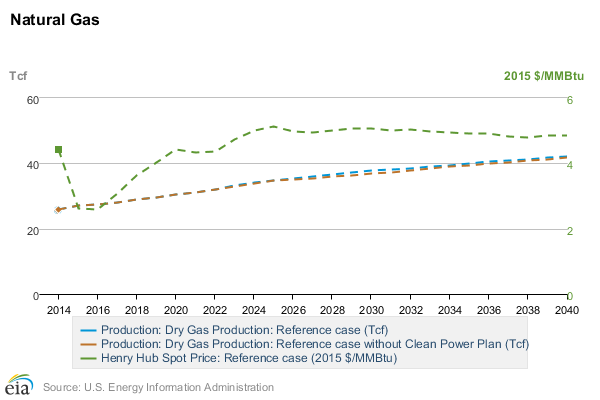 Developed Reserves
Developed reserves are important in determining the remaining production life of the underlying properties of the trust. Below is a table of the developed reserves stated in the last five 10-K filings, and it is a reconciliation of proved reserved quantities that are attributed to the royalty. It appears as if SJT's developed reserves are declining quickly in a sub-$5/mcf market.
Notice that the stated reserves for natural gas in years 2012 and 2013 stayed at the same level, even though average price increased by 20%. Meanwhile, production also remained the same, so 2012 production was replaced by a 20% increase in the average natural gas price. Natural gas prices increased another 20% in 2014, which resulted in a net gain in developed reserves of approximately 15,000 mcf after accounting for 2014 production.

Lack of Capital Investment Will Keep Production in Decline
Capital investment is needed to develop new wells or to implement new technologies to drive production. ConocoPhillips (NYSE:COP) is the current operator of the underlying properties, and it does not have a plan for significant capital investment in the near future. Its reasoning is due to the lack of economics in the San Juan Basin.
Natural gas production in the San Juan Basin has been on the decline since 2006, even with the non-traditional techniques that are common practice today.
State of New Mexico Oil Conservation Division Data - 1994 to 2015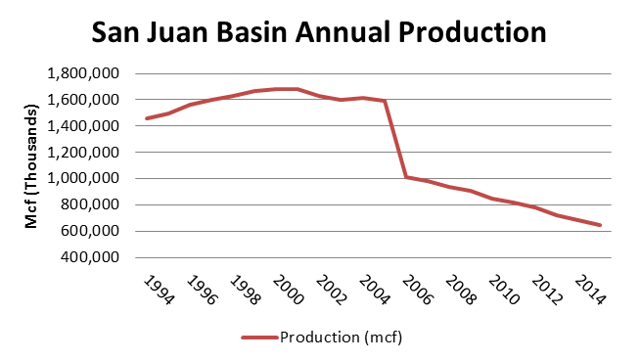 Valuing the San Juan Basin Royalty Trust
SJT appears to be overvalued, assuming that developed reserves were around 104 Mmcf at the beginning of 2016. This is assuming the Henry Hub price strip for the first five years, followed by $4.25/mcf for the remaining period of the trust. At these levels, the trust has an expected life of 10 to 15 years.
A 5% decline in production was assumed per annum based on a Q3 comparison of 2015 and 2016 production data. Administrative expenses where increased by 3%, while production expenses were constant to Q3 2016 levels on a per mcf basis. Under these assumptions, SJT's fair value is between $4.50 and 5.75 per unit.
Disclosure: I/we have no positions in any stocks mentioned, and no plans to initiate any positions within the next 72 hours.
I wrote this article myself, and it expresses my own opinions. I am not receiving compensation for it (other than from Seeking Alpha). I have no business relationship with any company whose stock is mentioned in this article.