The stock market has made another record high and investors seem to get increasingly complacent - at least they don't feel the need to hedge their long positions. In my view, the recent move looks very exaggerated and a serious correction is overdue. But even if you have enough strong arguments for the short side - one argument for the long side is enough to override them: And that is excessive market euphoria. We don't know how long it can last. In the end, however, this driver causes the downturn, too.
"Bull markets are born on pessimism, grow on skepticism, mature on optimism and die on euphoria." - Sir John Templeton
In any case, I want my long positions to be hedged or profit from a decline in equities. I prefer to implement that via put options having a 1 to 2-month time horizon. You want to buy them when volatility is cheap. So let's have a look at the VIX, a barometer of investor sentiment and market volatility. The index captures market expectations of near-term volatility conveyed by S&P 500 stock index option prices.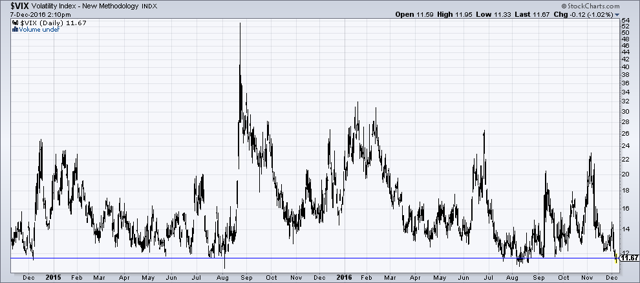 Since election day, volatility has been coming down massively with the markets rising. Yesterday, the VIX was close to its year-low of August at 11.02. In my view, that doesn't reflect the amount of uncertainty we're having. There are two important events in the next few days which are very likely going to cause a substantial increase in volatility. Today is the ECB meeting and next week the fed's rate hike. Although markets have already priced in the outcome, positions will be adjusted and portfolios rebalanced. Investors don't know for sure the outcome yet. We had the same situation a year ago in December (see in the chart above how the VIX was behaving then). Last year, the ECB didn't deliver which was a huge surprise. The rate hike of the fed was expected, however, a day before the meeting the market started to decline. It rebounded right after the rate hike. It seems to me as if investors have completely forgotten about possible negative implications the rate hike effects might have. Though just a small rate increase, markets didn't get it well in the following month a year ago.
Another portion of uncertainty can be attributed to Trump. Investors might trust him by now - actually, they seem to have blind faith. But, we shouldn't forget that he has announced several actions which will be negative for the economy - like starting a trade war. He might start talking about that anytime.
To sum it up, now might well be a good time to use the overall complacency and go long volatility.
Disclosure: I/we have no positions in any stocks mentioned, and no plans to initiate any positions within the next 72 hours.
I wrote this article myself, and it expresses my own opinions. I am not receiving compensation for it (other than from Seeking Alpha). I have no business relationship with any company whose stock is mentioned in this article.