Over the past several years AMD has attempted to transition from a semiconductor designer to a fabless semiconductor manufacturer. In the equity markets this transition has recently been met with extreme optimism, with the firm's stock increasing over 200% YTD, with the stock trading near historical highs. However, while credit markets have seen substantial improvement in pricing of the firm's credit risk, with AMD's five year CDS now trading at 301bps, versus +1000bps levels earlier this year, credit risk remains materially overstated by both credit markets and ratings agencies. This disconnect between elevated credit risk and over-exuberant equity valuations (since the recent run) provides an excellent opportunity for a pair trade.
Credit Cash Flow Prime™ Chart
Although both AMD's equity and credit have seen fairly remarkable improvements this year, credit risk remains materially overstated by ratings agencies and credit markets, with AMD's bonds trading at 6% YTW levels, while Moody's has maintained their Caa1 rating. Valens' credit analysis highlights that the firm has a healthy liquidity profile, R&D flexibility, a robust recovery rate, and a sizeable market capitalization, indicating credit risk is much safer than markets expect.
Below, we've included our Credit Cash Flow Prime™ chart for AMD. The chart provides a far more comprehensive view of credit fundamentals than traditional ratio-based analyses. By using Uniform Adjusted Financial Reporting Standards based metrics, it shows the cash flow generation and cash obligations related to the credit of the firm, adjusted for non-cash financial statement reporting distortions from GAAP. The blue line indicates the gross cash earnings (UniformFRS adjusted cash flow number) expected to be generated based on consensus analyst estimates and Valens Research's own in-house research team. The blue dots above that line include the cash available at that time while the blue triangles indicate that same amount plus any existing, available lines of credit.
The colored, stacked bars show the cash obligations of the firm in each year forecast. The most difficult obligations to avoid are at the bottom of each stack, such as interest expense. The obligations with more flexibility to defer year to year, such as pension contributions and maintenance capital expenditures, are at the top of the stacked bars. All of the calculations are adjusted for non-cash distortions that are inherent in GAAP accounting, including the highly problematic and often misused statement of cash flows.

In a consensus analyst scenario, AMD would have cash flows in excess of operating obligations in each year going forward by $12mn-$141mn, a 1-9% buffer. Furthermore, while cash flows alone would fall short of all obligations including debt maturities in 2019, 2020, and 2022, their $1.2bn cash on hand, boosted by recent asset sales and debt issuances, would allow them to service all obligations including debt maturities through 2022. Additionally, since R&D is projected to be the largest component of AMD's annual operating obligations, and the firm has had a historical tendency of over-investing in R&D, they could also reduce their R&D expense going forward to free up additional liquidity as necessary. Moreover, in this scenario, AMD's recovery rate on unsecured debt is a robust 185%, driven by strong PP&E recovery, the value of capitalized R&D, and materially positive net working capital levels. This strong recovery rate, coupled with the firm's sizeable market capitalization, would likely facilitate access to credit markets and allow the firm to refinance debt if necessary.
Current credit prices are ignoring the firm's healthy liquidity profile, boosted by recent asset sales and debt issuances, as well as their ability to bolster liquidity levels through reduced R&D spending. Moreover, the firm boasts a robust recovery rate and sizeable market capitalization that should facilitate access to credit markets to refinance debt as needed. While cash bond markets are pricing the firm's credit risk at a 6% YTW on their unsecured bonds, Valens' fair value YTW metric, Intrinsic YTW, is at a more reasonable 3.028%. Furthermore, AMD's CDS trades at an elevated 301bps, versus Valens' Intrinsic CDS of 124bps, representing the firm's substantially safer credit profile.
Performance and Valuation Prime™ Chart
Unlike credit markets, which, despite having vastly improved over the last year, continue to overstate AMD's credit risk, equity markets appear much too bullish about the firm's future. AMD currently trades at a 2.0x UAFRS-based P/B, which is historically high. At this level, the market is pricing in expectations for UAFRS-based ROA to experience a positive inflection from -10% in 2015 to a record 18% in 2020, accompanied by 7% UAFRS-based Asset shrinkage. Valuations at such rich levels imply markets are already pricing in a dramatic turnaround for AMD, from a historically unprofitable business to one which can sustain returns 3x above corporate averages. Therefore, even should the firm succeed in improving operations, equity upside is likely limited, while the risk for downside appears elevated should the firm fail to meet lofty equity market expectations.
Historically, AMD has struggled to sustain profitability above cost-of-capital levels, with Adjusted ROA negative in ten of the past sixteen years, as the firm has fallen victim to the rapid cycles of the semiconductor industry. While industry heavyweights compete to take share, they drive all participants to the margin, resulting in dramatic swings in productivity as the supply/demand balance shifts. As a secondary/tertiary participant in its industry, AMD has historically struggled to compete with its larger competitors, while consistently having to over-invest in R&D to drive innovation, resulting in the firm's sustained weak profitability. Moreover, even after the successful spin-off of their Foundries business in 2009, completing the full sale of those assets in 2012, and converting the firm into a fabless semiconductor company (which generally would have a higher Adjusted ROA), AMD has continued to generate subpar profitability.
For context, the PVP chart below reflects the real, economic performance and valuation measures of Advanced Micro Devices (NASDAQ:AMD) after making many major adjustments to the as-reported financials. This chart, along with all of the charts included in this article, as well as the detail behind the graphics, can be found here.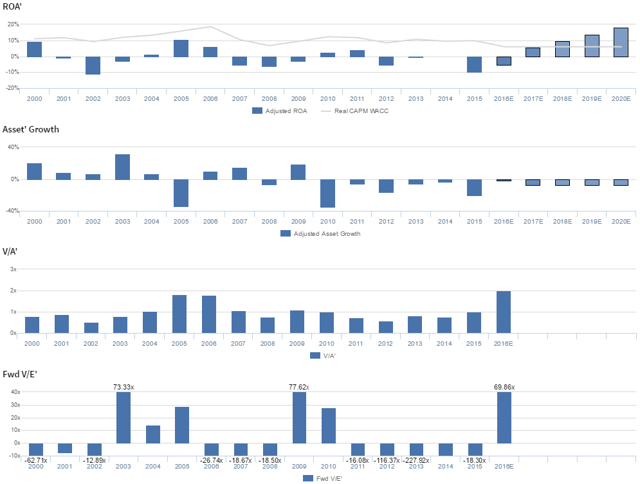 The four panels above explain the company's historical corporate performance and valuation levels plus consensus estimates for forecast years as well as what the market is currently pricing in, in terms of expectations for profitability and growth.
This analysis uses Uniform Adjusted Financial Reporting Standards (UAFRS) metrics, or adjusted metrics, which remove accounting distortions found in GAAP and IFRS to reveal the true economic profitability of a firm. This allows us to better understand the real historic economic profitability of a firm as well as allows for better comparability between peers. To better understand UAFRS, please refer to our explanation here.
Valuation Matrix - Adjusted ROA and Adjusted Asset Growth as Drivers of Valuation
When valuing a company, it is important to consider more than a singular target price, and instead the potential value of a firm at various levels of performance. The below matrix highlights potential prices for AMD at various levels of profitability (in terms of Adjusted ROA) and growth (Adjusted Asset growth). Prices that are in excess of 10% equity upside are highlighted in black, and prices representing an excess of 10% equity downside are highlighted in red.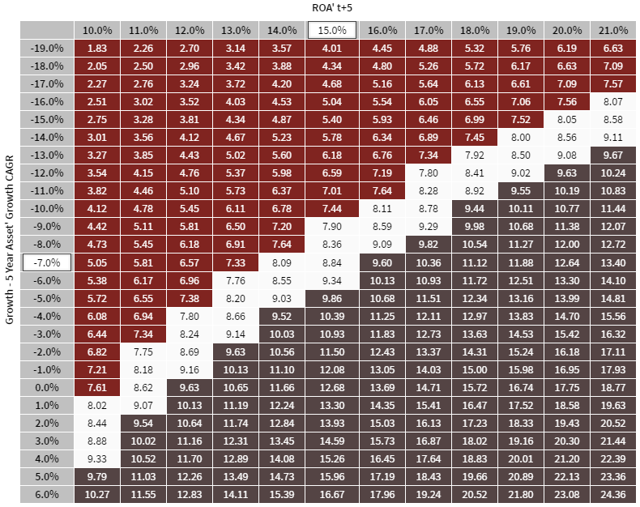 To justify current prices, AMD would have to see Adjusted ROA improve to 18% levels the company has never achieved before, while shrinking their Adjusted Asset base by 7% annually. Considering Intel (NASDAQ:INTC), one of the strongest competitors in the semiconductor industry, has proven unable to sustain Adjusted ROA's at such levels, these expectations appear incredibly bullish. Moreover, even if the firm could sustain Adjusted Asset growth of 5%, something they haven't seen since 2009, they would still need to drive Adjusted ROA to historical highs of 11%. Considering the firm's historically volatile profitability and highly-cyclical industry, expectations for the firm to sustain Adjusted ROA at or above historic highs appears incredibly optimistic. Moreover, with such bullish expectations already priced into the stock price, which has seen an incredible run, risks appear heavily weighted to the downside.
On the other hand, Valens' fundamental analysis highlights that AMD's credit profile is substantially safer than credit markets perceive. Given the firm's healthy liquidity profile, R&D flexibility, robust recovery rate, and sizeable market capitalization, credit risk priced at 6%+ YTW levels appear much too bearish. As such, fundamental credit risk is being materially overstated by credit markets and rating agencies, and a tightening of credit market spreads and ratings improvement should be expected going forward.
When these two situations present themselves, a materially overvalued equity and an undervalued credit, the opportunity for an arbitrage presents itself. By taking a negative position on AMD equity, and a positive position on AMD credit, an investor could earn substantial returns while limiting their risk.
To find out more about Advanced Micro Devices and their credit profile, click here to access the open beta of the Valens Research database.
Our Chief Investment Strategist, Joel Litman, chairs the Valens Equities and Credit Research Committees, which are responsible for this article. Professor Litman is regarded around the world for his expertise in forensic accounting and "forensic fundamental" analysis, particularly in corporate performance and valuation.
Disclosure: I/we have no positions in any stocks mentioned, and no plans to initiate any positions within the next 72 hours.
I wrote this article myself, and it expresses my own opinions. I am not receiving compensation for it (other than from Seeking Alpha). I have no business relationship with any company whose stock is mentioned in this article.