Investment Thesis: Just one year after its infamous dividend cut, Kinder Morgan has experienced balance sheet deleveraging and operational traction in a challenging midstream environment, which is shown in its cash flow and balance sheet. The company has set the path for future dividend growth and movement towards this goal, when combined with Kinder Morgan's underlying results, should support share price appreciation.
This time last year, shares of Kinder Morgan (NYSE:KMI) were in free fall as the scale of the oil & gas downturn had placed increasing pressure on the industry and midstream companies like Kinder Morgan faced cash flow issues and substantial dividend and distribution yields were under intense scrutiny. Companies across the oil & gas space have seemingly adjusted to this new operating environment and this stabilization has led to a moderate thaw in capital markets which were heavily restricted at this time last year given intense and growing solvency concerns at a number of major firms. Kinder Morgan ultimately decided to slash its substantial dividend payments by over 75% in a bid to conserve capital at an incredibly difficult time for the industry. Kinder Morgan's need for this cash to service its sizable debt load was a concern for investors as many looked upon its large and growing dividend payments as a sign of the company's fortitude, however management decided that it was in the best interests of the company to reduce these dividend payments. Kinder Morgan received intense backlash for this dividend cut and its shares sunk to an all-time low. Shares of Kinder Morgan bottomed out in January of this year and have since rebounded. Since its infamous dividend cut from December 8th of last year, the company share price has grown by 26.6%. For more background on Kinder Morgan's troublesome December of 2015, please see my two articles from that time period:
Kinder Morgan: What To Make Of Last Week's Carnage
Kinder Morgan: Dividend Cut Sets Up Buying Opportunity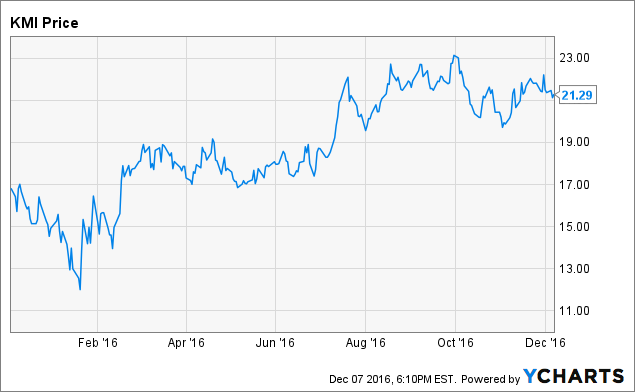 While Kinder Morgan's move to slash its dividend by over 75% was seen as an indicator of the company's financial weakness and concern for the future with the backdrop of constrained capital markets, the company has since exhibited substantial balance sheet improvement with this capital conservation move. As is shown in the chart below, Kinder Morgan has experienced meaningful traction in reducing its debt to equity ratio as the lower dividend level has enabled the company to retain more capital and focus on improving its credit metrics.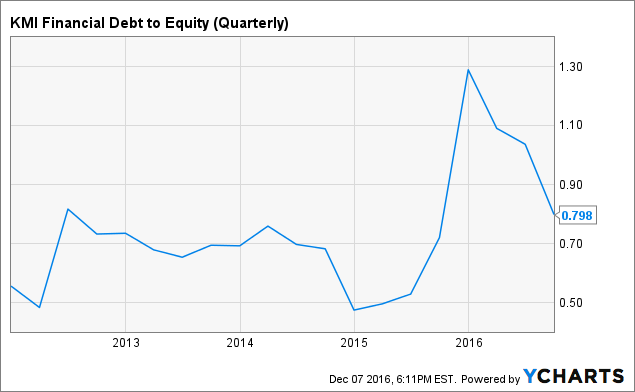 KMI Financial Debt to Equity (Quarterly) data by YCharts
Kinder Morgan's net income and EPS figures would render the company a prohibitively expensive stock based upon traditional metrics such as PE or PEG ratios. Despite this, given the nature of the company's business that involves heavy depreciation expenses which reduce taxable income and of course income taxes, Kinder Morgan's cash flow proves to be a more reliable metric to examine. For the first nine months of 2016, the company cash flow from operations was virtually flat (down by 0.34%) from the prior year despite a number of continued challenges in the midstream sector. The substantial cash flow and capital budgeting was exhibited in its cash flow from investing and cash flow from financing. Through a combination of a CAPEX reduction and proceeds from a minority equity sale in a subsidiary, the company reduced its investment outflow by nearly $3.7 billion in the first nine months of 2016 compared to the same time period in 2015. Further, as a result of this change in investment flows and substantially reduced dividend payments, the company was able to pay down debt and have a net cash outflow from financing activities for the first nine months of 2016.
On Monday of this week, Kinder Morgan released its 2017 FY financial expectations which, while brief, included cautiously optimistic projections for the company's financial future particularly relating to its balance sheet. While describing deleveraging and balance sheet improvement, the press release also outlined a path for Kinder Morgan to begin to increase its dividend payments to shareholders again. More detail on the Kinder Morgan's outlook for 2017 and beyond should be available at the company's annual investor day conference, which is being held at the end of January.
Kinder Morgan has highlighted its financial flexibility that the lower dividend level has provided the company as it has been able to pay down its debt and boost its balance sheet. In addition to this, Kinder Morgan has also experienced operational traction in a challenging environment that should support its operating results going forward. The company has been somewhat insulated from direct fluctuations in commodity prices due to the large portion of its pipeline contracts that are under take-or-pay agreements. Furthermore, Justin Trudeau and the Canadian Government recently announced their approval of the Trans Mountain Expansion Project that should pave the way for substantially increased capacity in the pipeline by the end of 2019. Kinder Morgan's management has noted that it anticipates bringing in a partner for the Trans Mountain Pipeline which should de-risk the project and provide a source of capital for the project as construction is slated to start in September of 2017.
Late 2015 through early 2016 was a troublesome time for the energy industry. Downward price momentum combined with solvency and bankruptcy concerns at a number of meaningful and overleveraged firms drove worries over counterparty risk for the midstream sector as their contract backlogs were called into question. Facing a capital budgeting decision, Kinder Morgan announced a dividend cut of over 75% in December of last year in order to conserve capital and to stay away from the restrictive and expensive capital markets at the time as much as they could. Many investors were disappointed by Kinder Morgan's dividend cut, however it is proving to have been a prudent move.
While there are certainly headwinds in the midstream space, Kinder Morgan seems confident about the future. The company is anticipating investing in $3.2 billion in expansion projects next year, which should be funded in its entirety by the company's internally generated cash flows. With 14% insider ownership and an improving balance sheet with cash flows covered by longer term take or pay contracts, Kinder Morgan has set itself up to provide value in the coming years. While currently yielding 2.4%, Kinder Morgan has an opportunity to return to dividend growth and with a more sustainable and measured pace, dividend growth can be anticipated for early 2018. Combining this opportunity with the firm's capital discipline and strategic growth projects, the company should be able to support share price expansion as dividend growth and improving fundamentals support valuation multiple expansion.
Jordan Flannery has been a contributor to Seeking Alpha since 2012 and has covered a wide range of companies. To stay up to date with his latest Seeking Alpha articles, please click on the "Follow" button at the top of this article and consider subscribing to real-time alerts.
Disclosure: I/we have no positions in any stocks mentioned, and no plans to initiate any positions within the next 72 hours.
I wrote this article myself, and it expresses my own opinions. I am not receiving compensation for it (other than from Seeking Alpha). I have no business relationship with any company whose stock is mentioned in this article.