By Stephen Innes
Risk markets continued to flourish overnight as global markets took the lead from Asia, but the USD is trading with a softer bias as we head into today's ECB meeting.
In what is becoming general news, the S&P made another record high. As the Dow edges ever so closer to the 20,000, it appears more about when, and not if, this psychological barrier can give out.
Foreign Exchanges volumes were unusually small overnight as the ECB jitters took hold. The US 10-year bond yields retreated from last Thursday's 2.492% and are currently trading sideways around 2.3850-2.3950 to start the week. Predictably, the mighty greenback has lost some of its current mojos.
We have seen a significant move on the USD treasuries since the November election, and with more questions than answers about the future US Administration economic and fiscal policy, the market is taking a breather, awaiting further clarity on US fiscal expansion.
Predictably, as the bond markets trade sideways to start the week, forex traders have a greater propensity to book profits, especially as we near year-end holiday season.
Bull flattening mentality is currently taking shape in US debt markets.
Australian Dollar
The Australian dollar was supported overnight by improving risk sentiment. After plunging .5% after yesterday's dismal GDP print, the Aussie quickly found its legs and has fully retraced yesterday's GDP induced drop. The RBA unequivocally stated that it is willing to overlook near-term shocks, as Aussie bulls remain staunch, even in the face of recent data miss hits. With "risk on" accelerating across a breadth of asset classes, this could certainly open up another test of the critical .7500-.7525 zone. Despite some doom and gloom outlooks for the Aussie, the AUD continues to be a stalwart currency in the G-10 commodity space.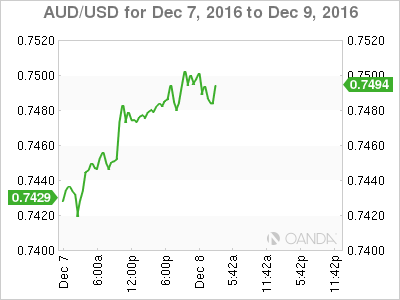 Japanese Yen
Dips remain shallow and the pair is holding up well. While the US bond curve flattens, risk sentiment continues surging, underpinning the USD-JPY sentiment. It seems everyone has 'buy the dip' mentality, so provided there is no ultimate shocker on the 10-year Bond yield collapsing, the USD-JPY should remain on solid footing into next week's USD dollar, directionally key, FOMC meeting.
The Nikkei is showing some moxie in early trade, but so far the risk correlated G-10 currencies have latched on to record highs in the US equity market. The USD-JPY risk correlation may play some catch-up this morning, despite my conviction that year-end pressure and profit-taking across a multitude of asset classes will take USD-JPY closer to the 111.50-112 levels by year-end.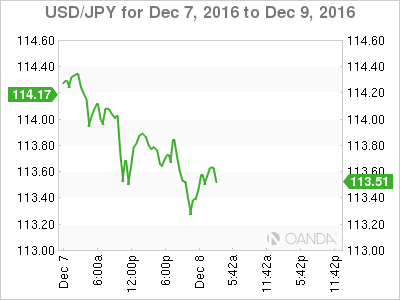 Chinese Yuan
Action has been very tepid and outside of a bump in activity over yesterday's Australia GDP print and the China reserve data markets have been rather slow.
With yuan short-term funding costs easing, there was a move above 6.90 briefly as traders felt a bit more at ease with a lower negative carry. The move quickly gave way to profit-taking and softer USD sentiment across the board as year-end mentality grips trader sentiment on the CNH post.